John C. Court Memorial Scholarship
The John C. Court Memorial Scholarship will provide a $15,000 stipend and full tuition for a graduate student whose research is focused on ancient Native American (New World) civilizations, with preference given to the mound building cultures of the Ohio River Valley (i.e., Early Woodland, Middle Woodland, and/or Fort Ancient). Interested applicants should contact the Director of Graduate Studies.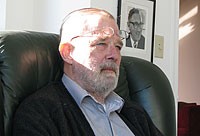 On March 8, 2009, John Court, a beloved friend and mentor, passed away. Although John Court's academic training was not in Ohio Valley archaeology, it was his passion. John had a strong sense of public responsibility having served in the White House on the National Security Council under Dr. Henry Kissinger, the Department of Defense under Robert McNamara, and the U.S. Environmental Protection Agency under Richard Nixon.
After a distinguished career of public service, John moved to Cincinnati and developed a deep appreciation of the ancient earthworks and mounds in the area. Having visited archaeological sites around the world, he keenly believed that the archaeological sites in the Cincinnati area are among the most fascinating. It is therefore not surprising that John envisioned a future of public education, scientific investigation, and preservation of Cincinnati's earthworks and mounds. To this end John became a passionate philanthropist actively working with and supporting the Department of Anthropology in establishing a program on Ohio Valley archaeology.
Through his philanthropic Court Family Foundation, John endowed the Department with the opportunity to hire a new Ohio Valley archaeology position presently held by Professor Ken Tankersley. The Court Family Foundation also provided funding for a new archaeological laboratory and repository at the University of Cincinnati Center for Field Studies (Court Archaeological Research Facility), and established the Court Archaeological Research Fund. It was John's dream to ensure that future generations of students and the public learn about Cincinnati's unique archaeological sites.