Our department benefits from the loyal support of many wonderful alumni, but our emeriti faculty and their families also figure among our most devoted friends.
With this issue of The Scribe, we'd like to say a special thank you to two absolute stars in this category: former History Professor, Department Head, and UC Provost Gene D. Lewis and his wife Dottie Lewis. Together Gene and Dottie have extended close to sixty years of support and affection to our Department, going back to the late 1950s when Gene was first hired at UC as a new Ph.D. specializing in 19th-century US history and Dottie was an undergraduate. 
  Gene contributed to the life of the department and university in countless ways. Even after leaving UC, Gene and Dottie have continued to give back. Gene plays an active role in the UC Emeriti Association, and both Gene and Dottie help us through the year with their energy and advice as members of our Friends of UC History Association and, in particular, as members of the association's Advisory Board, which consists of a small group of dedicated faculty, alumni, and emeriti who assist us in our alumni outreach efforts and fundraising events, including our annual Friends of UC History Fall Benefit. 
   While Gene and Dottie have done more for us than we can possibly mention in this small space, one of their most enduring contributions was to help establish the History Memorial Fund. The fund is a special all-purpose endowment designed to support the department's many good causes and activities, including undergraduate and graduate student scholarships. History Memorial was created in 1985, and our records show that the Lewises were the third donors to contribute to the fund, making their first gift that very year. Since then hundreds of donors have followed in their footsteps, helping to make History Memorial into a thriving source of support for virtually everything we do as a department.
And the Lewises themselves continue to give. Just this year they established the Gene D. and Dottie L. Lewis Endowment Fund to provide still more support to the activities of our students and faculty. This gift will truly transform our department, putting historical studies at UC in a position to prosper for many years to come.
Gene and Dottie: Words are not enough! Thank you so much for everything you do to support our students and faculty. We are deeply grateful!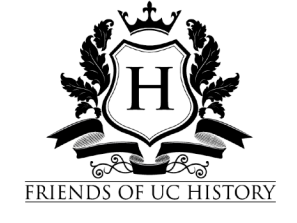 Everyone is busy, and historians and former history students are no exception—so busy that it's often hard to find time to stay connected and, even more importantly, to meet up and enjoy time together as history alumni and friends.
Thankfully, however, a few of our dedicated alumni and emeriti decided to ride to our rescue by joining forces in 2014 to create a new history group, the Friends of UC History Association, whose principal purpose is to keep us all in touch.
Our dynamic Friends group now hosts an annual fall benefit with fine food and drink – and even better conversation! – that brings together History Department alumni and emeriti with current department faculty, graduate students, and university administrators. The Friends have hosted three such autumnal parties so far, each one at a different special venue in the city, including the handsome home of UC Board of Trustees member and History alumnus Thomas Cassady, the Queen City Club, and the Mercantile Library. The Friends group also does regular work through the year to reach out to alumni and keep track of alumni news.
The Advisory Board of the Friends association has been especially generous with their time and creative ideas. Our special thanks go out to our board members Buck Niehoff, Peter and Betsy Niehoff, Gene and Dottie Lewis, Barbara Ramusack, Doloris Learmonth, and Fritz Casey-Leininger for all their much-appreciated help. 
On November 14th, 2018, the Friends of UC History Association held their fifth annual Friends of UC History Fall Benefit at the Niehoff Urban Studio in Clifton. The evening was a wonderful success as some fifty current History faculty, students, alumni, emeriti, and members of the UC administration, including Provost Kristi Nelson and Dean of the College of Arts & Sciences Kenneth Petren, gathered to share warm conversation and give thanks to the department's many loyal friends and donors.

Emeriti
Associate Professor Emeritus John K. Brackett published a book review in The English Historical Review. In recent years John has launched a new career as a novelist, writing two gripping detective novels set in Cincinnati: Suffer the Little Children (2014) and Skintight (2016). 
Barbara Ramusack serves on the Committee for the Joan Kelly Prize for the Best Book in Women's History and/or Feminist Theory of the American Historical Association and on the Graduate Fellows Advisory Committee on Research and Graduate Education at UC. She also remains active in her fields of modern South Asian and modern women's history, regularly giving papers and reviewing manuscripts for journals and presses. She is currently working on a book focused on the history of maternity and infant health in colonial India in the early twentieth century.
Hilda Smith continues to be an active researcher and writer in the women's history field. Last year she presented at several conferences in the US and Europe. She is currently editing a collection of essays focused on influential women historians to be published by Palgrave Macmillan. 
Emerita faculty member Ann Twinam (now at the University of Texas at Austin) was awarded the American Historical Association's Albert J. Beveridge Award for her newest book, Purchasing Whiteness: Pardos, Mulattos, and the Quest for Social Mobility in the Spanish Indies (Stanford University Press, 2015). The Beveridge Award honors a distinguished work on the history of the United States, Latin America, or Canada from 1492 to the present. 
Alumni
Brittany Cowgill (PhD, 2015) has published her first book Rest Uneasy: Sudden Infant Death Syndrome in Twentieth-Century America at Rutgers University Press. In addition to her publication, Brittany is an assistant professor of history at the University of New England in Maine.
Nicholas Seay (BA, 2015) is currently in the second year of his MA program at the Center for Russia, East Europe, and Central Asia at the University of Wisconsin-Madison, where he is focusing his studies on modern Tajikistan. Last summer he was awarded a State Department supported Critical Language Scholarship for Persian. 
Krista Sigler (PhD, 2009) teaches European and world history in the Department of History, Philosophy, and Political Science at UC Blue Ash. She was appointed head of the department earlier this fall.
Matthew Stanley (PhD, 2014) was named to the advisory board for the book series "Engaging the Civil War" at Southern Illinois University Press. Stanley is an assistant professor of history at Albany State University in Albany, GA. In 2016, he published his first book, The Loyal West: War and Reunion in Middle America with University of Illinois Press. 
Prepared to think critically and creatively, and communicate clearly and persuasively, our History Alumni work around the country and around the world in public affairs, law, business, education, research, and government.