On Monday, May 8 and Tuesday, May 9, SPIA hosted the Methodological Pluralism in Public Administration, Public Policy, and Political Science Conference at the Taft Center. The conference was a draw for MPA and PhD students alike, and focused on research in the field. 
Three university guests attended to present their work: Dr. James Wright of Florida State University, Dr. Saba Siddiki of Syracuse University, and Dr. Michael Jones of the University of Tennessee, Knoxville.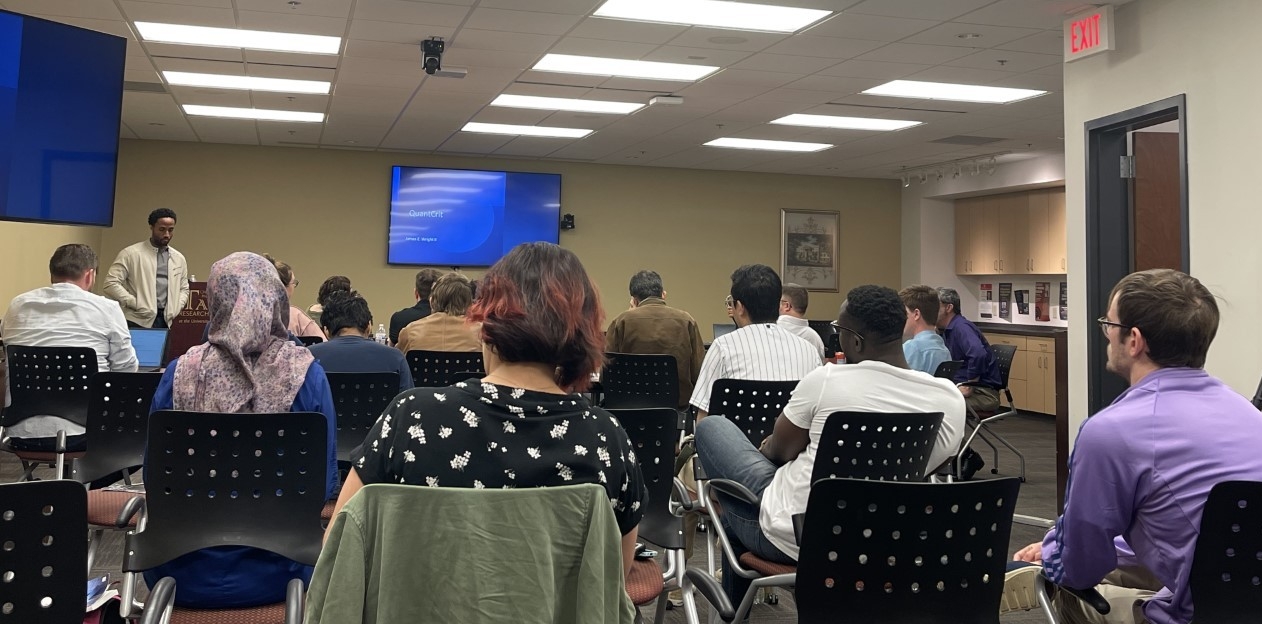 In preparation for the big move out of Crosley Tower and into Clifton Court Hall, SPIA hosted a free used book fair for students. 
The fair was 'trick or treat' style, allowing students to venture through floors 11 and 12 of Crosley, visiting different faculty members offices and selecting from their available books.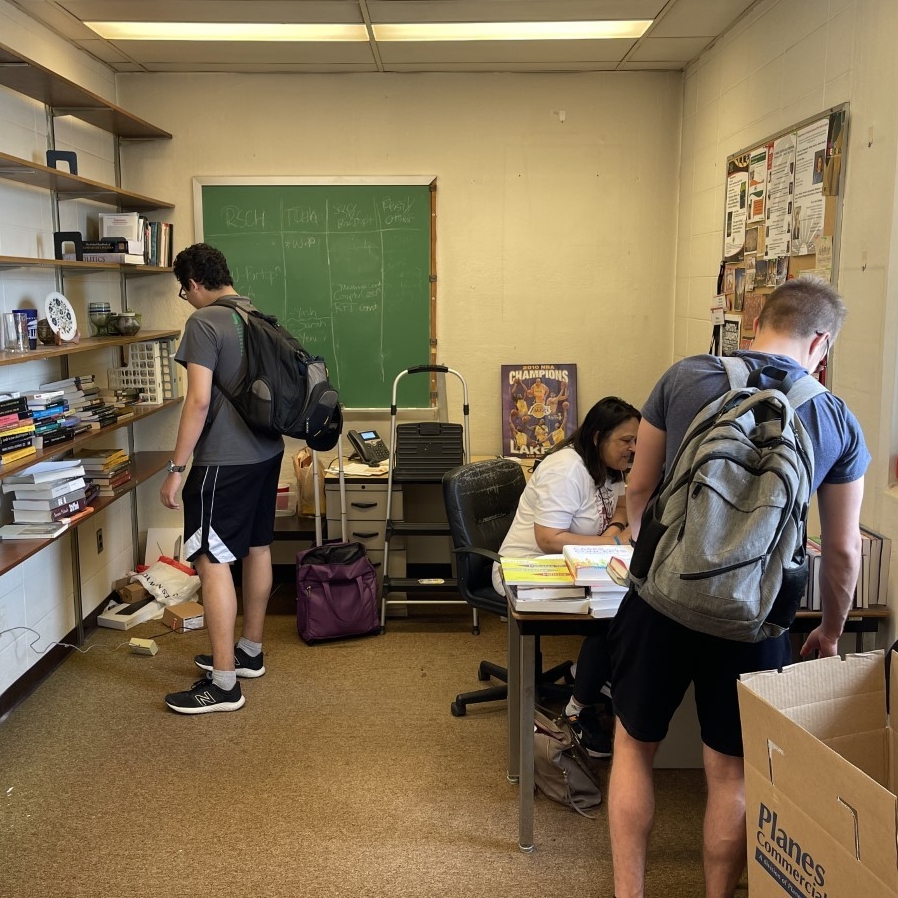 The Annual SPIA Awards Ceremony was back in person after a three-year hiatus! Held on Tuesday, April 18 in the Max Kade Center of Old Chem, the ceremony celebrated student achievements. Both undergraduates and graduate students were honored for their accomplishments. Visit the Awards page for more information.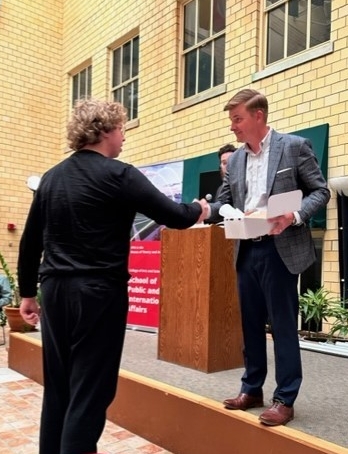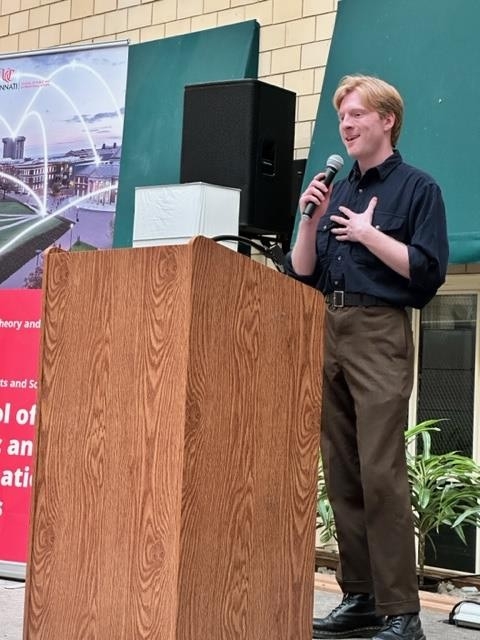 In partnership with the University of Cincinnati College of Cooperative Education and Professional Studies, we hosted career panel featuring former city councilmember Chris Seelbach, alumna Allison Todd, and alumni Eddie Davenport! It was a wonderful opportunity for students to learn more about public affairs careers.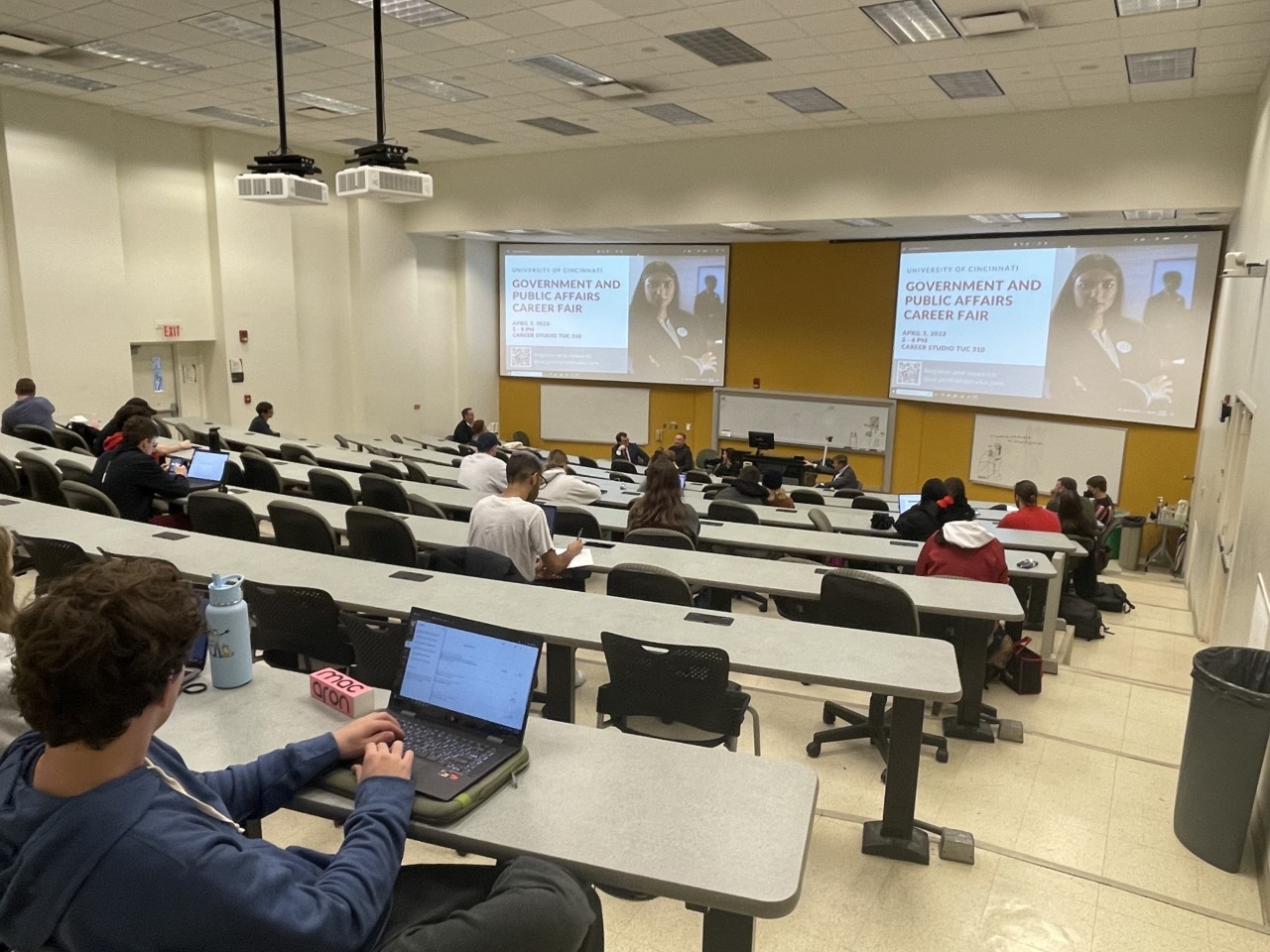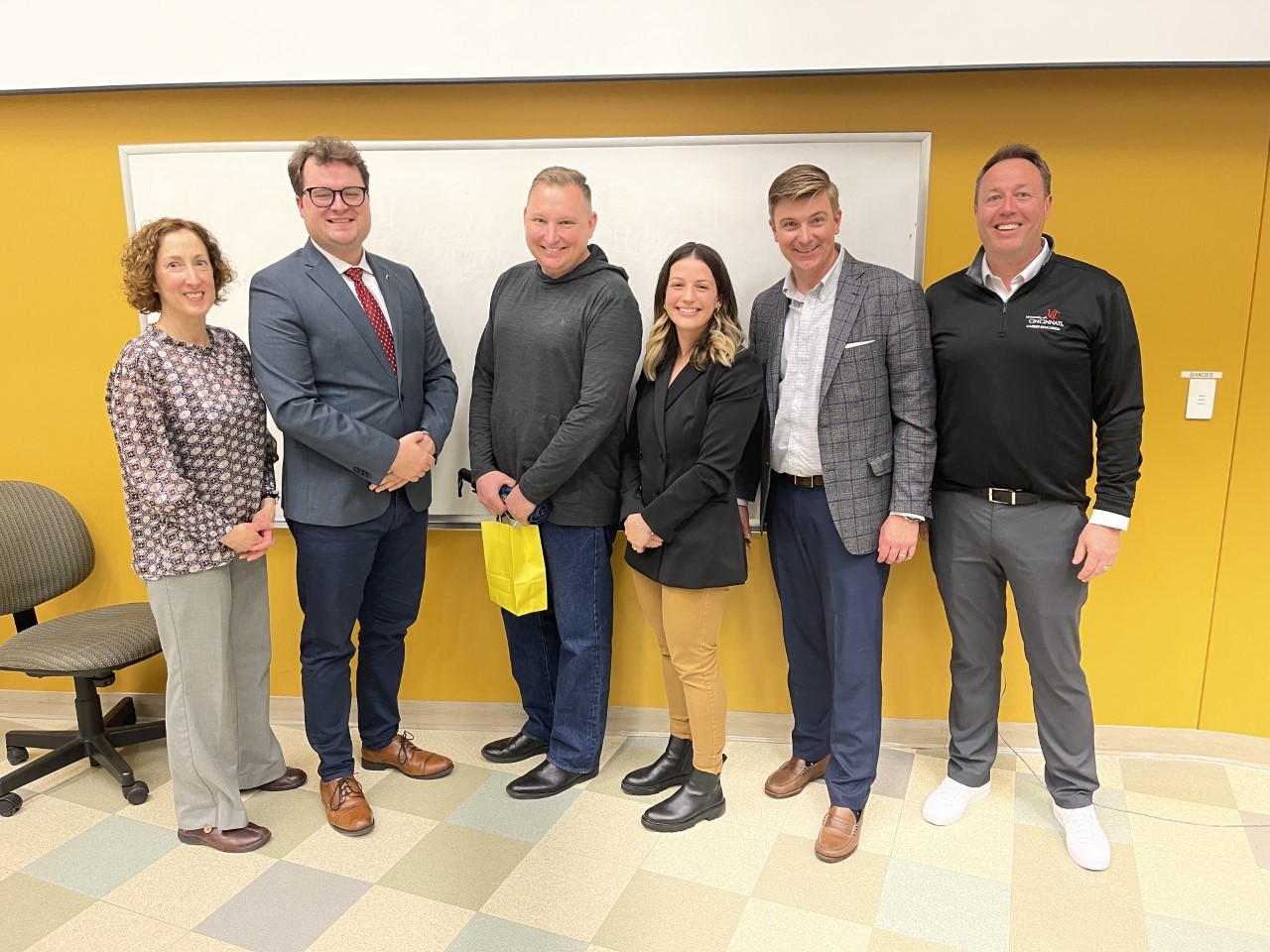 The Center for Cyber Strategy and Policy hosts virtual, public discussions centered around current cybersecurity events and research.  Available recordings are linked below. Information about future Cyber Salons can be found here.
Emily Gorcenski, Head of Data and AI at Thoughtworks Germany.  Presentation: The Unseen Cybersecurity Risk of the Digital Automobile.
Major Kevin Mamula.  Presentation: Building Advanced Cyber Exercise Capability: OPFOR v Blue Pilot Case Study.
Dr. Benjamin Yankson, Assistant Professor, College of Emergency Preparedness Homeland Security and Cybersecurity, University of Albany, SUNY.  Presentation: Security and Privacy Preservation for AI-Enabled Toys.
Adam Shostack, Shostack+Associates.  Presentation: Threats and Cyber Public Health: A fireside chat.
Jelena Vićić, Postdoctoral Scholar, University of California, San Diego, Center for Peace and Security Studies (cPASS); Research Affiliate, CCSP. Presentation: Making Sanctions Work in the Cyber Era: The Case of Iran.
Miloš Vukelić, Research Assistant, University of Belgrade (UB), Faculty of Political Science (FPS), and a Fulbright Visiting Researcher, School of Public and International Affairs, University of Cincinnati (UC).  Presentation: Adding Complexity to Sovereignty: US Post-Digital Culture Wars and International Relations.
Richard Harknett,  Professor and Director of the School of Public and International Affairs (SPIA), Co-Director of the Ohio Cyber Range Institute (OCRI) and Chair of the Center for Cyber Strategy and Policy (CCSP), University of Cincinnati. Presentation: Biden Administration National Cyber Strategy and Cyber Persistence
Igor Kovač, Research Affiliate, CCSP.  Presentation: Using AI in cyber space – game changer or just an old wine in a new bottle?
SPIA's Center for Cyber Strategy and Policy (CCSP) pioneered a collaborative program with the Philippine Commission on Higher Education (CHED) to advance international cybersecurity through the Defending the Digital National Initiative (DDNI) 12-week hybrid program.  CCSP hosted 23 Philippine cyber defense practitioners in Cincinnati where they attended a week-long program on cyber strategy & policy. This included modules on cyber conflict, persistent engagement, cyber law, as well as a cyber crisis simulation.  The 12-week program also included Networking and Security+ bootcamps through the School of Information Technology.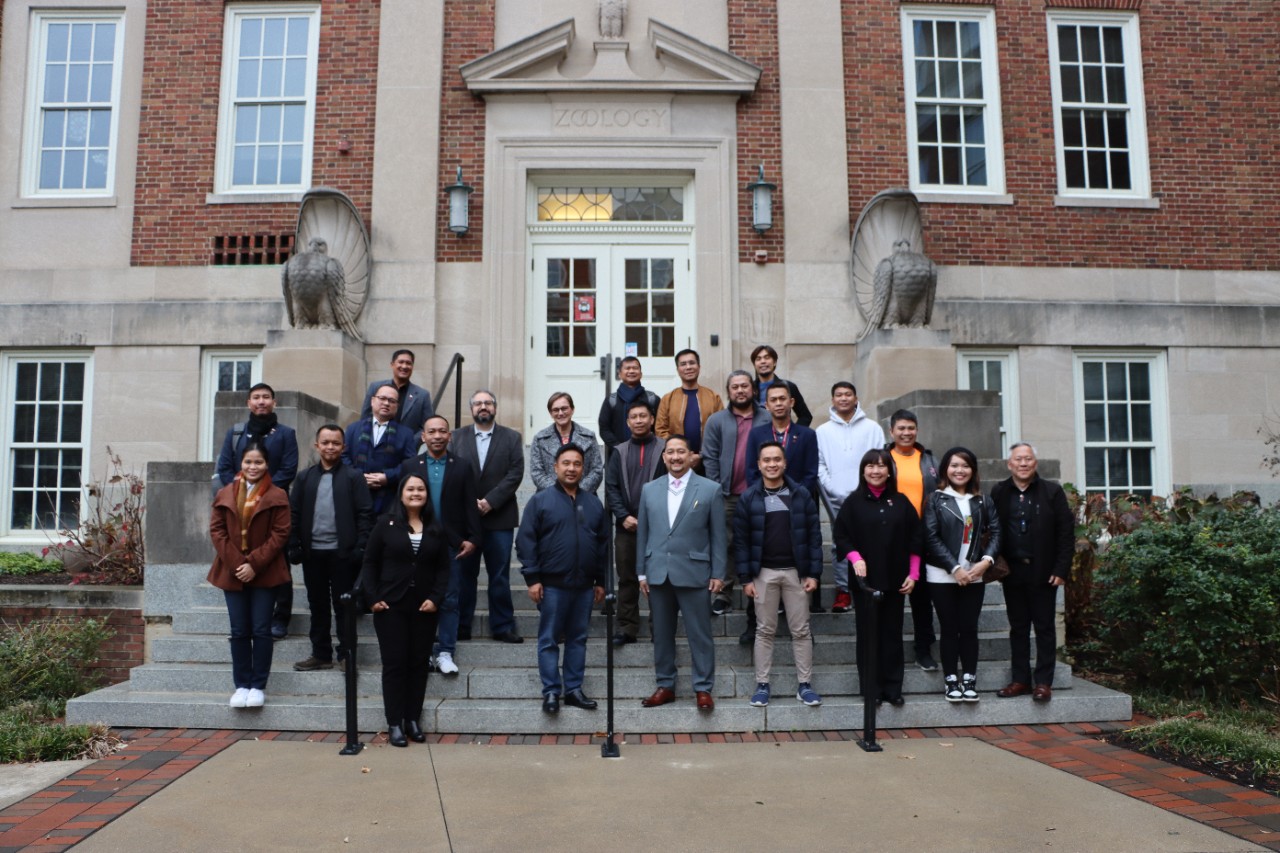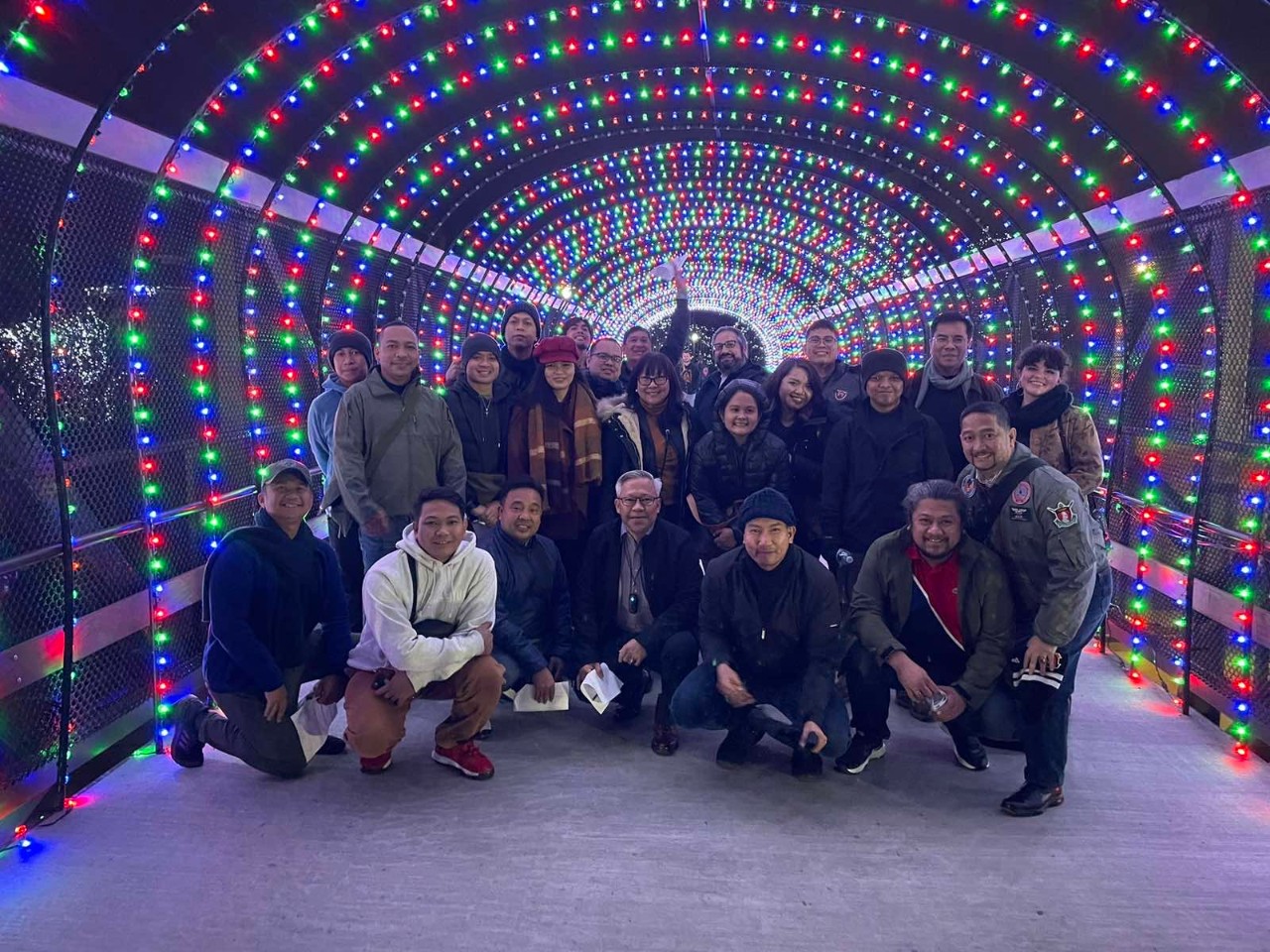 Ohio Cyber Range Institute's Fourth Annual Symposium was held in the new Digital Futures building.  Keynote Speakers were Stephanie Domas, Chief Security Technology Strategist, Intel Corporation and Gregg J. Hesterman, Colonel, ANG Cyber Mission Transformation and Recruiting & Retention Director, Joint Force HQ, Beightler Armory.  Breakout Sessions focused on K12, Higher Education, Workforce and Economic Development.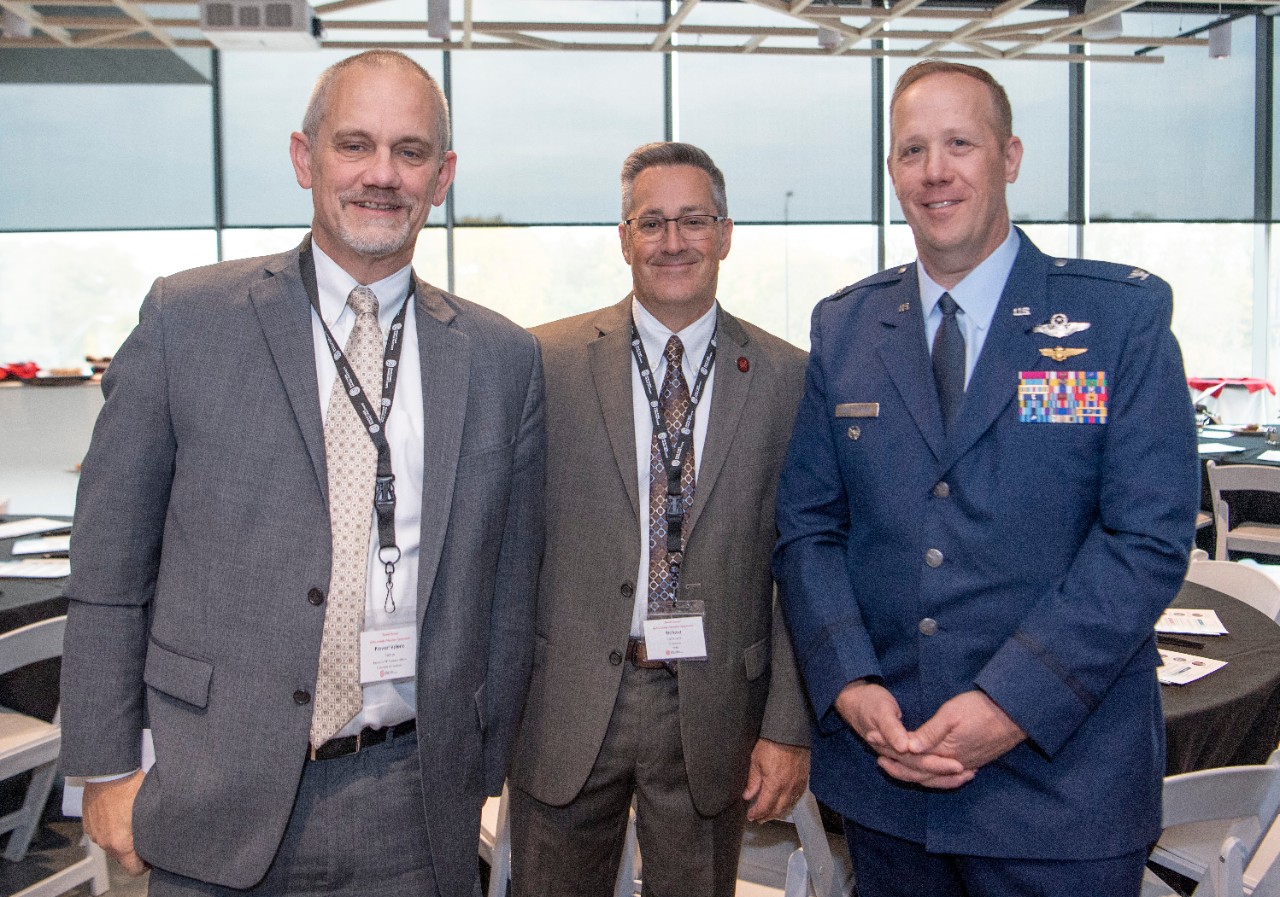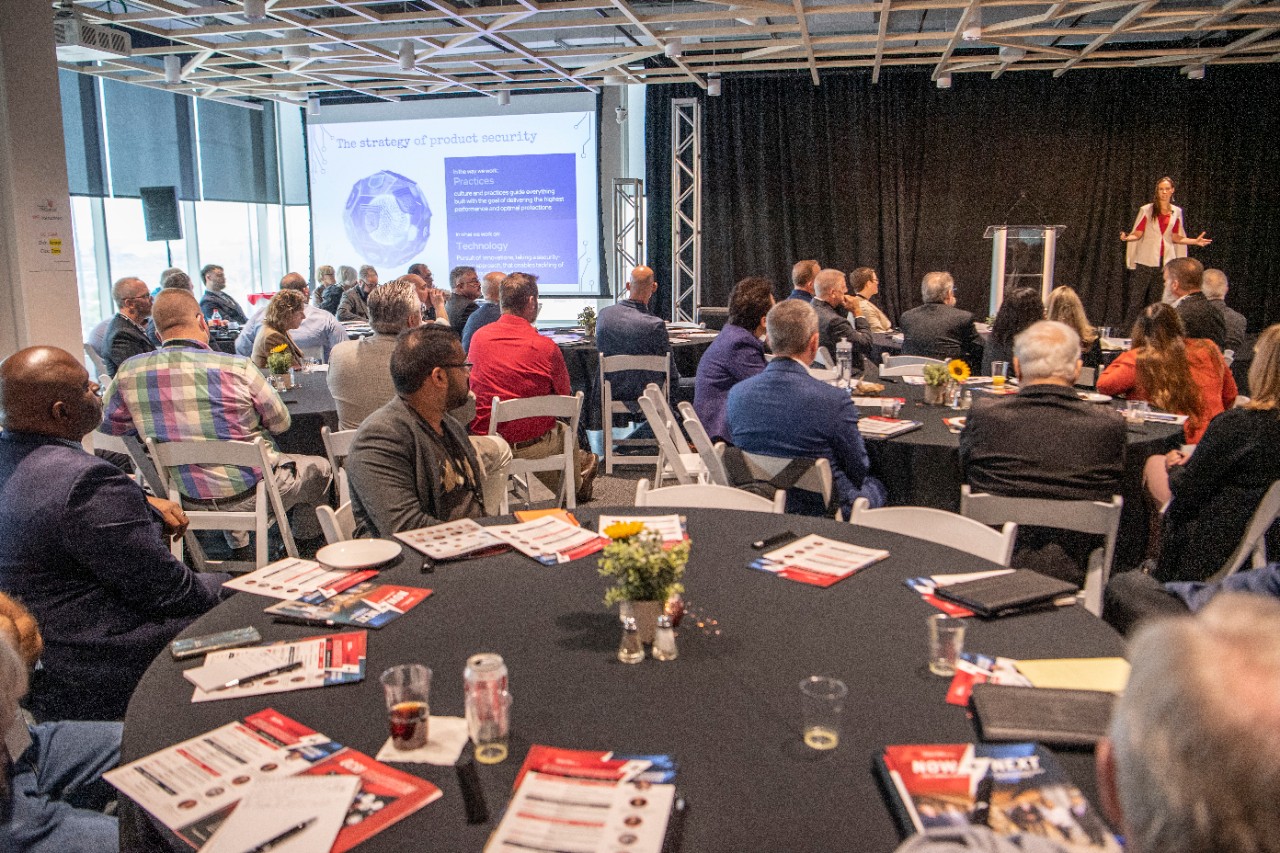 For the first time ever, SPIA hosted a cornhole tournament to welcome students, staff, and faculty back to campus. This friendly game provided an opportunity for mingling outside of the classroom. There was pizza, cold drinks, and plenty of spirit to go around! Congratulations to the winners Lauren Leong and Josh Huffman.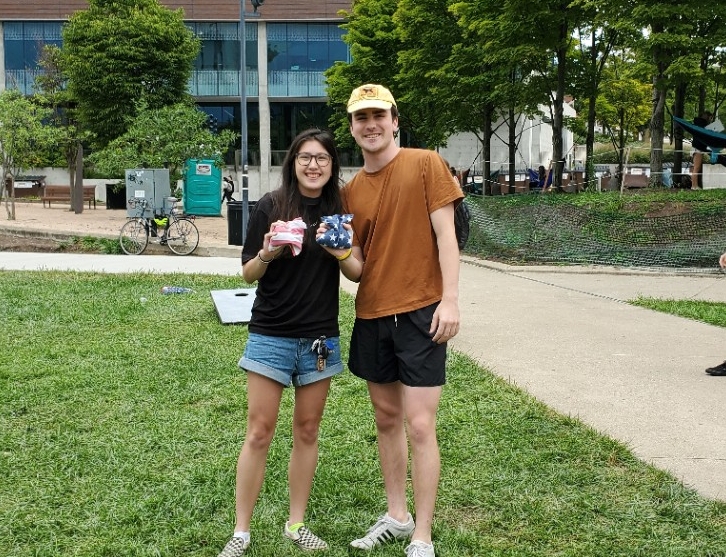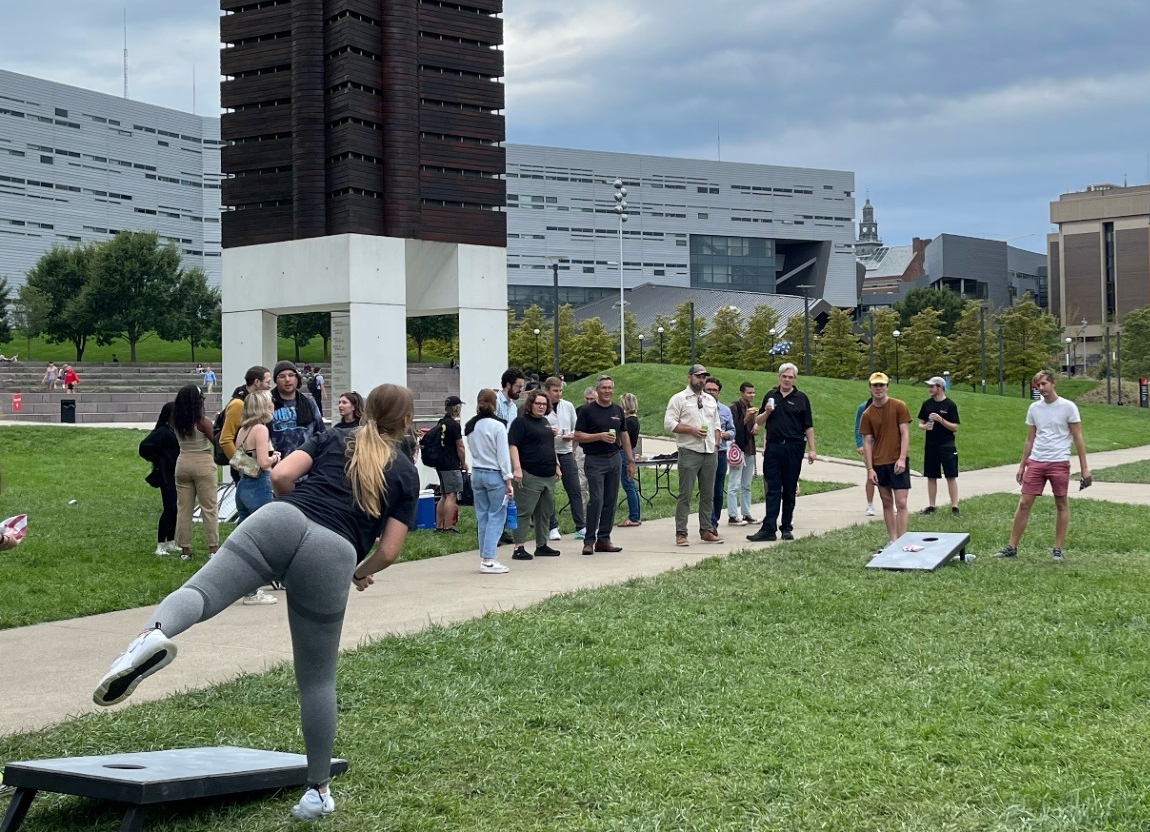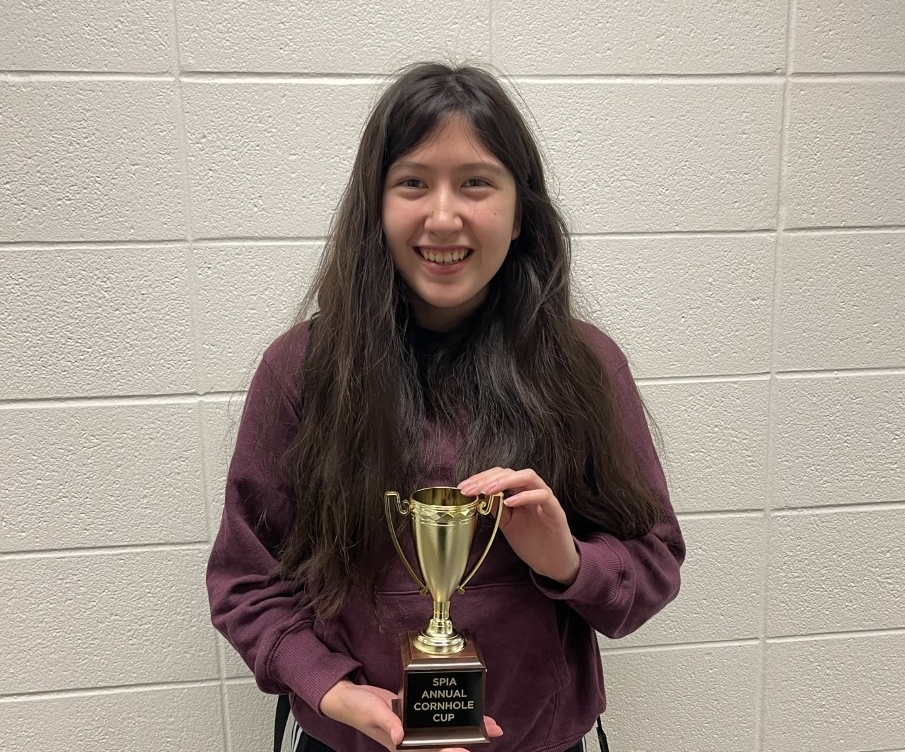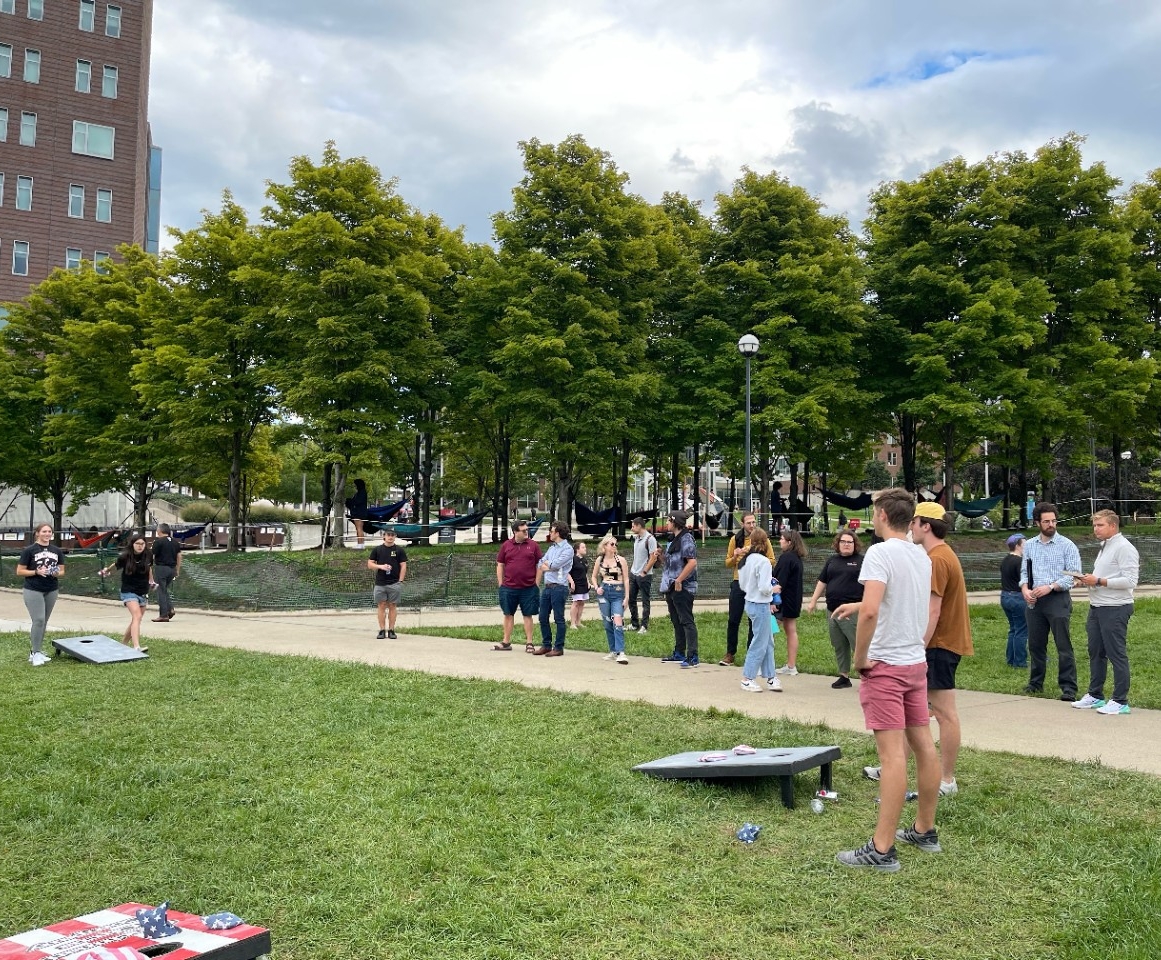 SPIA's Center for Cyber Strategy and Policy hosted the US Cyber Command's Academic Engagement Network faculty hybrid 2-day workshop: Cyber Persistence: Theory and Practice.  The workshop provided an opportunity to network with core theorists and leading US government thinkers and practitioners from US Cyber Command.  Over 20 faculty from across the US participated in-person and over 50 virtually attended.  CCSP received generous conference awards from both the Charles Phelps Taft Research Center and the Office of Research.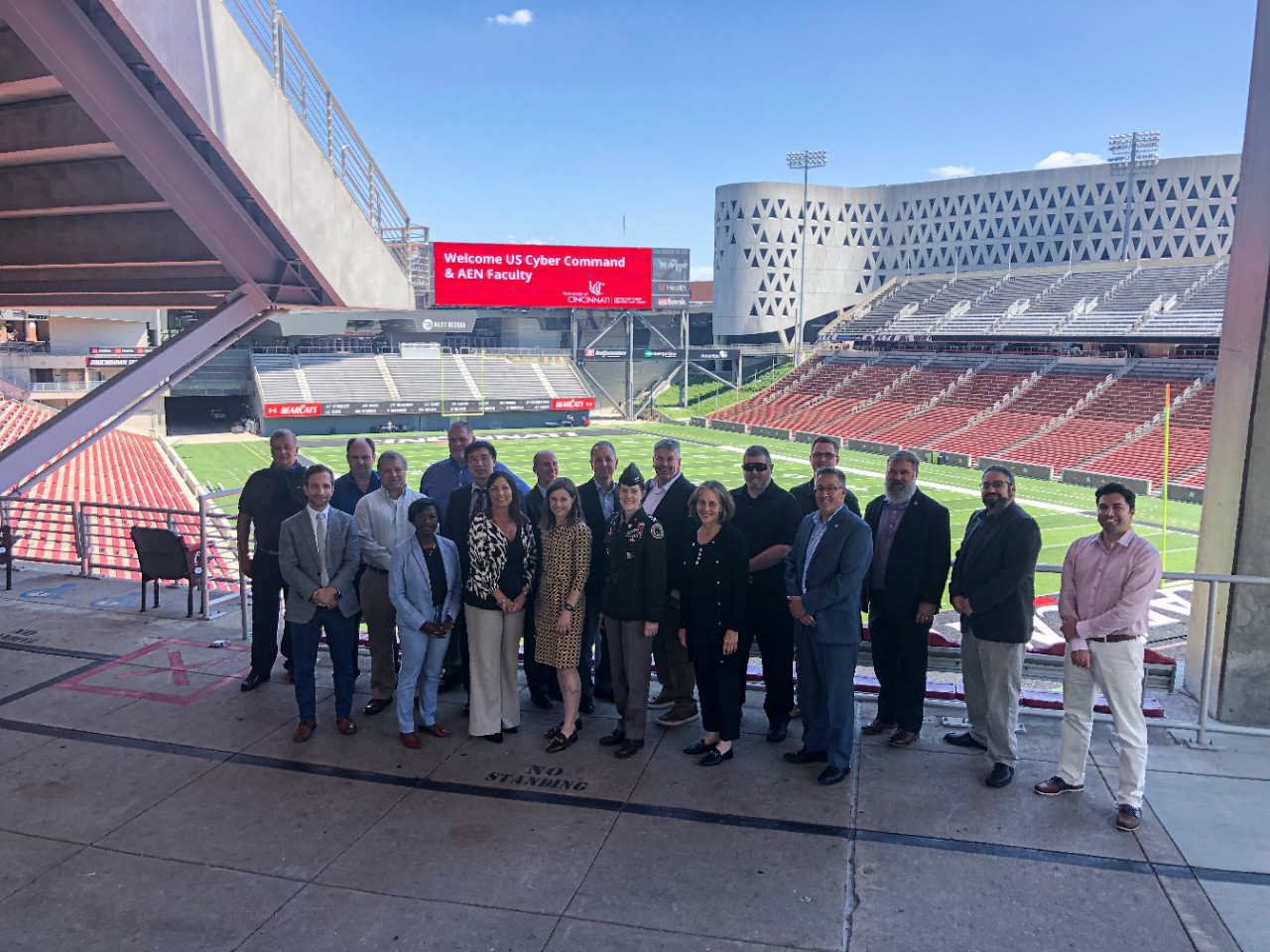 Dr. Loadenthal presented Persistent Engagement at the Terrorism and Social Media conference held in June at Swansea University, Wales.  Image by: Terrorism and Social Media conference (email: TASMConf@swansea.ac.uk).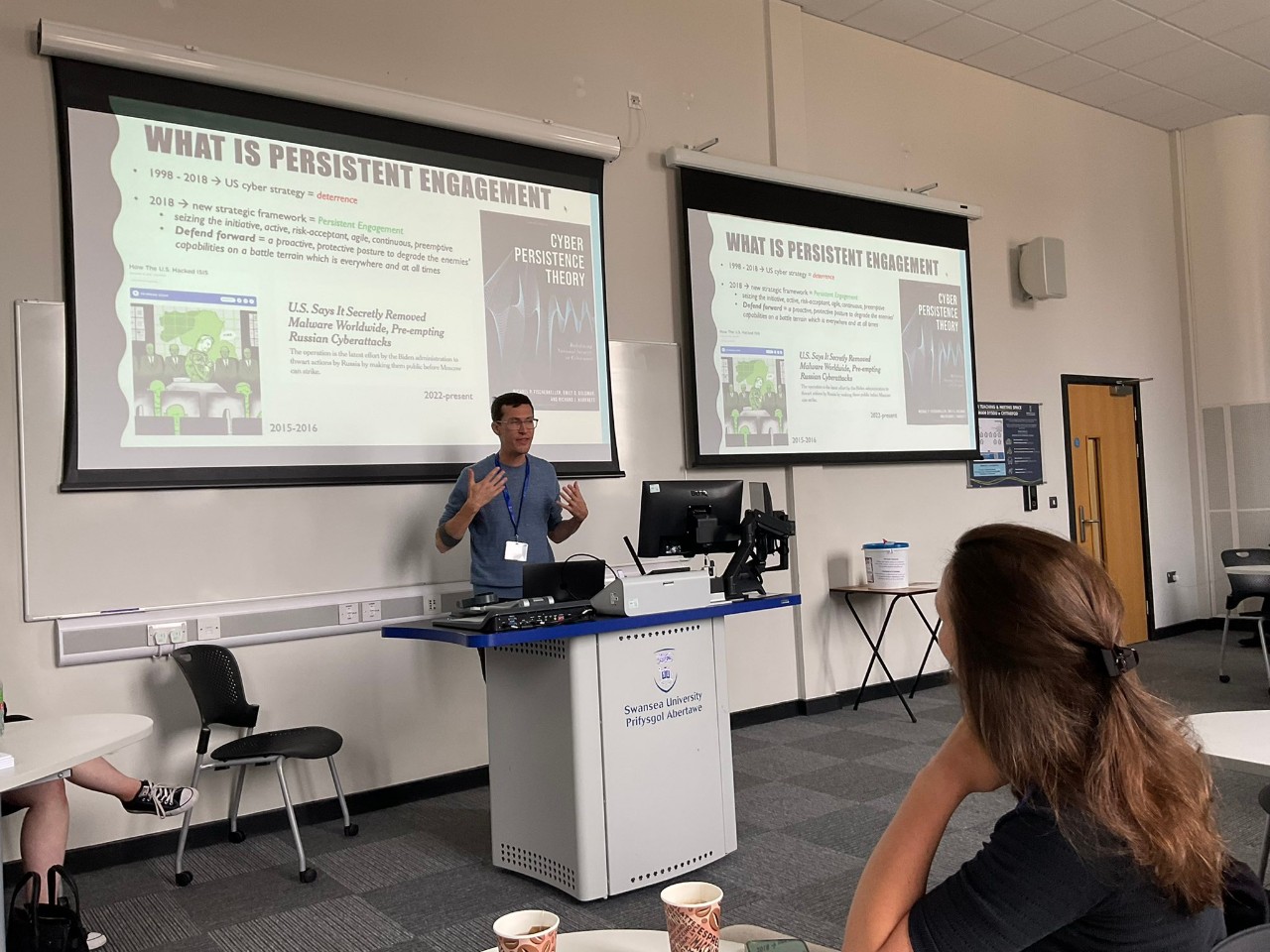 The Center for Cyber Strategy and Policy hosts virtual, public discussions centered around current cybersecurity events and research.  Available recordings are linked below.  Information about future Cyber Salons can be found here.
Dr. Michael Loadenthal, Postdoctoral Research Fellow, CCSP, University of Cincinnati.  Presentation: Threat Modeling, Risk Assessment, and Harm Reduction: Towards an Intersectional Approach to Security.
Colonel / Dr. Al Klein, Assistant Professor, School of Public and International Affairs, and Faculty Fellow, CCSP, University of Cincinnati.  Hrishikesh Bhide, Gradaute Assistant, College of Engineering and Applied Sciences, University of Cincinnati.  Presentation: iWars - A Networked Cyber Operations Competition.
Dr. Thomas Pieragastini.  Presentation: Interdisciplinary Infosec: The Importance of  Non-Technical Approaches to Information Security.  
Mr. Krishna Mungur.   Presentation: Dark Ops: Going off the Grid & Detecting Obfuscated Actors.
Dr. Gary Ackerman, Director, Center for Advanced Red Teaming (CART), Associate Professor and Associate Professor and Associate Dean, College of Emergency Preparedness, Homeland Security, Cybersecurity (CEHC).  Presentation: Beyond Pen-Testing: Tips for Red Teaming the Cyber-Physical Adversary.
Dr. Karen Mossberger, Frank and June Sackton Professor, School of Public Affairs at Arizona State University, was the 2022 Michael Margolis Lecture in Digital Citizenship speaker. 
Dr. Mossberger's research interests include local governance, urban policy, digital inequality, evaluation of broadband programs and digital government. Her most recent books are "Digital Cities: The Internet and the Geography of Opportunity" (Oxford University Press 2012, with C. Tolbert and W. Franko), as well as the "Oxford Handbook of Urban Politics" (2012, with S. Clarke and P. John). 
Celebration of the launch of the new School of Public and International Affairs, held in Nippert North Pavilion with guest lecturer Dr. Ben Buchanan of Georgetown University. 
Dr. Buchanan is on leave from his professorship at Georgetown University to serve in the Biden-Harris Administration as the Assistant Director of the White House Office of Science and Technology Policy. He previously served as Senior Faculty Fellow and Director of the CyberAI Project at the Center for Security and Emerging Technology (CSET) at Georgetown. He is the author of two books, The Hacker and the State and The Cybersecurity Dilemma.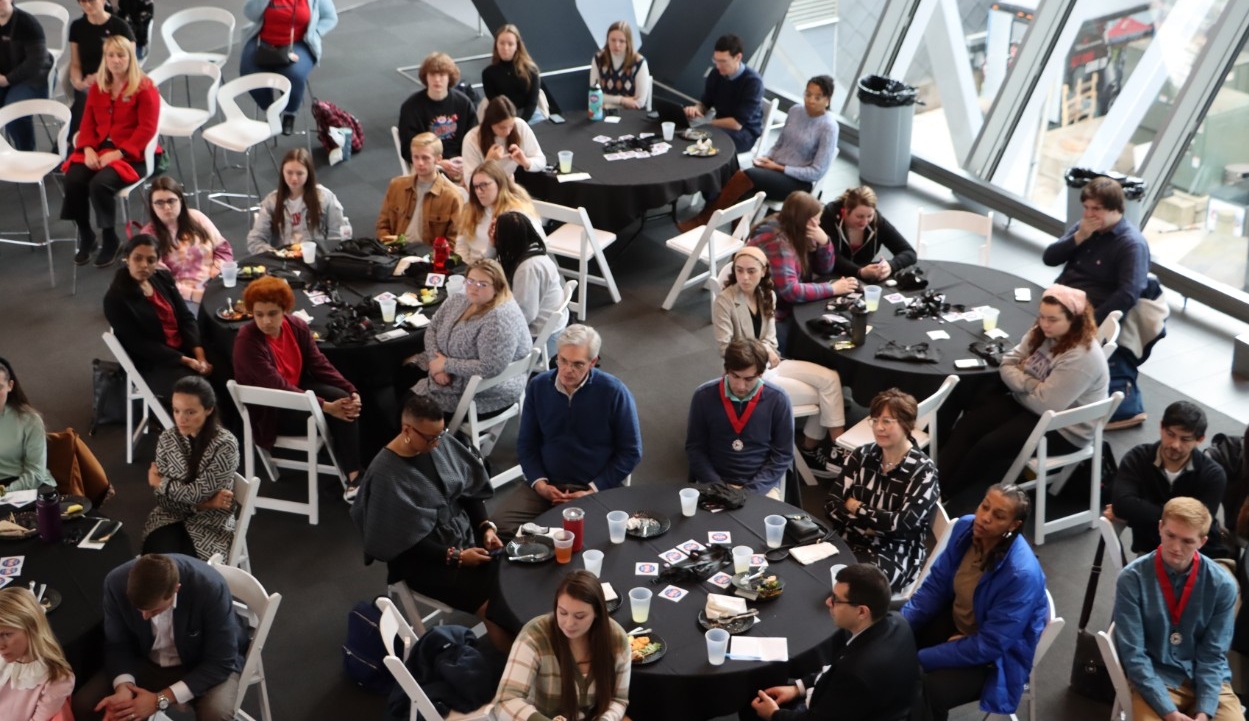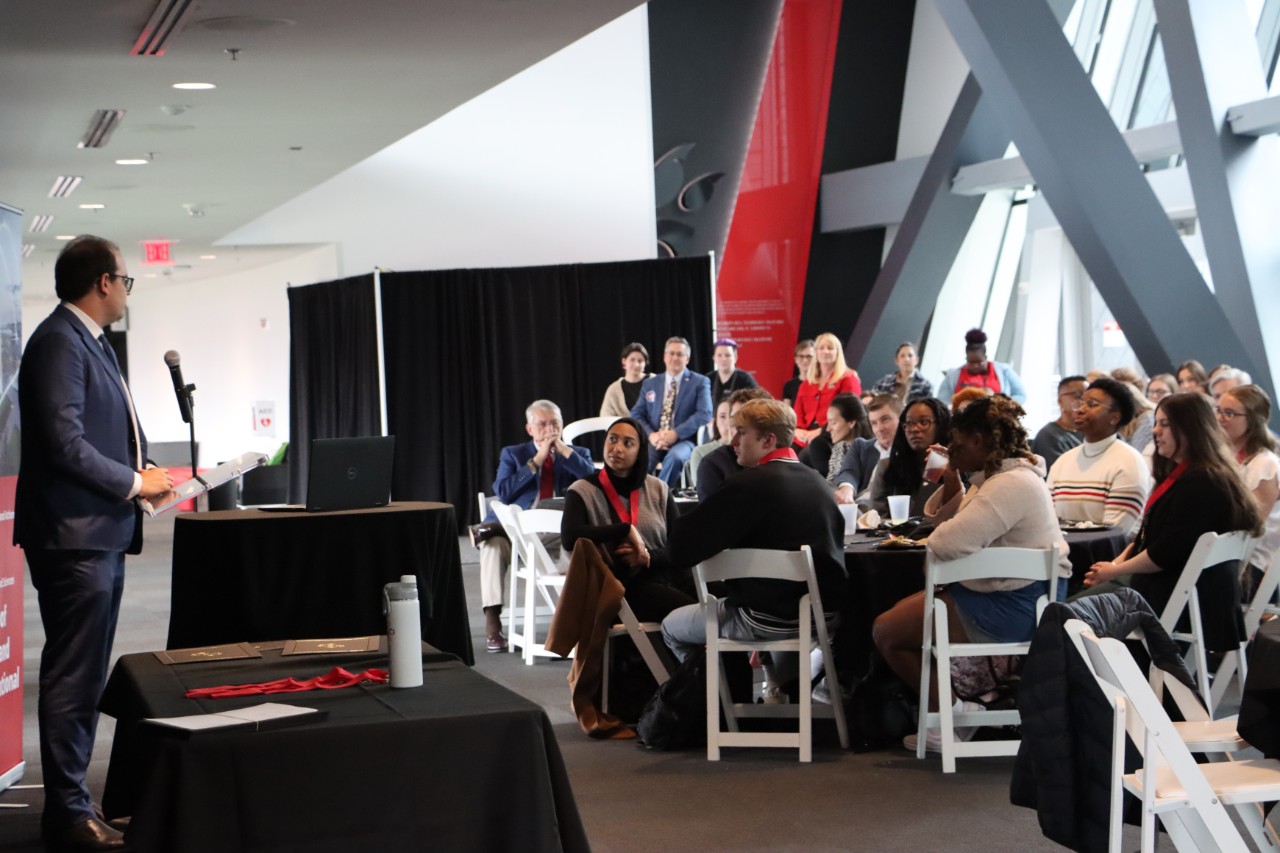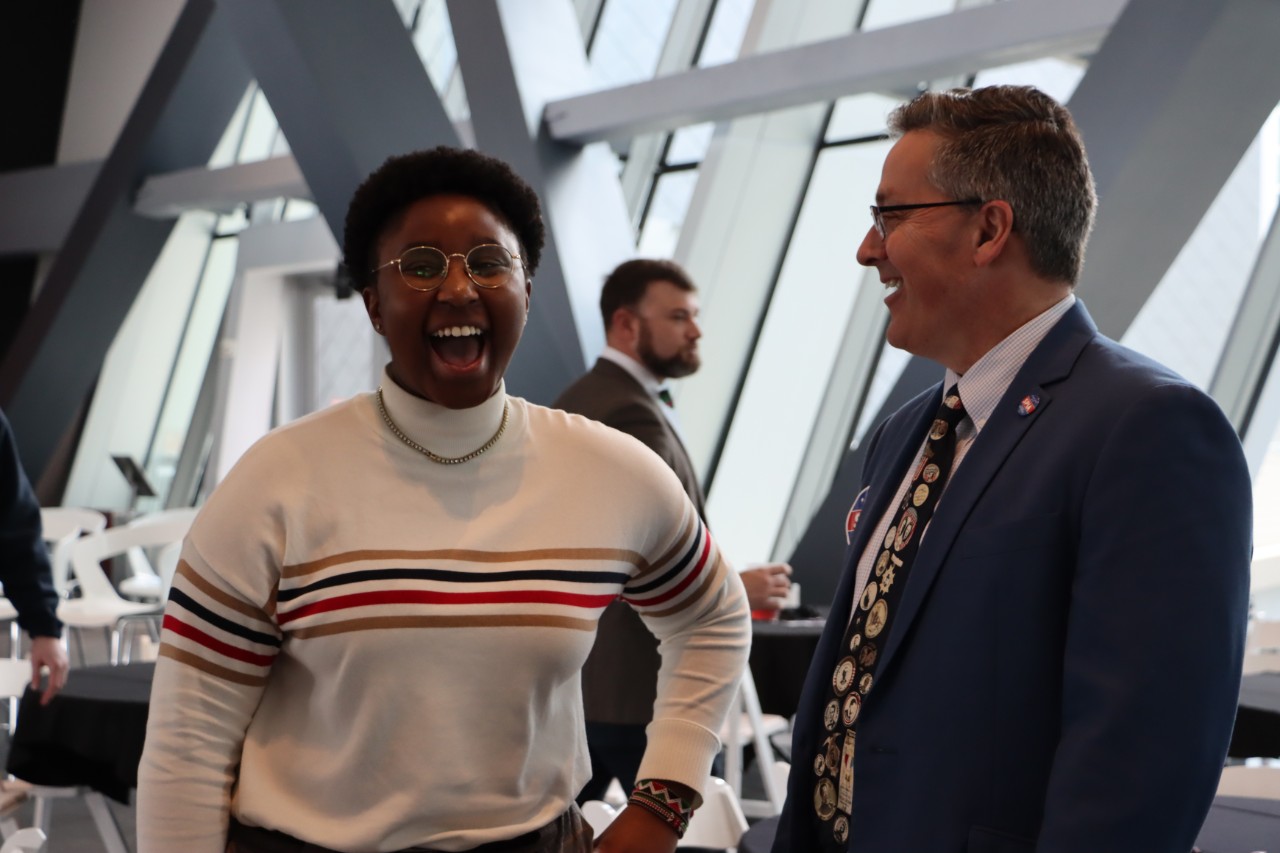 Dr. Richard Harknett's Opening Statement on the School of Public and International Affairs - April 7, 2022
Thank you, Dean Ferme for having faith in us to accomplish great things and being with us today.
Hello everyone, I am Richard Harknett and I am incredibly excited to be named the first Director of our new School of Public and International Affairs.
So some context for today:
For a couple of millennia, who ruled over a society depended on who, frankly, their father was—bloodlines drove governance. The relationship between those ruled and those rulers was one of subservience—you served the ruler. Fairly recently in human history a revolutionary idea took root—that the people within a society should decide collectively on who should rule and that the core purpose of holding political power was in service to the people. Imperfect in implementation, this idea has blossomed and advanced humankind. But as a form of governance only around for perhaps less than 10% of human existence, we have a long way to go in understanding how to make it work in the ideal.
We have assembled an intellectual community of researchers, faculty, students, and partners interested in studying the mechanisms of good democratic governance. Our faculty study it from all aspects—why people vote, its legal structures, its identity structures, its security contexts and do so both focused on the peculiarities of the United States domestically and comparatively across the globe and how the interactions of states and non-state actors drive higher level politics.
SPIA represents a commitment to turn that intellectual energy into a purpose beyond just academic progress—we want SPIA to translate theory into real impact—it requires us therefore to be more active and more intentional in understanding how we can bring a value-add to our societies and working with our students to create the solution sets that will advance human progress.
Our ambitions, therefore, for this School are big—and given the difficult times we live in in which trust in core institutions is declining and seeking division seems to animate people more than achieving agreement seems to excite them—the purpose of SPIA is of critical importance.
Nine years ago, a small department of political science committed itself to make bigger and broader impacts and transform itself—fast forward to today and there are too many people to thank for getting us to this point—a point not of accomplishment, but rather a point of launch. While today is exciting, it is what lies ahead for us that is inspiring.
I call on all our alumni, students, community partners and university colleagues to join in supporting our mission to be the nexus of theory and action—to forge big intellectual ideas into positive public impact. As SPIA, we intend to partner with students, communities, and governments to inspire innovative ideas and action, build trust and engagement in democratic governance nationally and globally, and champion the pursuit of human progress centered on equity and justice.
We are already getting great support. I am pleased to announce that we have recently received a $75,000 gift to advance opportunities for our graduate students to learn sophisticated research methods and $50,000 annually moving forward from the state to provide undergraduates with paid internships opening up new doors to learning in action. This is just the start. We will be communicating with all of you over the next 6 months about our ambitions and have another big transition next year when we move into the new Clifton Court Hall Building
So, Thank you for joining us today. I'll be back to introduce our wonderful new staff we have brought onto our SPIA team to support our new mission.
One reason I am confident of success in this endeavor is because of the great students we have in SPIA and now let me turn over to my colleagues to induct some of our very best of those students into our Honor Society.
The event also highlighted student inductees into Pi Sigma Alpha- the National Political Science Honor Society, see video below.
Dr. Shirin Saeidi, Assistant Professor of Political Science at the University of Arkansas, visited UC to discuss her new book. The book, titled Women and the Islamic Republic: How Gendered Citizenship Conditions the Iranian State, was published in January 2022.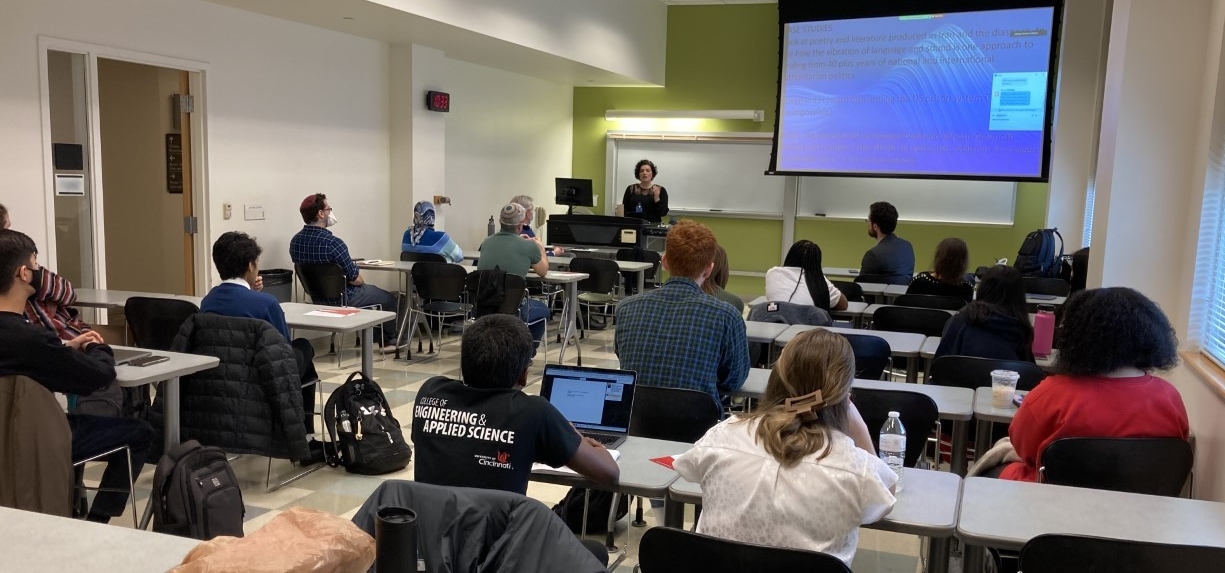 The Center for Cyber Strategy and Policy held a two-day virtual workshop for graduate students, recent PhD graduates, PostDocs, and early career professional researchers.  Panelists included leading Cyber Persistence theorists and US government practitioners.  Graduate students provided lightning talks and received formal feedback from the panelists.  The Center also created a virtual cyber crisis simulation that provided lively discussions about attribution and political decision-making between the attendees and panelists.
The Center for Cyber Strategy and Policy hosts virtual, public discussions centered around current cybersecurity events and research.  Available recordings are linked below. Information about future Cyber Salons can be found here.