Welcome to the History Department at the University of Cincinnati where we strive for inclusive excellence in our teaching, writing, research, and community engagement. The faculty, staff and students in our department are committed to supporting racial justice and equity in our local community, state, country and in the world. Studying the past is vitally necessary to understanding the ongoing inequities in our society and societies throughout the world that we have seen magnified by the Covid-19 pandemic and most recently, by the killing of George Floyd on May 25, 2020, by law enforcement officers in Minneapolis, Minnesota. We thought it might be helpful and indeed necessary to share recent statements put forth by the American Historical Association (AHA) and the National Council on Public History (NCPH) focusing on the history of racist violence in the United States. These statements also include links to other resources that faculty and students alike might find instructive. Now more than ever, we need to understand the history of the present; and the history of the present is all about the past.
The History Department remains ready to support students through this period of remote operations.  For updates and help resources, visit UC's Coronavirus Health Alert page.  If you have any questions or concerns, please email us.  You can find faculty and staff emails on our faculty & staff page.  We welcome your messages as we work together to keep our communities safe. 
To Save Lake Erie: Engineers in the Age of Ecology with David Stradling, July 7th, 10-11am
David Stradling describes the city of Cleveland's late 1960s and early 1970s efforts to improve water quality in Lake Erie. Engineers proposed a variety of solutions, some of them remarkably fanciful, even as the persistence of combined sewers ensured lasting – and ongoing – pollution problems.
This event is part of "Landscapes, Rivers, and Lakes: Ohio's Natural Environment and a Changing Climate," a series of three Ohio Humanities Speakers Bureau events examining the connections between the public humanities and the environment.
This talk will take place remotely on Wed. July 7th, 10-11am and is hosted by Ohio Humanities. Register for this on-line lecture here. 
Looking for a learning experience to build skills in literacy or communication? 
Learn to evaluate your sources and think critically. 
Our Fall 2021 Course Catalog is now available.    
Op-ed by Prof. Chris Phillips, "Most educators teach critical race facts, not hate"
Prof. Rob Gioielli receives prestigious ACLS Fellowship
Prof. David Stradling interviewed by 91.7 WVXU on Boss Cox and the History of Corruption and Reform in Cincinnati Politics
David Stradling recently chatted with WVXU's Senior Political Analyst Howard Wilkinson about the political machine of George "Boss" Cox during the late 19th and early 20th centuries and the reforms to the way Cincinnati's city government works that came in response. What lessons can Cincinnatians learn from the Boss Cox era as we deal with a new era of corruption in city politics? 
https://www.wvxu.org/post/what-lessons-can-cincinnati-learn-boss-cox-era#stream/0  
Highlights for the History Department's Annual Undergraduate Awards Ceremony
The History Department is proud to announce winners of this year's undergraduate prizes. Many congratulations to them, and to all History students who have persevered throughout this difficult academic year.  
The Freshman Seminar Prize, for first-year students who completed a Freshman Seminar in History during the current academic year.  This year's winner is Lauren Leong (left) for her paper, "Dorothy Height: The Backbone of the Intersectionality of the Civil Rights". Movement".
This year's winner of the History Club Service and Leadership Award is Greta Davis, for her taking on of increased responsibilities over the course of the year.  
This year there were five nominees for the Hilda L. Smith Prize for the Best Undergraduate Essay in Women's History: Camden Bailey, Kierra Davis, Elinor Kibbey, Julia Rogala, and Oliver Voyten. 
This year's winner was: Oliver Voyten (right) for his capstone "'With Sorrow Shalt Thou Bear Children': Manipulating Feminine Sexuality in Early Modern England."
This year there were seven nominees for the George Newburger Prize for best capstone in U.S. History: Patrick Bois, David Fiora, Elinor Kibbey, Sayre Christian O'Cull, Easton Phillips, Anna Sensel, and Delaney White. This year's winner was Patrick Bois, for his capstone "'Will He Make it?': The Wayward Historical Memory of U.S. Grant."
This year there were five nominees for the George B. Engberg Prize for best capstone in Non-U.S. History: Lucas Comstock, Isabel Gheytanchi, Gordon Goodwin, Logan Miller, and Oliver Voyten. This year's winner was Logan Miller (left) for her capstone "Class Consciousness and Socialism in Nineteenth-Century Britain."
This year's Lenore F. McGrane Prize for Most Promising Student in U.S. History went to
Easton Phillips (right), for his capstone, "The Troubled Memory of the Underground Railroad: Mythmaking and Propaganda Within the History we Teach." 
This year's Emma Louis Parry Prize for a Top History Student in Any Area went to Madelyn Bruening (left), for her capstone "The Profitable Practice of Gifting: Collaborative Philanthropy in Colonial Bombay and the Benevolent Parsees."
At UC's 2021 Undergraduate Scholarly Showcase, 3 students from the History Department competed in the "Capstone Competition," a live, on-line event modelled after the Three-Minute Thesis Competition popular at the graduate level. You can learn more about it and watch presentations on the Capstone Competition web page. The two prize winners include:
Easton Phillips (1st place, PM session):  "The Troubled Memory of the Underground Railroad: Mythmaking and Propaganda within the History We Teach".
Anna Sensel (2nd place, AM session) (right): "The Antislavery Crusade: The Question of Slavery within a Presbyterian Church in the 1830s-1840s".
A third representative of the History department at the competition was Christine Powell, who presented "The Great Migration's Effect in Los Angeles and Chicago." 
Isabel Gheytanchi (left) was the History department's nominee for the College of Arts & Sciences' "Spirit of Community Award," which honors undergraduates who excel in academics, service, and work in support of the University's mission to support inclusive excellence. She was the winner of the award for 2021 out of all the departments in the College! Dr. Katherine Sorrels' nomination highlighted Isabel's service to UC as a Dabney/CRC Diversity Chair for the Resident Housing Association, as a member of the University Honors Program Ignite cohort that worked to end food insecurity in Cincinnati, and as a research assistant on a history project related to the persecution of children with autism in Nazi Germany. Congratulations, Isabel!
The Charles Phelps Taft Research Center at the University of Cincinnati is proud to announce: Dr. Holly McGee will be the Taft Professor of Public Humanities, 2022-2025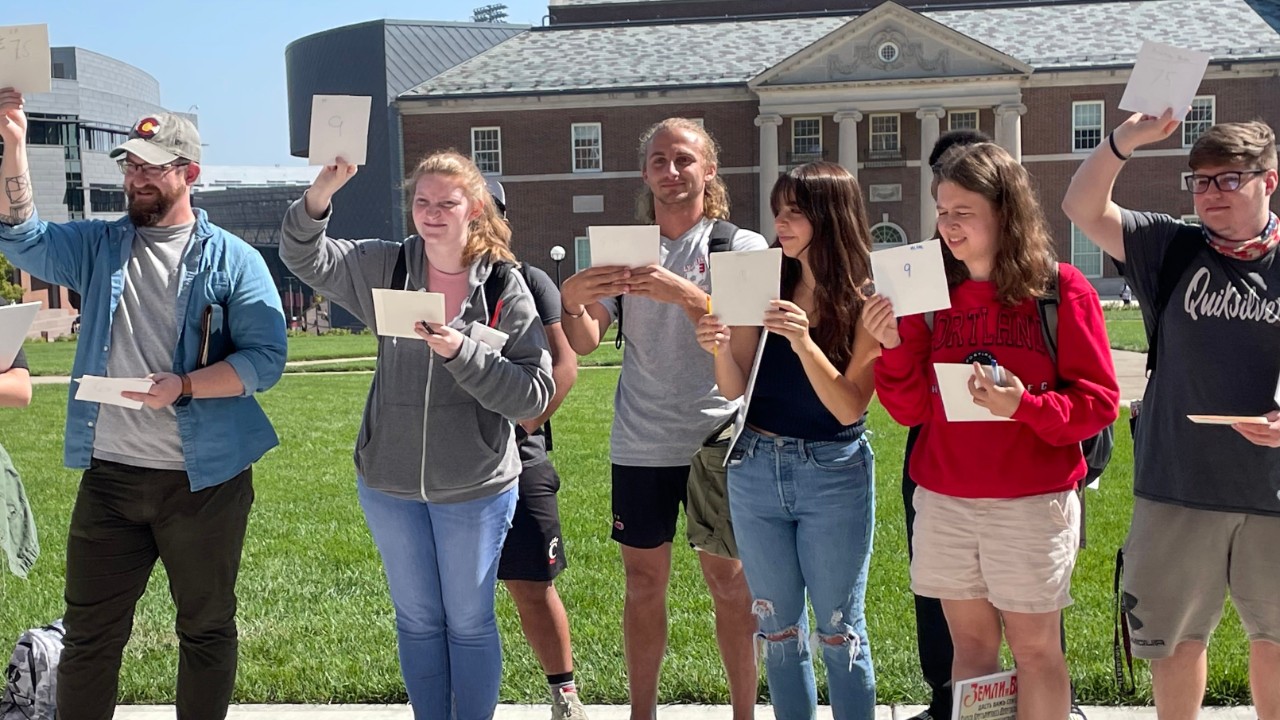 Holly McGee Ph.D. is an associate professor in the Department of History. She specialized in U.S. History and African American History, with an emphasis on black women's activist and intellectual history, comparative political activism in the US and South Africa, and popular culture in the twentieth century.
Dr. Mc. Gee has received significant resources from programming funds and created dozens of experiential leading opportunities for students, faculty, and staff members at the University of Cincinnati. She has committed herself to create campus, community, and travel opportunities that substantively enrich the student experience. 
She holds a Ph.D. in U.S. History and an MA in Afro-American Studies from the University of Wisconsin- Madision. Additionally, an MA in Applied Social Science from Florida A&M University- Tallagasseee. She received her BA in English from Dillard University- New Orleans. 
Rebecca Wingo joins Inaugeral Class of URC Faculty Scholars and receives National Council of Public History Book Award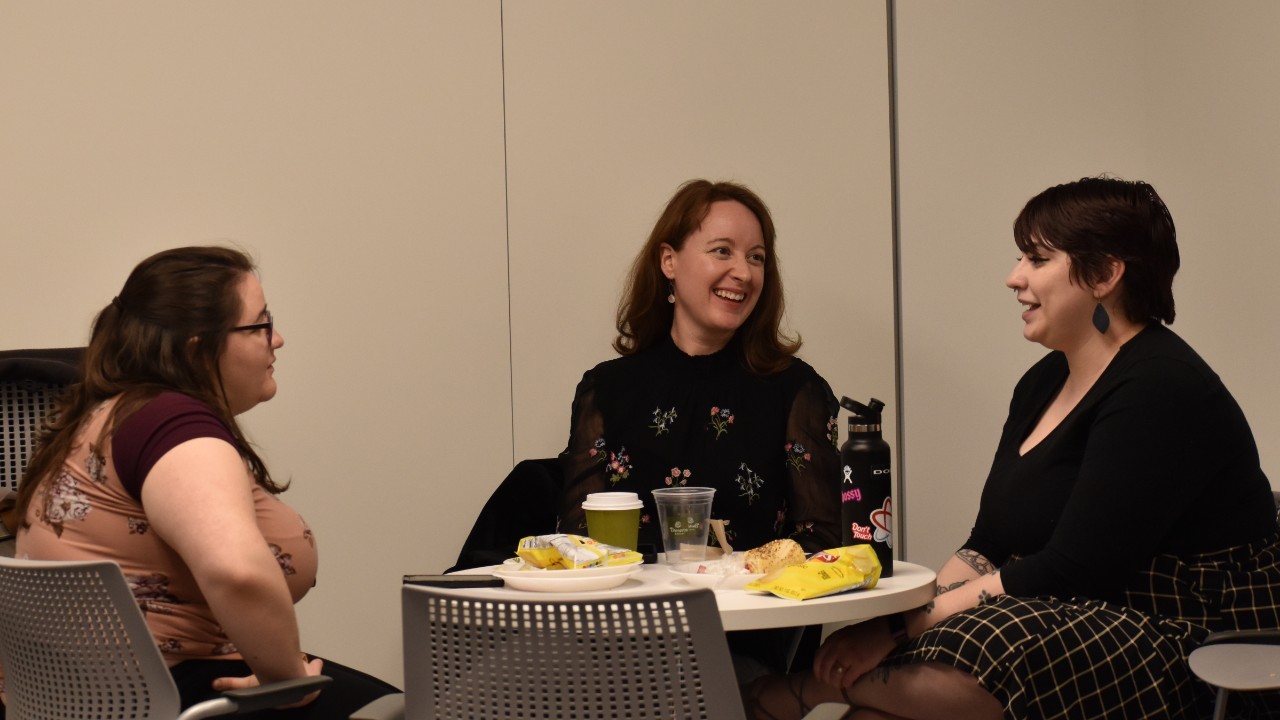 Professor Rebecca Wingo is a part of the Inaugural Class of URC Faculty Scholars (8 faculty awards across all colleges) a $25,000 award to support in part the creation of a digital archive:  "As part of an assimilation program in 1922, the United States government photographically surveyed 244 houses on the Crow Tribe Reservation in Montana and the activities of the residents within. In partnership with descendants of the people in the surveys, Professor Wingo seeks to digitally repatriate the photographs back to the Crow Nation through a digital archive and a Descendants Workshop. The workshop will collaboratively explore options for future uses of these files, including a traveling exhibit, and foster conversations about ongoing housing disparities on the reservation. The culturally specific community engagement methods used will provide a useful template for other scholars seeking community partnerships with Indigenous groups."
Adding to the accolades, Prof. Wingo and her collaborators, Jason A. Heppler of the University of Nebraska, Omaha, and Paul Schadewald of Macalester College, were awarded the National Council of Public History Book Award for Digital Community Engagement: Partnering Communities with the Academy (UC Press, 2020).

Interested in more history department news?  Check out our Newsletter.  
Department of History
360 McMicken Hall
PO Box 210373
2700 Campus Way
Cincinnati, OH 45221-0373
Phone |  (513) 556-2144