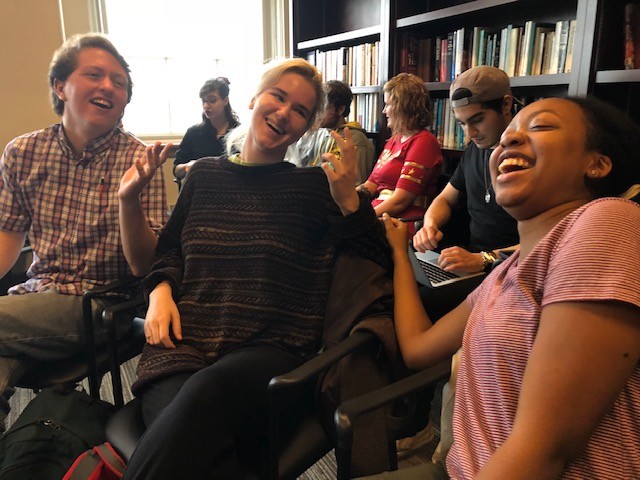 Whatever your career path, History is an excellent starting point and the History Department is a great place to be during your years at UC. In addition to the major, flexible requirements and free electives allow for enough credits for students to pursue a minor, certificate program, or even complete a double-major or cross-college major. On top of first-rate academic opportunities, we boast a terrific array of social and cultural activities. Our History Club--open to all UC students--is entirely student-run and organizes frequent field trips, excursions, and activities. We also sponsor a wide range of public lectures and events throughout the year.

Your History Advisor at UC
One of the great benefits of a history major at UC is that while we are a large department with many faculty and majors, we provide a personal experience of faculty advising. Students are encouraged to get mentoring from all of their professors, especially about research topics and your overall plans for the degree.  We strive to make our faculty accessible and supportive to all history students.  Students interested in the major or minor should make sure to see the Director of Undergraduate Advising, Dr. Robert Haug, about advising, course selection, and schedules. For broader questions about the program and History, students should contact the Director of Undergraduate Studies, Dr. Susan Longfield Karr. 
The major in History provides students with a broad range of choices. Students may concentrate their studies in any part of the world or era in history. The major also provides a carefully designed sequence of courses that teach students how to practice history as a discipline, from the critical examination of existing knowledge, to the techniques of original historical research. These techniques can be applied using an almost limitless variety of sources, including diaries, journals, film, literature, visual images, and government documents. Students may also minor in History or pursue, in addition to a BA, other interdisciplinary certificates such as historic preservation, public history, etc.
Major Requirements
A History major consists of 36 credits and is structured to reflect the department's philosophy and pedagogical goals. Students begin with two survey courses chosen from among European, U.S., Asian, Middle Eastern, Latin American, African, and world history. Building on this broad overview, students take a gateway course, "Introduction to Historical Thought and Methods" (HIST 3000), where they are introduced to historiography, critical thinking and intensive writing and rewriting. Five upper-division elective courses give students the freedom to develop their own field of special interest, while one course (at any level) in any area other than American or European history and one course (at any level) from pre-1800 history ensures a breadth of knowledge. The capstone "History Research Seminars" (HIST 5000) offer History majors experiential learning, allowing the students to integrate their training in critical thinking, research skills and writing to produce an original piece of scholarship. All History majors should consult with the department's Director of Undergraduate Advising when they declare their major.

Minor Requirements
A History minor consists of 18 credit hours and allows students to experience some of the philosophy and pedagogical goals of the department. Students are required to enroll in 6 credit hours of 1000-2000 level history elective courses. Moving from this broad perspective, students next take "Introduction to Historical Thought and Methods" (HIST 3000). They then will need to enroll in two 3001-6000 level History elective courses. Finally, a student will need to take an additional 3 credit hours of History electives, at any level. All History minors should consult with the department's Director of Undergraduate Studies when they declare their minor. All History minors should consult with the department's Director of Undergraduate Advising when they declare their minor.

Students have the option of double-majoring in History and other disciplines. It's frequently the case that students interested in other areas, including teaching, law, area studies, and medicine, need complete only a handful of additional course in order to satisfy the History major. The UC College of Arts and Sciences offers flexible degree requirements that encourage multiple areas of study. Some of the most common pairings are Anthropology, Archaeology, Economics, Geography, International Affairs, Journalism, Languages, Law and Society, Political Science, and Women's, Gender, and Sexuality Studies.
The history department actively participates in the following programs:
Students who want to show future employers the full breadth and depth of their preparation in their subject areas may choose to become dual majors. This is common within the College of Arts & Sciences but students with majors in other colleges can also become dual majors, which means they will have completed both the general education requirements and major requirements in both colleges. Others with more restrictive schedules may choose to pursue a Cross-College major, which means that they will have completed all general education and major requirements in their home college, but only the major requirements for History.
One common example of the Cross-College major involves students in CECH pursuing a BS Ed. As you can see in the chart below, those who choose this path will only need to complete five additional upper-division classes in History to receive the Cross-College major. Students in CECH preparing to teach secondary Social Studies will already have earned the History minor through their coursework, and simply have to declare it for it to show on their transcripts. 
Table comparing the number of required credit hours for History Majors and Cross-College Education Majors (History; Social Studies)

| Requirement Category | History Major | Education Major (History; Social Studies) |
| --- | --- | --- |
| Lower Level Courses | 9 HRS | 15 HRS |
| Methods | 3 HRS | 3 HRS |
| NonUS/Non-Euro Courses  | 3 HRS | 3 HRS |
| Pre-1800 Courses | 3 HRS | 3 HRS |
| Upper-Level Electives | 12 HRS | 3 HRS |
| History 4000 | 3 HRS | 3 HRS |
| Capstone | 3 HRS | 0 HRS |
| Total | 36 HRS | 30 HRS |
We offer an accelerated combined track for students who wish to earn both a BA and MA in history. To apply to this program, students must be declared History majors. They must have at least a 3.5 GPA in history courses and a 3.3 GPA overall at the end of their junior year, when they must declare their interest in entering the 5-year BA + MA Program in writing to the Director of Graduate Studies. In addition to fulfilling all of the requirements of the undergraduate major, interested students must take two 6000-level History seminars in their junior or senior year.
Applicants will follow the usual application procedures in the fall of their senior year. The Graduate Admissions Committee will consider 5-year BA + MA Program applications along with all other applicants for admission and Graduate Assistantships. Those who receive and accept GAship offers cannot complete the MA in one year. Those who do not receive or accept a GA offer can complete the MA degree taking an accelerated approach. Following is a sample 1-year MA Program:
Fall
HIST 7060 Historical Methodology Seminar
HIST 9040 Graduate Research Seminar I
Graduate Seminar in Major Field
Spring
HIST 7080 Comparative History Seminar
HIST 9041 Graduate Research Seminar II
Graduate Seminar in Major Field
The History Department offers a number of prizes and scholarships every year to accomplished undergraduates. For more information on the any of the awards below, contact the department's Director of Undergraduate Studies.
The George B. Engberg Prize is awarded each year for the best undergraduate papers in the senior research seminars on any topic, Non-U.S. history. The award honors Professor George B. Engberg, who taught at the University of Cincinnati for more than 30 years until he retired in 1983.
The Lenore F. McGrane Prize honors the wife of long-time professor and history department head, Reginald McGrane. In his will, Reginald McGrane established a scholarship fund whose income would be given each year to the most promising student of American history. This award is both a mark of distinction for its winner, and a sign of the affection and commitment of Lenore and Reginald McGrane to this department, a relationship which began with Reginald McGrane's enrollment as an undergraduate at UC in 1904.
The Emma Louise Parry prize is the most venerable prize awarded by the history department. It was established by alumnae of the former Mount Auburn Institute and the H. Thane Miller School to honor the memory of an outstanding teacher of history. It is given to the student who has shown outstanding ability in his or her field of specialization in history.

The George Newberger prize is awarded each academic year to the best papers produced in HIST 5000 seminars that deal with U.S. history.

The Hilda L. Smith Prize is awarded to the best undergraduate paper in any field or period related to questions of women's history. Hilda Smith retired from the History Department in 2012 after a long and accomplished career of research and teaching.

Qualified undergraduates in history may also apply for the Taft Undergraduate Enrichment Award as well as other forms of assistance through the Taft Research Center. History students have also received funding from sources such as UC International (study-abroad grants) and women's studies. For more information on funding opportunities in history at UC, visit the University Research Council and College of Arts and Sciences Financial Aid and Scholarships web page.
The History Club is a student-run organization that brings together a diverse group of students at the University of Cincinnati interested in all areas of History. We are a vibrant learning community that actively connects undergraduate and graduate students within the department and creates links with people and institutions around campus and throughout the region. We seek to expand and enhance the classroom learning experience as well as to create year-round opportunities for social and cultural interaction.
Contact information: haugrt@ucmail.uc.edu