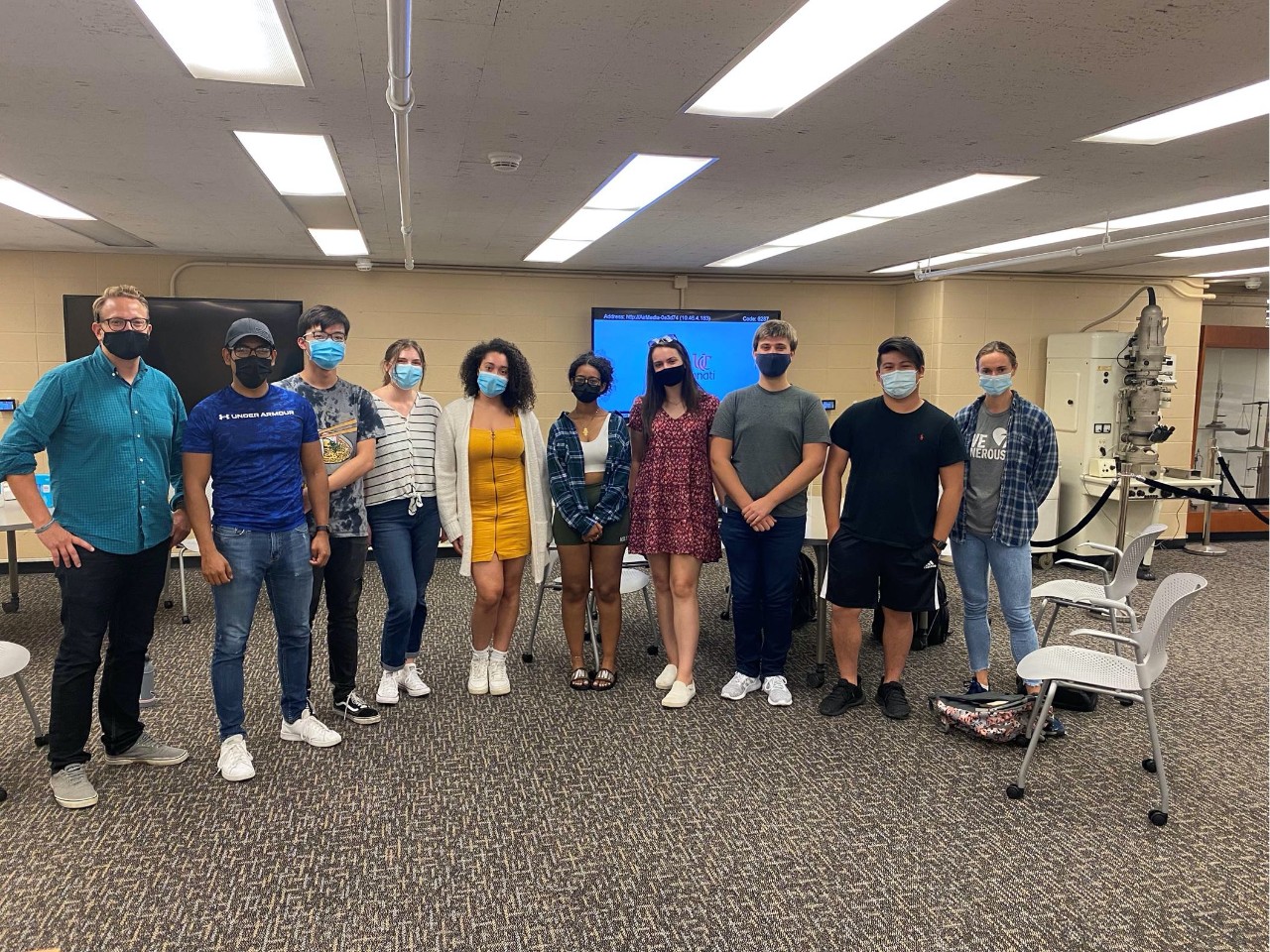 With support from the NSF, we launched our Pathway to Undergraduate Research for First-Generation College Students. The pathway aims to build pathways for first-generation students to enter the world of research and to build a supporting community of student researchers in the department (added 9/21).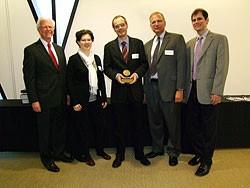 Prof. Briana Simms receives the Faculty Starter Grant in Drug Delivery from the PhRMA Foundation. 
Prof. Ashley Ross delivered a keynote presentation titled "Ex vivo organ-on-chip platforms for sensing neuron-immune communication" at microTAS 2023 last week in Katowice, Poland.
UC Chemistry contributed to Family Weekend this past weekend with a liquid nitrogen ice cream demo and tasting with Dean James Mack and Prof. Dan Waddell. Participants helped make some excellent vanilla ice cream for a taste test comparison against Boldy Bearcat from Graeter's Ice Cream.
P&G was a part of Oesper 2023 and awarded several poster awards. The poster award winners were: Rui Chen (Prof. Sun), Hope Kumakli (Prof. White), Jesus Vasquez Carrillo (Prof. Alvarez), Vindaya Dikella (Prof. White), and Manisha Sheokand (Prof. Strobbia).
Staci Herman (Prof. Connick) received an internship where she will be working on the EPA's Airborne Spectral Photometric Environmental Collection Technology Program (added 4/15)

Alicia Suraro (Prof. Connick) was accepted into the Homeland Security Science, Technology, Engineering and Mathematics (HS-STEM) Summer Internship Program.  She will be at Argonne National Laboratory (added 4/15)

Katie Hoffman (Prof. Connick) was accepted into the Nuclear Forensics Summer Program at the Seaborg Institute at LLNL (added 4/15)

Amie Norton (Prof. Connick) received a 2-year fellowship from the EPA's National Center for Environmental Research Science to Achieve Results (STAR) program (added 4/15)
Megan Deeds (Prof. Connick) won the Vogt Radiochemistry Scholarship from the American Nuclear Society (which is $3k) (added 4/15)

Congratulations to Prof. William Heineman on winning the ACS Analytical Division Distinguished Service Award
Congratulations to Prof. Hairong Guan on being the 2015 recipient of the Sigma Xi Young Investigator Award
Chemistry Graduate Students with faculty advisor, James Mack, win 2nd place in the "Chemistry in Motion" College and University Challenge, ACS Indianapolis Fall 2013 National Mtg.  Read more here.
Prof. Anna D. Gudmundsdottir has been named Chemist of the Year for 2013 by the Awards Committee for the Cincinnati Section of ACS .The award will be formally presented at the February 13th meeting at P&G's Mason Business Center
Dr. Diane G. Schmidt received The Henry Hill Award from the Division of Professional Relations at the San Diego national American Chemical Society meeting, March 2012. The award recognizes outstanding efforts and ac-complishments to advance chemistry as a profession. Read more on page 7
Dr. Joel Ira Shulman, Adjunct Professor of Chemistry at the University of Cincinnati, has been inducted as an ACS Fellow at the American Chemical Society's recent national meeting in Philadelphia. Read more here.
Hans Borner visited campus through the Chemistry Department's Zimmer Scholar program and shared his expertise in the science behind new "smart" materials, such as nanotechnology. Read more here.
Cincinnati scientists, Robert T. Voorhees and Dan Hassett, are engineering special bugs that will clean wastewater and create energy. You can listen to the Podcast that takes you into the lab where this is happening here, Focus on Technology: Bugs Cleaning Wastewater
Tiffany Bell-Horwath has been awarded an ACS Women Chemists Committee Travel Award sponsored by Eli Lilly & Company. The grant is in the amount of $1000 to support travel to the ACS 244th National Meeting & Exposition in Philadelphia, PA.
Edward J. Merino is using metabolic "pollution" to target improved anticancer treatments. Read more here.
Joseph Caruso and Vernon Scarborough have been chosen as Fellows in the American Association for the Advancement of Science. Read more here.
On the evening of January 19th, the Oesper Collections for the History of Chemistry hosted the ACS high-school chemistry teachers group under the leadership of Linda Ford. The teachers gathered in the museum for a tour and to hear a talk by Dr. Jensen titled "The History of the Chemcraft Chemistry Set: The Cincinnati Connection" and to view a special display of early Chemcraft chemistry sets. Read more here.
Three undergraduate and two graduate students in the Chemistry Department are working with Professor Allan Pinhas to make garbage a valuable resource-by turning it into biodiesel fuel. Undergraduate students Cody Nubel, Megan McCallister and Zachary Herrmann joined Professor Allan Pinhas and graduate students, Amos Doepke and Chau Phung at the Ho Chi Minh City (HCMC) University of Science, in Vietnam, working on a joint research project with Lawrence Pratt of Fisk University.Read more here.
Congratulations to Joe Caruso, who has been elected to the rank of AAAS Fellow.
Alumnus Dr. Diane Grob Schmidt [PhD. 1981, Zimmer] was recently selected an American Chemical Society Fellow.
David Rogers, a former student of Thomas Beck and a postdoc at Sandia Natl Labs, was an instrumental contributor to a project that recently received an R&D 100 award. This recognition includes a dinner with President Barack Obama in Orlando, FL in the fall.
Congratulations to Joe Caruso and Bruce Ault, who were selected as Fellows of the ACS.
Congratulations to Praveen Bachawala, whose research poster won 2nd place at PINO Conference held at Case Western Research University.
Congratulations to Aaron Decker, whose application to the 2011 University Research Council Undergraduate Student Research Fellowship program has been chosen for funding.
Chemistry grad students receive 9 out of the 74 URC awards: Seventy-four students from across the university will have their research efforts supported this summer through the University Research Council Graduate Student Research Fellowship program. (more...)
UC Research Produces Novel Sensor with Improved Detection Selectivity: UC research on a novel sensor with improved detection selectivity for use with complex samples will be presented at the next national meeting of the American Chemical Society. Importantly, the research is among a select international set of projects that students said they wanted to hear about during a symposium on electrochemistry. (more...)
Graduate student Praveen Bachawala has received a research award from GSGA.
Graduate student Sumit Chakraborty has been selected for a UC Sigma Xi Chapter 2011 Grant-in-Aid of Research Award.
Joseph Caruso received a $431,750 National Institute of Allergy and Infectious Diseases grant for "Zinc and Histoplasma."
Peng Zhang received a $486,205 Department of the Army Medical Research Acquisition Activity grant for "Silver Nanoparticle-Enhanced Photosensitizers for Antibacterial Applications."
Graduate student Pooja Shrestha (Stan group), Physics Dept., was awarded the third prize for her poster presentation at the Physics Student Poster Competition 2011.
Apryll Stalcup was recognized as the 2011 Cincinnati Chemist of the Year by the American Chemical Society. (more...)
Professor Peng Zhang Earns NSF Grant for Cancer Research (more...)
The Chemistry Graduate Student Association was awarded $1,525 by the Group Grants Committee of the GSGA towards the upcoming 6th Annual Speaker Symposium to be held in February 2011.
Graduate Student, Eme Amba (Heineman grp), was selected as a GTA Host Facilitator for the GTA Teaching Seminar organized by the Center for Enhancement of Teaching & Learning at UC.
BioMolecular Markers Fall Seminar Series (more...)
New Digital Collections Site: The Oesper Collections in the History of Chemistry (more...)
Graduate student Bridgett Coleman (Ault grp) was chosn to participate in The Procter & Gample Company Research & Technical Careers in Industry Conference.
Graduate student Karolin Kroening (Caruso grp) has been chosen as one of the Society for Applied Spectroscopy's (SAS) Graduate Student Award winner for outstanding research in the field of spectrometry.
Safety training required for all Chemistry Department members. On-line training is available at the EH&S web site.