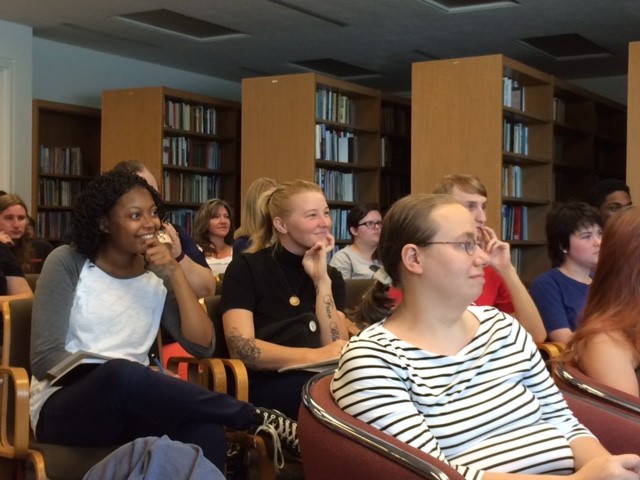 The Creative Writing Program's Visiting Writers Series brings a number of distinguished authors to campus each semester. Visitors often conduct a colloquium with creative writing students in addition to giving a public reading.

Each year, through the Elliston Poet-in-Residence Program, a distinguished poet comes to campus to give public lectures and readings, and to conduct poetry seminars and workshops. The biennial Emerging Fiction Writers Festival brings four writers to campus for two days of readings and panels.

Past visiting writers have included Nicholson Baker, Charles Baxter, Sandra Cisneros, Victoria Chang, Mark Doty, Rita Dove, Alice Fulton, Lauren Groff, Terrance Hayes, Juan Felipe Herrera, Cathy Park Hong, Denis Johnson, Lorrie Moore, Robert Pinsky, Tracy K. Smith, and Colson Whitehead.
Sponsored by the Elliston Poetry Fund and the Robert and Adele Schiff Fund for Contemporary Fiction 

All readings are free and open to the public. They will be held in-person as well as broadcast in real-time via Zoom. ASL interpretation available upon request with two weeks' notice.

The Robert and Adele Schiff Fiction Festival
Gwen E. Kirby is the author of the debut collection Shit Cassandra Saw. She has an MFA from Johns Hopkins University and a PhD from the University of Cincinnati. Her stories appear in One Story, Tin House, Guernica, Mississippi Review, Ninth Letter, SmokeLong Quarterly, and elsewhere. Currently, she is the associate director of programs and finance for the Sewanee Writers' Conference at the University of the South, where she also teaches creative writing.
Brenda Peynado's genre-bending short story collection, The Rock Eaters—featuring alien arrivals, angels falling from rooftops, virtual reality, and sorrows manifesting as tumorous stones—garnered starred reviews from Publisher's Weekly and Kirkus Reviews, and was named one of NPR, the New York Public Library, and Electric Literature's best books of the year. Her stories have won an O. Henry Prize, a Pushcart Prize, the Chicago Tribune's Nelson Algren Award, and inclusion in The Best American Science Fiction and Fantasy, and over forty other short stories have appeared in places such as Tor.com, The Georgia Review, The Sun, The Southern Review, and Epoch. She teaches creative writing at the University of Houston.
Liv Stratman holds a BA and MA from the University of Cincinnati, and an MFA from the University of Wisconsin-Madison. Her first novel, Cheat Day, was released by Scribner in 2021. She lives in Long Island, New York.
Bess Winter has written on the topics of: dolls, mummies, taxidermy, death, horse tails, stolen eggs, Victorians, primates, private school girls, daguerreotypes, gas leaks, etc. Her work appears in Kenyon Review, American Short Fiction, Gettysburg Review, Alaska Quarterly Review, Ecotone, W.W. Norton's Flash Fiction International, and elsewhere, and has been awarded a Pushcart Prize and the American Short[er] Fiction Prize. She's received fellowships and scholarships from the Corporation of Yaddo, the Canada Council for the Arts, and the Sewanee Writers' Conference. She grew up in Toronto, Canada. She has taught creative writing to kids, teens, and adults at StoryStudio Chicago, WordPlay Cincinnati, and elsewhere. Her debut collection, Machines of Another Era, was released by Gold Wake Press in 2021. 
Brian Teare, 2023 Elliston Poet-in-Residence
Lecture: "It's the End of the World & We Know It"
February 7, 2023; 5:30 pm EST
Elliston Poetry Room, 646 Langsam Library 
Zoom registration: https://ucincinnati.zoom.us/meeting/register/tJEpd-2spzMrGNLXE20LGkkox3tdiES0VU54
Description: This talk encounters four short poems – one each by Lucille Clifton, Jody Gladding, Oliver Baez Bendorf, and Emily Dickinson – on the way to offering an ecopoetic model of environmental writing and reading, one that contextualizes "nature" within the social as well as the ecological. Challenging the dualist model of nature as something that lies outside of culture, a social ecological approach asks us to write and read about the more-than-human world from a perspective located within a complex interdependence. The ecopoems of Clifton, Gladding, Bendorf, and Dickinson utilize poetic form both to articulate and to answer questions about relations between the human and the more-than-human: how to express solidarity with more-than-human beings? how to express human identification with more-than-human beings? how to express the messy, erotic enmeshment of humans and watersheds? and how to write our experience of extreme weather – and our uncertain future? Focusing on poetic form as an expression of the precarious embodiment that characterizes all life on Earth allows us to extend compassion, solidarity, and identification with more-than-human others through writing, while also acknowledging that such precarity is unevenly distributed across all lives.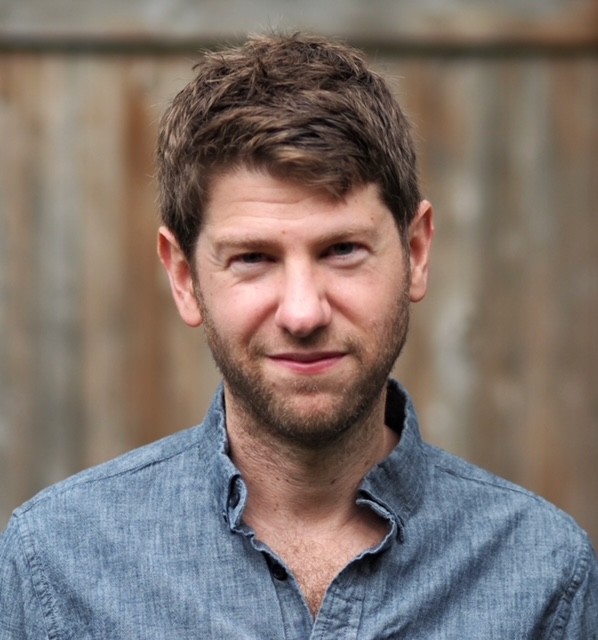 Brian Teare is the author of six critically acclaimed books, most recently Companion Grasses, The Empty Form Goes All the Way to Heaven, and Doomstead Days, winner of the Four Quartets Prize and a finalist for the National Book Critics Circle Award. His honors include the Brittingham Prize and Lambda Literary and Publishing Triangle Awards, as well as Guggenheim, NEA, Pew Foundation, and MacDowell Colony fellowships. After over a decade of teaching and writing in the San Francisco Bay Area, and eight years in Philadelphia, he's now an Associate Professor at the University of Virginia, and lives in Charlottesville, where he makes books by hand for his micropress, Albion Books.
Co-sponsored by the Taft Translation Work Group   

Johannes Göransson is the author of nine books of poetry and criticism, most recently Summer (2022), and is the translator of several books of poetry, including works by Aase Berg, Ann Jäderlund, Helena Boberg and Kim Yideum. His poems, translations and critical writings have appeared in a wide array of journals in the US and abroad, including Fence, Lana Turner, Spoon River Review, Modern Poetry in Translation (UK), Kritiker (Denmark) and Lyrikvännen (Sweden). He is an associate professor in the English Department at the University of Notre Dame and, together with Joyelle McSweeney, edits Action Books.
Erin Harris and Allegra Hyde 
Erin Harris has worked in publishing for over a decade and serves as a Senior Vice President and literary agent at Folio Literary Management, where she represents authors writing fiction (literary and upmarket), narrative non-fiction, and Young Adult. Her clients include New York Times Bestsellers, National Book Award and Pulitzer Prize finalists, winners of the Lambda Literary and Stonewall Book Awards, Indie Next Pick authors and authors selected for the national book clubs Reese Witherspoon's "Hello Sunshine," Good Morning America, The Today Show's Read with Jenna, Barnes & Noble, and Target. Erin is a member of the AALA (Association of American Literary Agents), Phi Beta Kappa, and received her MFA in Creative Writing from the New School.  She lives in Brooklyn and is a co-curator of  the literary event series HIP Lit.
Allegra Hyde is the author of the novel Eleutheria, as well as the story collection Of This New World, which won the John Simmons Short Fiction Award. Her second collection, The Last Catastrophe, will be published by Vintage in 2023. Her work has appeared in The Pushcart Prize, Best of the Net, The Best Small Fictions, The Best American Travel Writing, and elsewhere. She currently teaches at Oberlin College.
Sarah Shun-lien Bynum, Jennifer Elise Foerster, Luke Geddes, Sara Eliza Johnson, and Yalie Saweda Kamara

Heid E. Erdrich, Donika Kelly, Ginger Ko, Poupeh Missaghi, Hoa Nguyen, Craig Santos Perez, Raquel Salas Rivera, Divya Victor

Tyehimba Jess served as Elliston Poet-in-Residence. All other events were cancelled due to COVID.

Readers included Don Bogen, Brian Brodeur, Ross Gay, Lillian Li, Maria Massie, Hannah Pittard, Moriel Rothman-Zecher, Natalie Scenters-Zapico, and Sarah Anne Strickley.
Readers included Xhenet Aliu, Jamel Brinkley, Brock Clarke, Sloane Crosley, Blas Falconer, Ishion Hutchinson, Uzodinma Iweala, Katie Kitamura, Stephen Kuusisto, Brendan Mathews, Timothy O'Keefe, Mary Ruefle, Joan Silber, Jillian Weise, and Kevin Wilson.
Readers included Brit Bennett, Victoria Chang, Allison Pitinii Davis, Erica Dawson, Kathy Fagan, Charley Henley, Juan Felipe Herrera, T. R. Hummer, Holly Goddard Jones, David Lazar, Karan Mahajan, Amit Majmudar, and Anne Valente.

Readers included Michelle Y. Burke, Sandra Cisneros, Sarah Domet, Denise Duhamel, Catherine Lacey, Ada Limon, Elizabeth McKenzie, Nancy Reisman, Antonio Ruiz-Camacho, A. E. Stallings, and Jung Yun.

Readers included Becky Adnot-Haynes, Paul Beatty, Tom Drury, Claudia Keelan, Rebecca Lindenberg, Maurice Manning, Lee Martin, James McMichael, Ander Monson, Tomas Q. Morin, Jenny Offill, Carl Phillips, Julie Schumacher, and Lisa Williams.

Readers included Dean Bakopoulos, Marianne Boruch, Amity Gaige, Michael Knight, Ted Kooser, Sonja Livingston, Jamaal May, Claire Messud, Alissa Nutting, Ed Park, Roger Reeves, Nelly Reifler, and Mary Szybist.

Readers included Sarah Arvio, Jami Attenberg, Joseph Campana, Marisa Crawford, Denise Duhamel, Yona Harvey, Cathy Park Hong, Shara Lessley, Dana Levin, Colum McCann, Erin McGraw, Collier Nogues, Jack Pendarvis, Jamie Quatro, Nathaniel Perry, Marcus Wicker, and C. K. Williams.
Readers included Charles Baxter, Matt Bell, Jedediah Berry, Jennifer Clarvoe, Ron Currie, Jr., Claudia Emerson, Danielle Evans, Lauren Groff, Caitlin Horrocks, Julia Johnson, James Longenbach, Ben Loory, Gregory Orr, Steve Scafidi, and Tracy K. Smith.
Readers included Cynthia Arrieu-King, Mark Doty, Rebecca Morgan Frank, Terrance Hayes, Linda Hogan, Gary Leising, Brian Leung, Sinead Morrissey, Meghan O'Rourke, Kelcey Parker, Sarah Perrier, Martha Southgate, Anne Stevenson, Colson Whitehead, Caki Wilkinson, and Carolyne Wright.