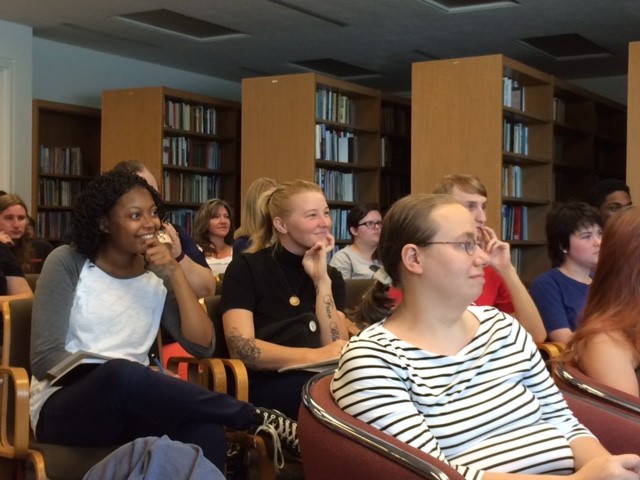 The Creative Writing Program's Visiting Writers Series brings a number of distinguished authors to campus each semester. Visitors often conduct a colloquium with creative writing students in addition to giving a public reading.

Each year, through the Elliston Poet-in-Residence Program, a distinguished poet comes to campus to give public lectures and readings, and to conduct poetry seminars and workshops. The biennial Emerging Fiction Writers Festival brings four writers to campus for two days of readings and panels.

Past visiting writers have included Nicholson Baker, Charles Baxter, Sandra Cisneros, Victoria Chang, Mark Doty, Rita Dove, Alice Fulton, Lauren Groff, Terrance Hayes, Juan Felipe Herrera, Cathy Park Hong, Denis Johnson, Lorrie Moore, Robert Pinsky, Tracy K. Smith, and Colson Whitehead.
Sponsored by the Elliston Poetry Fund and the Robert and Adele Schiff Fund for Contemporary Fiction 

All readings are free and open to the public. They will take place in person with a virtual option. Registration for our real-time digital broadcast of these events is required (links below).   

Luke Geddes and Yalie Saweda Kamara
Fiction and Poetry Reading
September 14, 2022; 5:30 PM EST 
In person: Elliston Poetry Room, 646 Langsam Library
Zoom registration: https://bit.ly/alumnireading

Luke Geddes's novel Heart of Junk received starred reviews from Publishers Weekly and Booklist and was cited as a Best Book of 2020 on NPR's Weekend Edition. It has been optioned for television adaptation by Fox 21 studios. The author and critic Roxane Gay called his story collection I Am a Magical Teenage Princess one of her favorite books in her 2017 New York Times "By the Book" interview. In addition to his fiction writing career, Luke releases records, clothing, and zines through his Works of Love imprint. His Chick Tract-style defense of The Velvet Underground's Doug Yule has received international acclaim. He is also a collage artist. Luke received his PhD in Creative Writing and Comparative Literature from the University of Cincinnati and his MFA in Creative Writing from Wichita State University and has taught writing at the University of Cincinnati, Thomas More University, and the Sewanee Young Writers Conference. He is originally from Appleton, WI. After living in Wichita for 3 years and Cincinnati for 10, Luke returned to his home state and currently resides in Milwaukee.
Yalie Saweda Kamara is a Sierra Leonean-American writer, educator, and researcher from Oakland, California. Selected as the 2022-2023 Cincinnati and Mercantile Library Poet Laureate (2-year term), she is the editor of the anthology What You Need to Know About Me: Young Writers on Their Experience of Immigration (The Hawkins Project, 2022) and the author of A Brief Biography of My Name (African Poetry Book Fund/Akashic Books, 2018) and When the Living Sing (Ledge Mule Press, 2017). Kamara has been a finalist for the National Poetry Series competition and the Brunel International African Poetry Prize and a semifinalist for the Cave Canem Poetry Prize. She earned a PhD in Creative Writing and English Literature from the University of Cincinnati, an MFA in Creative Writing from Indiana University, Bloomington and an MA in French Culture and Civilization from Middlebury College. Yalie currently resides in Cincinnati where she works as the Director of Creative Youth Leadership at WordPlay Cincy and is an Adjunct Assistant Professor at the University of Cincinnati.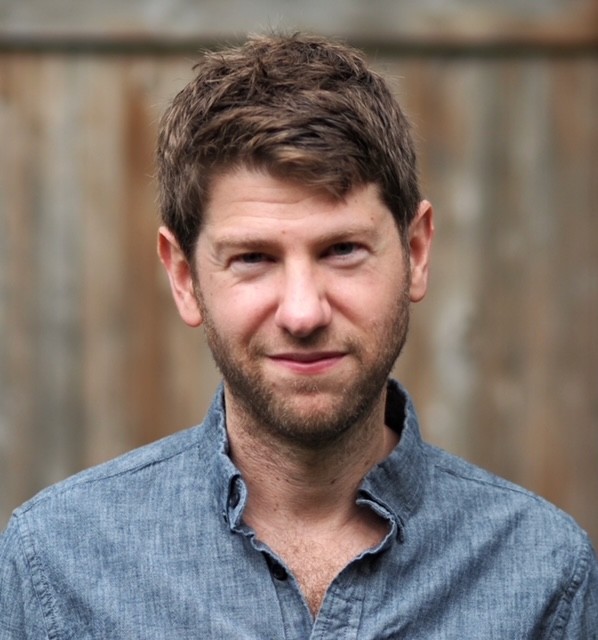 Sara Eliza Johnson's first book, Bone Map, won the 2013 National Poetry Series and was published by Milkweed Editions in 2014. Her second poetry book, Vapor, will be published by Milkweed Editions in 2022. Her poetry and nonfiction have appeared or are forthcoming in the Virginia Quarterly Review, Colorado Review, Boston Review, Copper Nickel, Blackbird, New England Review, Ninth Letter, Best New Poets, DIAGRAM, AGNI, Crazyhorse, and Alaska Quarterly Review, among others. She is the recipient of numerous honors, including a 2015 National Endowment for the Arts Fellowship in poetry, a 2010 Rona Jaffe Foundation Writers' Award, a 2009-2010 and 2015-2016 Winter Fellowship from the Fine Arts Work Center in Provincetown, and a 2011 work-study scholarship to the Bread Loaf Writers' Conference, as well as fellowships from the University of Oregon and the University of Utah, where she was a Vice Presidential Fellow in the Literature & Creative Writing PhD program and Managing Editor of Quarterly West. She currently teaches creative writing at the University of Alaska–Fairbanks.
Fiction Reading 
October 4, 2022; 6:00 pm EST
In person: Elliston Poetry Room, 646 Langsam Library 
Zoom registration: https://bit.ly/bynumreads

Sarah Shun-lien Bynum is the author of two novels, Madeleine Is Sleeping, a finalist for the National Book Award, and Ms. Hempel Chronicles, a finalist for the PEN/Faulkner Award, as well as a story collection, Likes, a finalist for the Story Prize and the Los Angeles Times Book Prize. Her fiction has appeared in many magazines and anthologies, including the New Yorker, Ploughshares, the O. Henry Prize Stories, and the Best American Short Stories. She lives in Los Angeles. 
Poetry Reading
October 13, 2022; 6:00 pm EST
In person: Elliston Poetry Room, 646 Langsam Library 
Zoom registration: https://bit.ly/ssavannah

Simone Savannah, Ph.D. is the author of Uses of My Body (Barrow Street 2020), the winner of the Barrow Street Poetry Book Prize chosen by Jericho Brown. She is also the author of Like Kansas (Big Lucks 2018).  Her work has been published in Apogee, The Fem, Powder Keg, GlitterMob, Shade Journal, BreakBeat Poets, and several other journals and anthologies. She has received nominations for Best New Poets and Best of the Net. Simone is originally from Columbus, Ohio. She earned her M.Ed and B.A. from Ohio University. She holds a Ph.D. in Creative Writing from the University of Kansas. She is currently a Taft Research Center Post-Doctoral Fellow at the University of Cincinnati.
Poetry Reading  
October 26, 2022; 6:00 pm EST
In person: Elliston Poetry Room, 646 Langsam Library 
Zoom registration: https://bit.ly/foersterreads

Jennifer Elise Foerster is the author of three books of poetry, The Maybe Bird, Bright Raft in the Afterweather, and Leaving Tulsa, and served as the Associate Editor of When the Light of the World Was Subdued, Our Songs Came Through: A Norton Anthology of Native Nations Poetry. She is the recipient of a NEA Creative Writing Fellowship and a Lannan Foundation Writing Residency Fellowship. She was a Wallace Stegner Fellow in Poetry at Stanford, holds a PhD in Literary Arts from the University of Denver, and teaches Poetry at the Rainier Writing Workshop among other programs. Foerster grew up living internationally, is of European (German/Dutch) and Mvskoke descent, and is a member of the Muscogee (Creek) Nation of Oklahoma. She lives in San Francisco.
Heid E. Erdrich, Donika Kelly, Ginger Ko, Poupeh Missaghi, Hoa Nguyen, Craig Santos Perez, Raquel Salas Rivera, Divya Victor

Tyehimba Jess served as Elliston Poet-in-Residence. All other events were cancelled due to COVID.

Readers included Don Bogen, Brian Brodeur, Ross Gay, Lillian Li, Maria Massie, Hannah Pittard, Moriel Rothman-Zecher, Natalie Scenters-Zapico, and Sarah Anne Strickley.
Readers included Xhenet Aliu, Jamel Brinkley, Brock Clarke, Sloane Crosley, Blas Falconer, Ishion Hutchinson, Uzodinma Iweala, Katie Kitamura, Stephen Kuusisto, Brendan Mathews, Timothy O'Keefe, Mary Ruefle, Joan Silber, Jillian Weise, and Kevin Wilson.
Readers included Brit Bennett, Victoria Chang, Allison Pitinii Davis, Erica Dawson, Kathy Fagan, Charley Henley, Juan Felipe Herrera, T. R. Hummer, Holly Goddard Jones, David Lazar, Karan Mahajan, Amit Majmudar, and Anne Valente.

Readers included Michelle Y. Burke, Sandra Cisneros, Sarah Domet, Denise Duhamel, Catherine Lacey, Ada Limon, Elizabeth McKenzie, Nancy Reisman, Antonio Ruiz-Camacho, A. E. Stallings, and Jung Yun.

Readers included Becky Adnot-Haynes, Paul Beatty, Tom Drury, Claudia Keelan, Rebecca Lindenberg, Maurice Manning, Lee Martin, James McMichael, Ander Monson, Tomas Q. Morin, Jenny Offill, Carl Phillips, Julie Schumacher, and Lisa Williams.

Readers included Dean Bakopoulos, Marianne Boruch, Amity Gaige, Michael Knight, Ted Kooser, Sonja Livingston, Jamaal May, Claire Messud, Alissa Nutting, Ed Park, Roger Reeves, Nelly Reifler, and Mary Szybist.

Readers included Sarah Arvio, Jami Attenberg, Joseph Campana, Marisa Crawford, Denise Duhamel, Yona Harvey, Cathy Park Hong, Shara Lessley, Dana Levin, Colum McCann, Erin McGraw, Collier Nogues, Jack Pendarvis, Jamie Quatro, Nathaniel Perry, Marcus Wicker, and C. K. Williams.
Readers included Charles Baxter, Matt Bell, Jedediah Berry, Jennifer Clarvoe, Ron Currie, Jr., Claudia Emerson, Danielle Evans, Lauren Groff, Caitlin Horrocks, Julia Johnson, James Longenbach, Ben Loory, Gregory Orr, Steve Scafidi, and Tracy K. Smith.
Readers included Cynthia Arrieu-King, Mark Doty, Rebecca Morgan Frank, Terrance Hayes, Linda Hogan, Gary Leising, Brian Leung, Sinead Morrissey, Meghan O'Rourke, Kelcey Parker, Sarah Perrier, Martha Southgate, Anne Stevenson, Colson Whitehead, Caki Wilkinson, and Carolyne Wright.