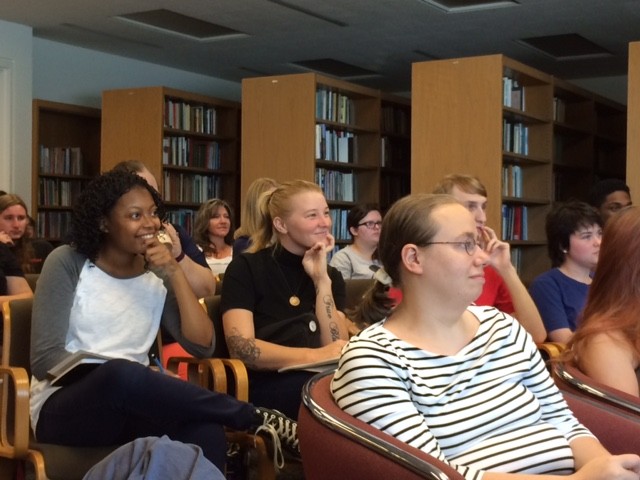 The Creative Writing Program's Visiting Writers Series brings a number of distinguished authors to campus each semester. Visitors often conduct a colloquium with creative writing students in addition to giving a public reading.

Each year, through the Elliston Poet-in-Residence Program, a distinguished poet comes to campus to give public lectures and readings, and to conduct poetry seminars and workshops. The biennial Emerging Fiction Writers Festival brings four writers to campus for two days of readings and panels.

Past visiting writers have included Nicholson Baker, Charles Baxter, Mark Doty, Rita Dove, Alice Fulton, Terrance Hayes, Denis Johnson, Lorrie Moore, Antoyna Nelson, Robert Pinsky, Tracy K. Smith, and Colson Whitehead.
Sponsored by the Elliston Poetry Fund and the Robert and Adele Schiff Fund for Contemporary Fiction

All readings are free and open to the public. Book signings follow each reading.

Fiction Reading
February 1, 2019; 4:00 PM
Elliston Poetry Room, 646 Langsam Library 

Jamel Brinkley is the author of A Lucky Man: Stories (Graywolf Press), a finalist for the 2018 National Book Award in Fiction and winner of the 2018 Ernest J. Gaines Award for Literary Excellence. His writing has appeared in The Best American Short Stories 2018, A Public Space, Ploughshares, Gulf Coast, The Threepenny Review, Glimmer Train, American Short Fiction, and Tin House, among other places. He has received support from Kimbilio Fiction, the Callaloo Creative Writing Workshop, the Napa Valley Writers' Conference, the Tin House Summer Workshop, and the Bread Loaf Writers' Conference. A graduate of the Iowa Writers' Workshop, he was also a Carol Houck Smith Fiction Fellow at the Wisconsin Institute for Creative Writing. He is currently a Wallace Stegner Fellow in Fiction at Stanford University.
NTOZAKE SHANGE: CELEBRATING AN ARTISTIC LEGACY THROUGH CONVERSATION AND PERFORMANCE
Featuring Dr. Shirlene Holmes, Aku Kadogo, RAHBI, the Cincinnati Black Theatre Company, College-Conservatory of Music (Acting), and The School for Creative and Performing Arts
Sponsored by the Weinberger Center for Drama and Playwriting
February 15, 2019; 4:00 PM
Elliston Poetry Room, 646 Langsam Library 
Sponsored by the Weinberger Center for Drama and Playwriting
Poet, performance artist, playwright, and novelist Ntozake Shange was born Paulette Williams on October 18, 1948, in Trenton, New Jersey. She earned a BA in American studies from Barnard College in 1970 and then left New York to pursue graduate studies at the University of Southern California. It was during this time that she took the name "Ntozake" ("she who comes into her own things") "Shange" ("she who walks like a lion") from the Zulu dialect Xhosa. She received an MA in American studies from USC in 1973. Her many books of poetry include Three Pieces, which won the Los Angeles Times Book Prize. Among her plays are Daddy Says; Spell #7; From Okra to Greens/A Different Kinda Love Story; and the renowned for colored girls who have considered suicide/when the rainbow is enuf, which won an Obie Award and received Tony, Grammy, and Emmy Award nominations. The play, or "choreopoem," became an instant classic. She also authored multiple children's books and prose works, including Some Sing, Some Cry; See No Evil: Prefaces, Essays & Accounts, 1976-1983; and The Black Book (1986, with Robert Mapplethorpe). Among her numerous honors are fellowships from the Guggenheim Foundation and the Lila Wallace-Reader's Digest Fund, and a Pushcart Prize. Shange died on October 27, 2018. 
Poetry Reading
February 22, 2019; 4:00 PM
Elliston Poetry Room, 646 Langsam Library      

Ishion Hutchinson was born in Port Antonio, Jamaica. He is the author of two poetry collections, Far District and House of Lords and Commons. He is the recipient of the National Book Critics Circle Award for Poetry, a Guggenheim Fellowship, the Whiting Writers Award, the PEN/Joyce Osterweil Award and the Larry Levis Prize from the Academy of American Poets, among others. He teaches in the graduate writing program at Cornell University and is a contributing editor to the literary journals The Common and Tongue: A Journal of Writing & Art.
2018-19 Elliston Poet-in-Residence
Lecture
March 6, 2019; 4:00 PM
Elliston Poetry Room, 646 Langsam Library
Poetry Reading
March 8, 2019; 4:00 PM
Elliston Poetry Room, 646 Langsam Library
Mary Ruefle is the author of twelve books of poetry, including My Private Property (2016) and Trances from the Blast (2013), as well as two collections of prose, and other writings. Her Selected Poems won the William Carlos Williams Award from the Poetry Society of America. She has received numerous other literary honors, including Guggenheim and National Endowment for the Arts fellowships, the Robert Creeley Award, the Aiken Taylor Award, an award in literature from the American Academy of Arts and Letters, and a Whiting Award. She is also an erasure artist, whose treatments of nineteenth century texts have been exhibited in museums and galleries, and published in A Little White Shadow (Wave Books, 2006). She lives in Vermont.
XHENET ALIU & TIMOTHY O'KEEFE
Fiction and Poetry Reading
April 11, 2019; Time TBD
Elliston Poetry Room, 646 Langsam Library

Xhenet Aliu's novel, Brass, was published by Random House in January 2018 and is long-listed for the 2018 Center for Fiction First Book Prize. Her debut fiction collection, Domesticated Wild Things, won the Prairie Schooner Book Prize in Fiction. Aliu's writing has appeared in Glimmer Train, Hobart, American Short Fiction, Lenny, LitHub, Buzzfeed, The New York Times, and elsewhere, and she has received multiple scholarships from the Bread Loaf Writers' Conference, a grant from the Elizabeth George Foundation, and a fellowship from the Djerassi Resident Artists Program, among other awards.    

Timothy O'Keefe is the author of You Are the Phenomenology, winner of the 2017 Juniper Prize for Poetry, and The Goodbye Town, winner of the 2010 FIELD Poetry Prize. His poems and lyric essays have appeared in The American Poetry Review, The Best American Poetry, Boston Review, Colorado Review, Denver Quarterly, Seneca Review, VOLT, and elsewhere. He teaches writing and literature at Piedmont College, where he directs the creative writing program. He lives in Athens, Georgia.
THE ROBERT AND ADELE SCHIFF FICTION FESTIVAL
Featuring Sloane Crosley, Uzodinma Iweala, Katie Kitamura, and Brendan Mathews
April 17, 2019; 7:00 PM: Fiction Reading
April 18, 2019; 11:00 AM: Panel Discussion
April 18, 2019; 7:00 PM: Fiction Reading
April 19, 2019; 10:00 AM: Panel Discussion
All events take place in the Elliston Poetry Room, 646 Langsam Library   

Sloane Crosley is the author of The New York Times bestselling essay collections I Was Told There'd Be Cake, a finalist for The Thurber Prize for American Humor, and How Did You Get This Number, as well as Look Alive Out There, and the bestselling novel The Clasp. She served as editor of The Best American Travel Writing series and is featured in The Library of America's 50 Funniest American Writers, The Best American Nonrequired Reading, and others. She also co-authored the novel Read Bottom Up using the pen name Skye Chatham. Her work has appeared in Esquire, Elle, GQ, Vogue, The New York Times Magazine, The New York Times Book Review, The Guardian, New York Magazine, The Believer, Vice and on National Public Radio. She is a contributing editor at Vanity Fair, and lives in Manhattan.    

Uzodinma Iweala is an award-winning writer, filmmaker, and medical doctor. He is the CEO of The Africa Center in New York, promoting a new narrative about Africa and its diaspora through a focus on culture, policy and business. Iweala is the Co-Founder of Ventures Africa Magazine, a publication that covers business, policy, culture and innovation spaces in Africa. He has written three books: Beasts of No Nation, a novel also adapted into a major motion picture; Our Kind of People, a non-fiction account of HIV/AIDS in Nigeria; and Speak No Evil, a novel about Washington, D.C. He received the Los Angeles Times Art Seidenbaum Award for First Fiction, the Sue Kaufman Prize for First Fiction from the American Academy of Arts and Letters, the New York Public Library Young Lions Fiction Award, and the John Llewellyn Rhys Prize.