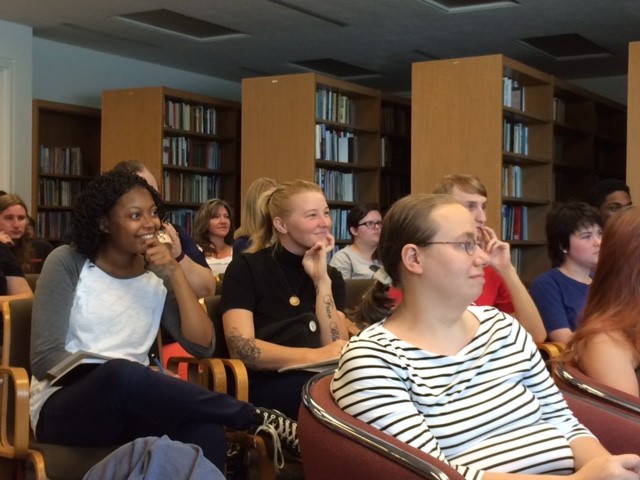 The Creative Writing Program's Visiting Writers Series brings a number of distinguished authors to campus each semester. Visitors often conduct a colloquium with creative writing students in addition to giving a public reading.

Each year, through the Elliston Poet-in-Residence Program, a distinguished poet comes to campus to give public lectures and readings, and to conduct poetry seminars and workshops. The biennial Emerging Fiction Writers Festival brings four writers to campus for two days of readings and panels.

Past visiting writers have included Nicholson Baker, Charles Baxter, Sandra Cisneros, Victoria Chang, Mark Doty, Rita Dove, Alice Fulton, Lauren Groff, Terrance Hayes, Juan Felipe Herrera, Cathy Park Hong, Denis Johnson, Lorrie Moore, Robert Pinsky, Tracy K. Smith, and Colson Whitehead.
Sponsored by the Elliston Poetry Fund and the Robert and Adele Schiff Fund for Contemporary Fiction 
All readings are free and open to the public.

Kristi Maxwell and Molly Reid
Kristi Maxwell is the author of eight books of poems, including Goners (Green Linden Press, forthcoming 2023), winner of the Wishing Jewel Prize; My My (Saturnalia Books, 2020); Realm Sixty-four (Ahsahta Press, 2008), editor's choice for the Sawtooth Poetry Prize and finalist for the National Poetry Series; and Hush Sessions (Saturnalia, 2009), editor's choice for the Saturnalia Books Poetry Prize. She's an associate professor of English at the University of Louisville and a 2022-23 American-Scandinavian Foundation Fellow. Kristi holds a PhD in Literature & Creative Writing from the University of Cincinnati and an MFA in Poetry from the University of Arizona.  
Molly Reid's collection of short fiction, The Rapture Index: A Suburban Bestiary, won the seventh annual BOA Short Fiction Prize and was published in BOA's American Reader Series in spring 2019. Her stories have appeared on NPR and in the journals TriQuarterly, Crazyhorse, Gulf Coast, and The Normal School, among others. Her nonfiction can be found online at Lit Hub and Ploughshares. She has received support from the Sewanee Writers' Conference, the Bread Loaf Writers' Conference, PLAYA, the Anderson Center, the Millay Colony for the Arts, the Ucross Foundation, I-Park, and the Virginia Center for the Creative Arts. Molly received her PhD in Literature and Creative Writing from the University of Cincinnati. 
Poetry Reading
October 12, 2023; 5:30 pm EST
Elliston Poetry Room, 646 Langsam Library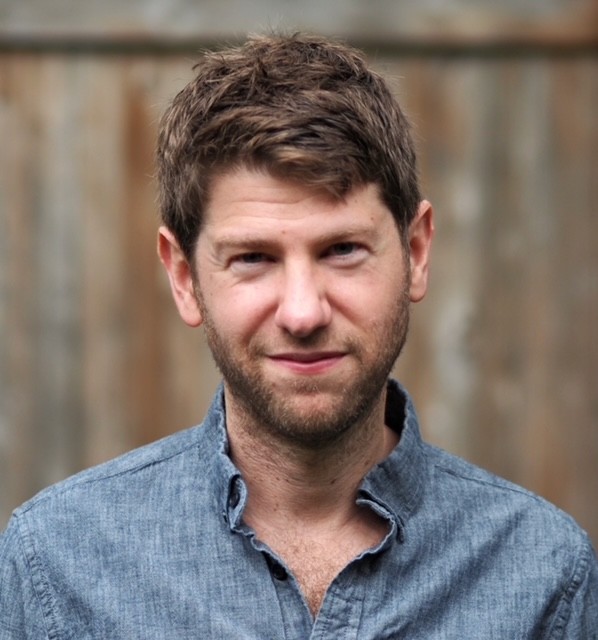 Emily Jungmin Yoon is a poet, translator, editor, and scholar. She is the author of the full-length poetry collection A Cruelty Special to Our Species (Ecco | HarperCollins, 2018), winner of the 2019 Devil's Kitchen Reading Award and finalist for the 2020 Kate Tufts Discovery Award. The book was released in Korean as 우리 종족의 특별한 잔인함 (trans. Han Yujoo, Yolimwon 2020). She is also the author of Ordinary Misfortunes, the 2017 winner of the Sunken Garden Chapbook Prize by Tupelo Press (selected by Maggie Smith), and the translator and editor of Against Healing: Nine Korean Poets (Tilted Axis, 2019), a chapbook anthology of poems by Korean women writers. Yoon is currently working on a critical manuscript, Enclosed Reading: A Feminist Method for Contemporary Korean and Korean American Women's Poetry, 1987-2019. Yoon's second full-length poetry collection, Find Me as the Creature I Am, is forthcoming from Knopf in 2024. Her writing has appeared in The New Yorker, POETRY, The New York Times Magazine, The Paris Review, The Sewanee Review, and elsewhere. Yoon received her BA in English and Communication at the University of Pennsylvania, MFA in Creative Writing at New York, and PhD in East Asian Languages and Civilizations at the University of Chicago. She splits her time between Honolulu and South Korea.
Poetry Reading
October 25, 2023; 5:30 pm EST
Elliston Poetry Room, 646 Langsam Library

Anthony Cody is the author of Borderland Apocrypha (Omnidawn, 2020), winner of the 2018 Omnidawn Open Book Contest selected by Mei-mei Berssenbrugge, and The Rendering (Omnidawn, 2023). He is a 2022 Whiting winner, 2021 American Book Award winner, a 2020 Poets & Writers debut poet and a 2020 Southwest Book Award winner. Borderland Apocrypha was named a finalist for the National Book Award in Poetry, the PEN America / Jean Stein Book Award, the California Book Award, the LA Times Book Award in Poetry, as well as longlisted for The Believer Magazine 2020 Editor's Award in Poetry. A CantoMundo fellow from Fresno, California, Anthony has lineage in the Bracero Program and the Dust Bowl. He co-edited How Do I Begin?: A Hmong American Literary Anthology (Heyday, 2011), as well as co-edited and co-translated Juan Felipe Herrera's Akrílica (Noemi Press, 2022). Anthony has taught ecopoetry at Fresno State, and has read, lectured, and led workshops across the country. He serves as a co-publisher of Noemi Press, a poetry editor for Omnidawn, a collaborator with Juan Felipe Herrera and the Laureate Lab Visual Wordist Studio, and is faculty in poetry at Randolph College's Low Residency MFA Program. 
Fiction Reading
November 8, 2023; 5:30 pm EST
Elliston Poetry Room, 646 Langsam Library 

Sidik Fofana is a graduate of NYU's MFA program and a public school teacher in Brooklyn. His work has appeared in The Sewanee Review and Granta. He was also named a fellow at the Center for Fiction in 2018. Stories from the Tenants Downstairs, his debut short story collection composed of eight narratives about residents of a fictional building in Harlem, was published by Scribner in 2022. Fofana is a 2023 Whiting Award winner. 
Sarah Shun-lien Bynum, Jennifer Elise Foerster, Luke Geddes, Gwen E. Kirby, Johannes Göransson, Allegra Hyde, Sara Eliza Johnson, Yalie Saweda Kamara. Brenda Peynado, Liv Stratman, Brian Teare, and Bess Winter 

Heid E. Erdrich, Donika Kelly, Ginger Ko, Poupeh Missaghi, Hoa Nguyen, Craig Santos Perez, Raquel Salas Rivera, Divya Victor

Tyehimba Jess served as Elliston Poet-in-Residence. All other events were cancelled due to COVID.

Readers included Don Bogen, Brian Brodeur, Ross Gay, Lillian Li, Maria Massie, Hannah Pittard, Moriel Rothman-Zecher, Natalie Scenters-Zapico, and Sarah Anne Strickley.
Readers included Xhenet Aliu, Jamel Brinkley, Brock Clarke, Sloane Crosley, Blas Falconer, Ishion Hutchinson, Uzodinma Iweala, Katie Kitamura, Stephen Kuusisto, Brendan Mathews, Timothy O'Keefe, Mary Ruefle, Joan Silber, Jillian Weise, and Kevin Wilson.
Readers included Brit Bennett, Victoria Chang, Allison Pitinii Davis, Erica Dawson, Kathy Fagan, Charley Henley, Juan Felipe Herrera, T. R. Hummer, Holly Goddard Jones, David Lazar, Karan Mahajan, Amit Majmudar, and Anne Valente.

Readers included Michelle Y. Burke, Sandra Cisneros, Sarah Domet, Denise Duhamel, Catherine Lacey, Ada Limon, Elizabeth McKenzie, Nancy Reisman, Antonio Ruiz-Camacho, A. E. Stallings, and Jung Yun.

Readers included Becky Adnot-Haynes, Paul Beatty, Tom Drury, Claudia Keelan, Rebecca Lindenberg, Maurice Manning, Lee Martin, James McMichael, Ander Monson, Tomas Q. Morin, Jenny Offill, Carl Phillips, Julie Schumacher, and Lisa Williams.

Readers included Dean Bakopoulos, Marianne Boruch, Amity Gaige, Michael Knight, Ted Kooser, Sonja Livingston, Jamaal May, Claire Messud, Alissa Nutting, Ed Park, Roger Reeves, Nelly Reifler, and Mary Szybist.

Readers included Sarah Arvio, Jami Attenberg, Joseph Campana, Marisa Crawford, Denise Duhamel, Yona Harvey, Cathy Park Hong, Shara Lessley, Dana Levin, Colum McCann, Erin McGraw, Collier Nogues, Jack Pendarvis, Jamie Quatro, Nathaniel Perry, Marcus Wicker, and C. K. Williams.
Readers included Charles Baxter, Matt Bell, Jedediah Berry, Jennifer Clarvoe, Ron Currie, Jr., Claudia Emerson, Danielle Evans, Lauren Groff, Caitlin Horrocks, Julia Johnson, James Longenbach, Ben Loory, Gregory Orr, Steve Scafidi, and Tracy K. Smith.
Readers included Cynthia Arrieu-King, Mark Doty, Rebecca Morgan Frank, Terrance Hayes, Linda Hogan, Gary Leising, Brian Leung, Sinead Morrissey, Meghan O'Rourke, Kelcey Parker, Sarah Perrier, Martha Southgate, Anne Stevenson, Colson Whitehead, Caki Wilkinson, and Carolyne Wright.