The Center for Cyber Strategy and Policy (CCSP) hosts public discussions centered around current cybersecurity events and research.  Detailed information, event links, flyers for upcoming and previous Cyber Salons can be found below.  
The Cyber Salon is generally held for one hour – with 40 minutes to present, and the last 20 minutes for Q&A. While presenting is open to all, CCSP seeks to support early-career and emerging researchers and practitioners in the field.
Inquires and abstracts for the 2022-2023 academic year can be sent to Dr. Michael Loadenthal (Loadenml@ucmail.uc.edu), who will serve as the convener for the series.
Friday, September 16, 2022 12:30-1:30pm (EST)
Emily Gorcenski
Presentation: The Unseen Cybersecurity Risk of the Digital Automobile
February 18, 2022

Dr. Gary Ackerman
Director, Center for Advanced Red Teaming (CART)
Associate Professor and Associate Dean, College of Emergency Preparedness, Homeland Security, Cybersecurity (CEHC)
CART Director Gary Ackerman has designed and conducted Red Teaming for over a decade on behalf of a variety of government agencies and other organizations, including the Domestic Nuclear Detection Office within the Department of Homeland Security (DHS), the Transportation Security Administration (TSA), the Defense Advanced Research Projects Agency (DARPA) and national laboratories. He has published a compendium of his Red Team scenarios related to nuclear and radiological threats, titled Gaming Armageddon, which has been widely used within the United States government. Dr. Ackerman came to Red Teaming through his quest to understand terrorist tactical and strategic decision-making in the context of unconventional weapons and emerging technologies. Before founding CART and joining the faculty of the University at Albany, he was the Founding Director of the Unconventional Weapons and Technology Division at the National Consortium for the Study of Terrorism and Responses to Terrorism (START), where he also previously acted as the Research Director and Special Projects Director.
Presentation: Beyond Pen-Testing: Tips for Red Teaming the Cyber-Physical Adversary
View Recording
January 21, 2022
Mr. Krishna Mungur
Krishna Mungur got his start with intelligence at the end of the Cold War.  He has worked extensively with defense contractors, government, and military, and also supported law enforcement.  Additionally, he has worked as a critical infrastructure analyst and currently helps defend against cyberattacks from criminal actors and nation-states.  Along the way, he has developed numerous intelligence platforms that benefit the Intelligence Community, and also retooled some of them for the private sector. Also, he has numerous publications in professional and academic press, as well as conference presentations.
Presentation: Dark Ops: Going Off the Grid & Detecting Obfuscated Actors
View the Recording
December 3, 2021

Thomas Pieragastini, PhD
Dr. Pieragastini is a former philosophy and political theory professor who is currently working in information security performing pentests and red team assessments. His work includes assisting NGOs and high risk activists in using technology to improve effectiveness and safety, as well as conducting privacy and data protection trainings to a variety of groups across the US.
Presentation: Interdisciplinary Infosec: The Importance of Non-Technical Approaches to Information Security
View the Recording
October 22, 2021
Colonel Al Klein, PhD
Assistant Professor, School of Public and International Affairs and Faculty Fellow, CCSP, University of Cincinnati
Hrishikesh Bhide
Graduate Assistant, College of Engineering and Applied Sciences, University of Cincinnati, PhD program.
Presentation / Demonstration: Exploring iWars a Networked Cyber Operations Competition
View the Recording
September 24, 2021

Dr. Michael Loadenthal, Postdoctoral Research Fellow, Center for Cyber Strategy and Policy, University of Cincinnati.
Presentation:  Threat Modeling, Risk Assessment, and Harm Reduction: Towards an intersectional approach to security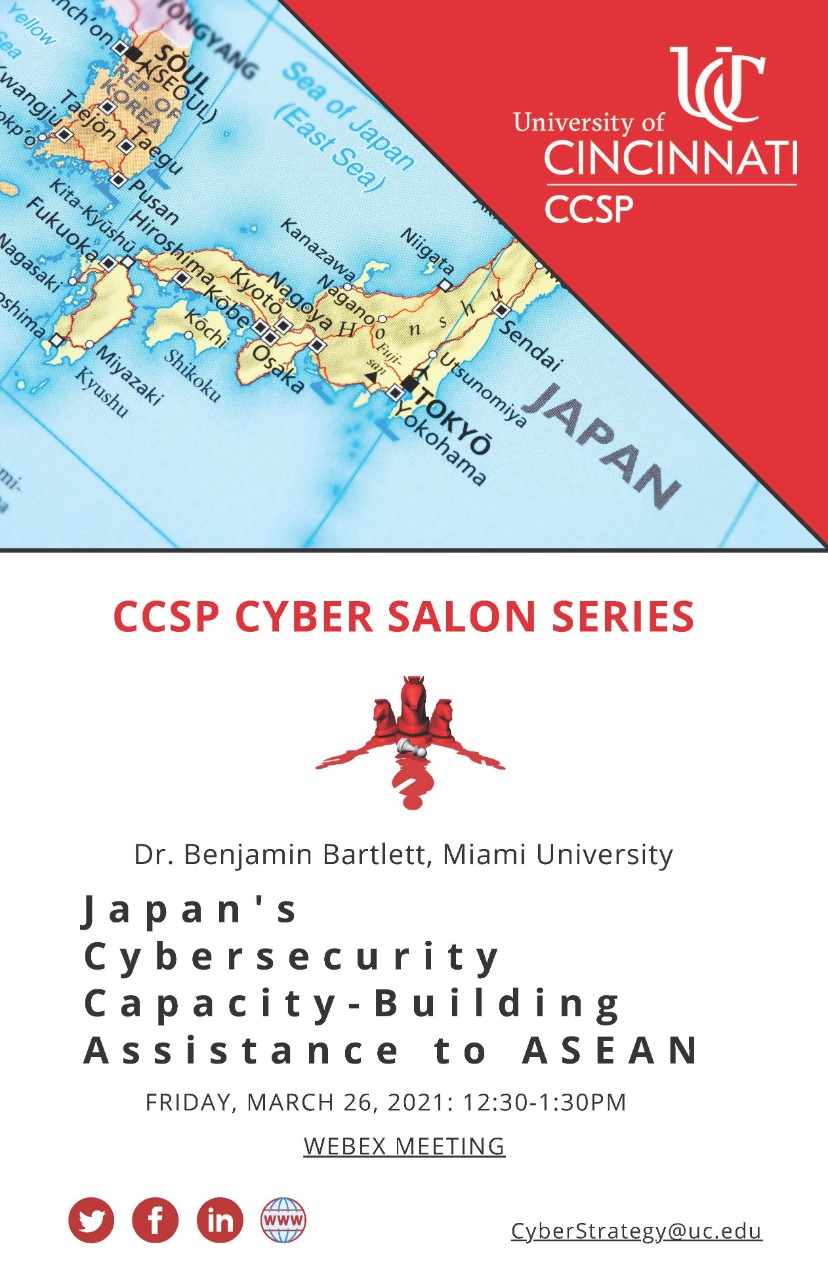 March 26, 2021
Dr. Benjamin Bartlett, Assistant Professor, Department of Political Science, Miami University.
Presentation: Japan's Cybersecurity Capacity-Building Assistance to ASEAN.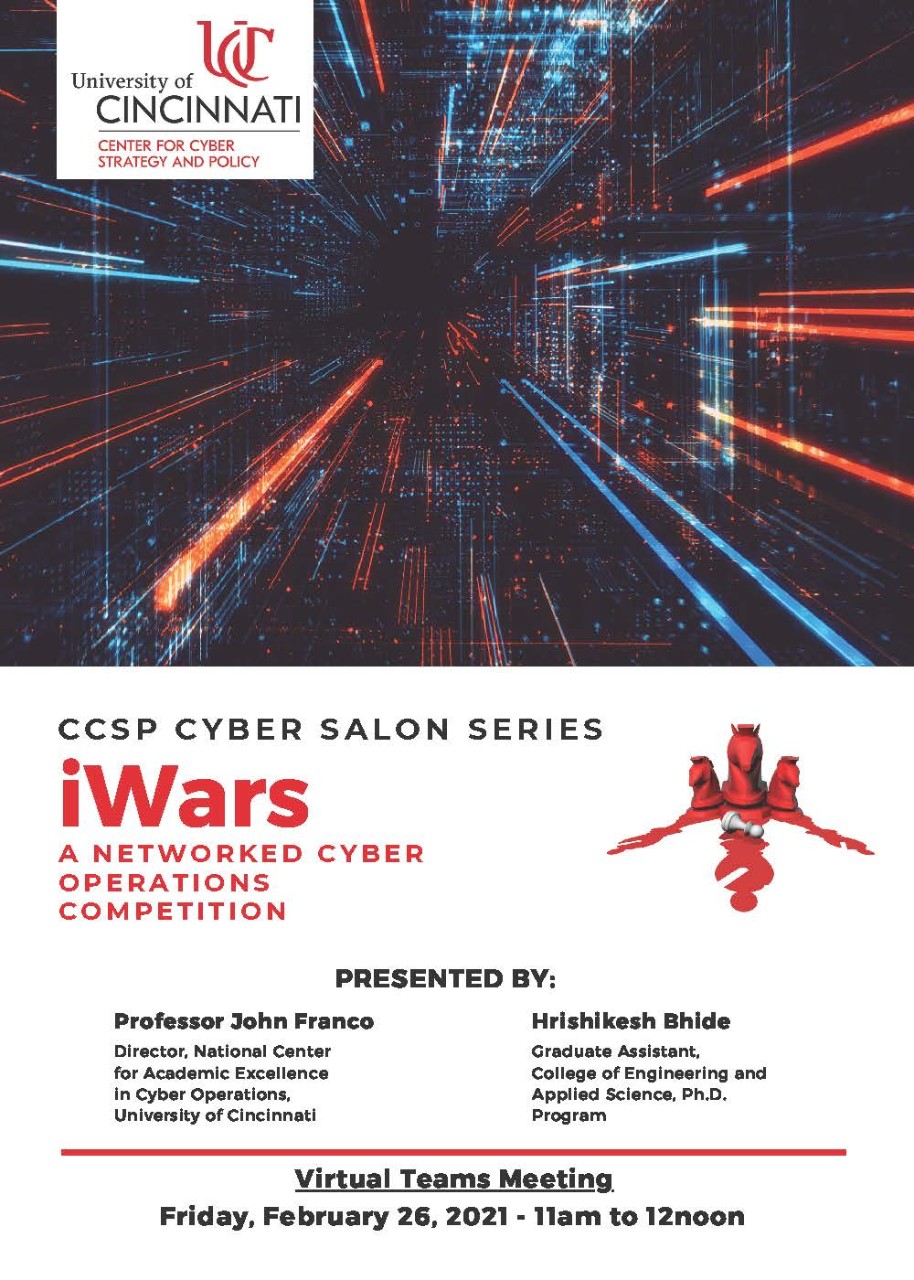 February 26, 2021
Dr. John Franco, Director of the National Center of Academic Excellence in Cyber Operations at the University of Cincinnati. 
Hrishikesh Bhide, Graduate Assistant, College of Engineering and Applied Sciences, University of Cincinnati, Ph.D. program.
Presentation: iWars - A Networked Cyber Operations Competition

View the Recording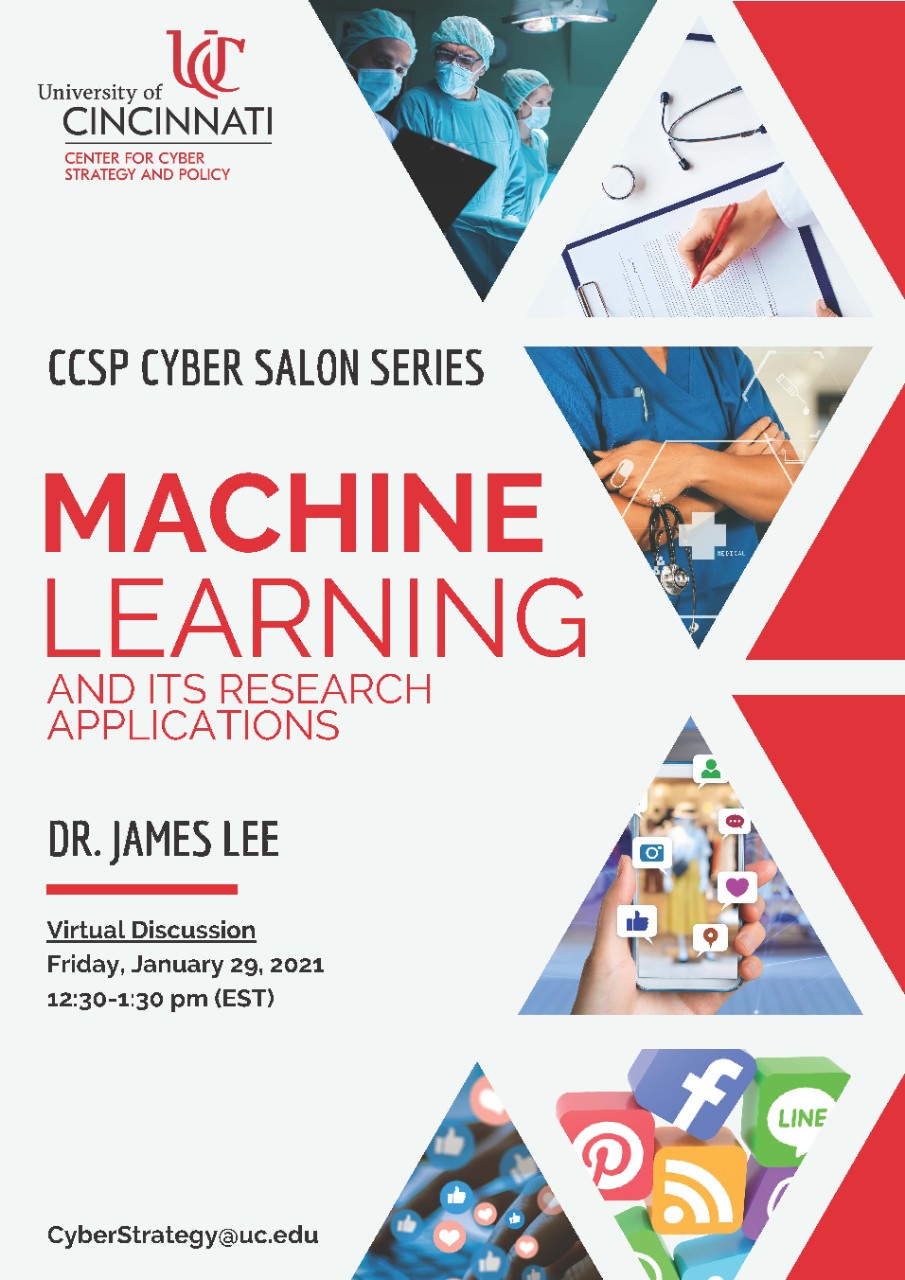 January 29, 2021
Dr. James Lee, Associate Vice Provost for Digital Scholarship; Associate Dean of Libraries; Director, Digital Scholarship Center; Associate Professor of Digital Humanities, University of Cincinnati
Discussion: Human-Centered AI and Text Mining across Disciplines

View the Recording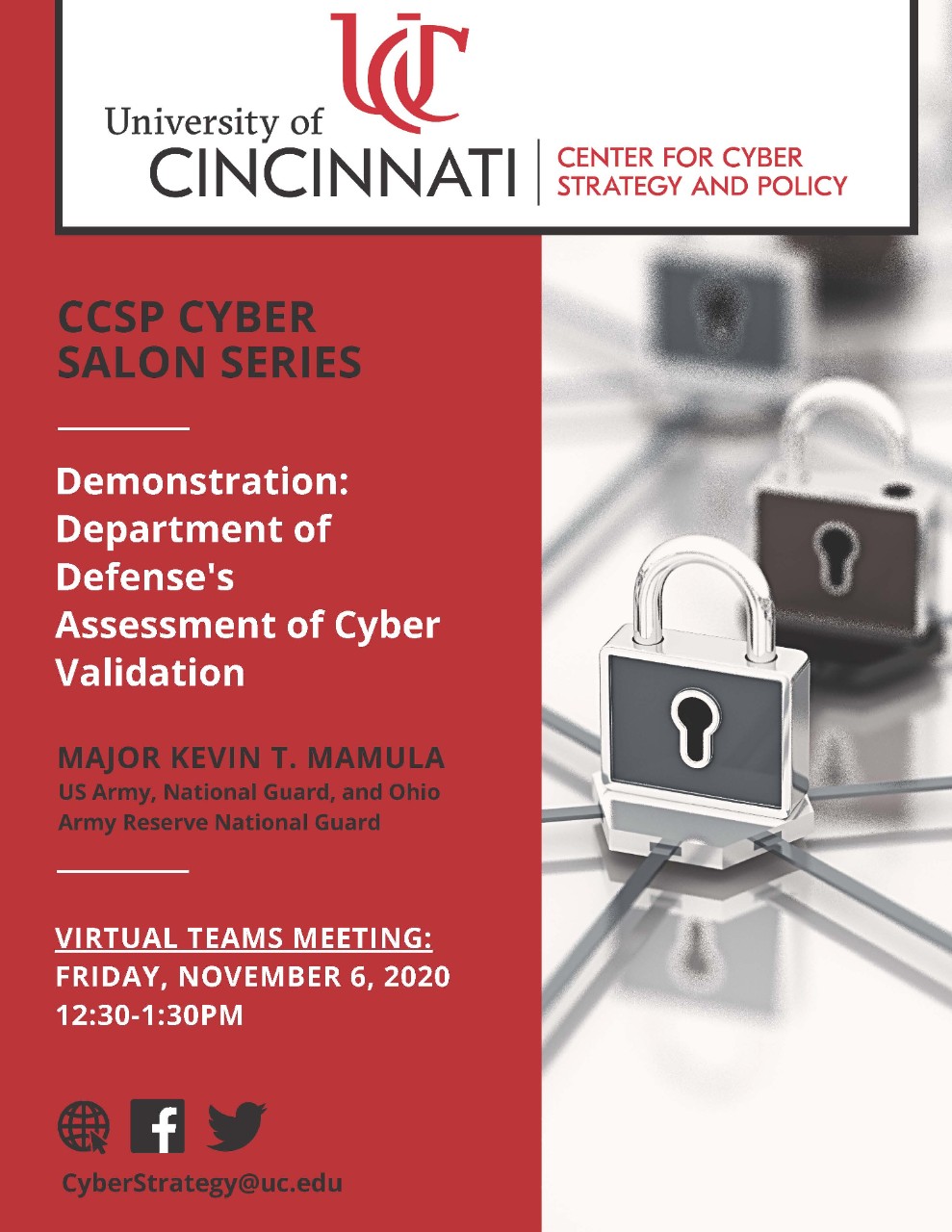 November 6, 2020
Major K. Mamula, Ohio Cyber Reserve Project Officer OHIO NATIONAL GUARD JFHQ,
OHIO ARMY NATIONAL GUARD

Demonstration:  Department of Defense's Assessment of Cyber Validation

View the recording