The Center for Cyber Strategy and Policy (CCSP) hosts public discussions on current cybersecurity events and research.  Detailed information, event links, and flyers for upcoming and previous Cyber Salons can be found below.  
The Cyber Salon is generally held for one hour – with 40 minutes to present, and the last 20 minutes for Q&A. While presenting is open to all, CCSP seeks to support early-career and emerging researchers and practitioners in the field.
Inquires and abstracts for the 2023-2024 academic year can be sent to Dr. Michael Loadenthal (Loadenml@ucmail.uc.edu), who will serve as the convener for the series.
Cyber Salons for the 2023-2024 academic year will be held monthly from September 2023 until April 2024.  We will update this page as presenters are confirmed.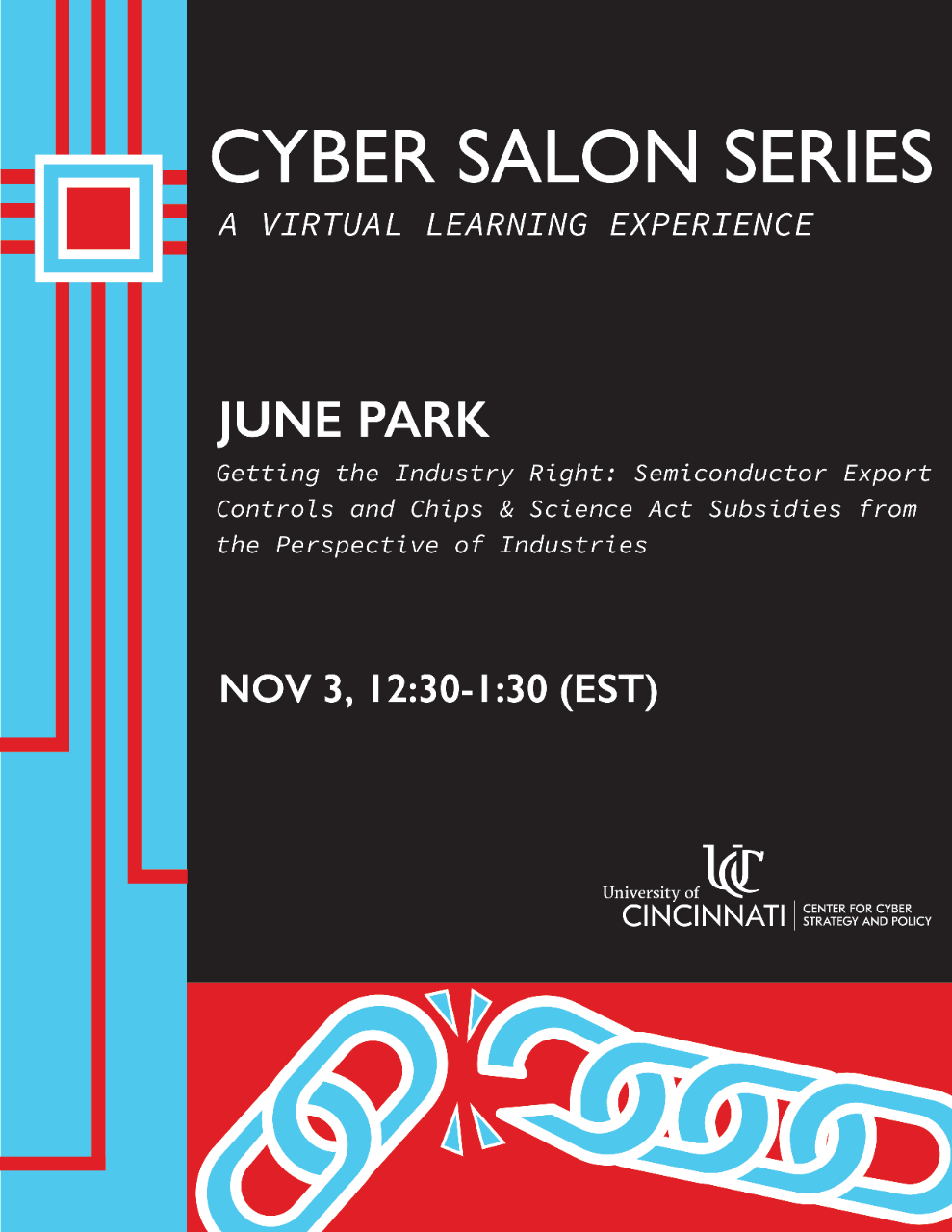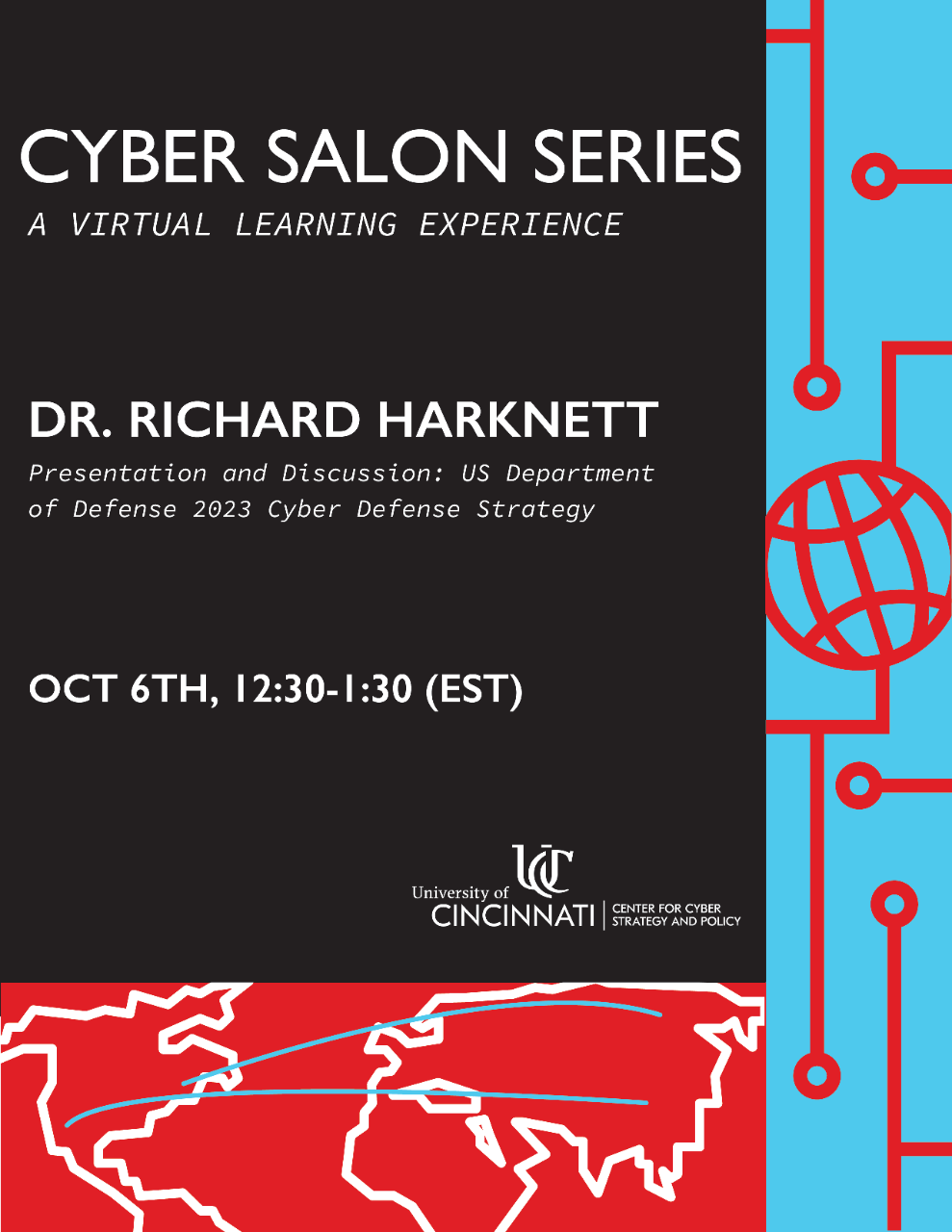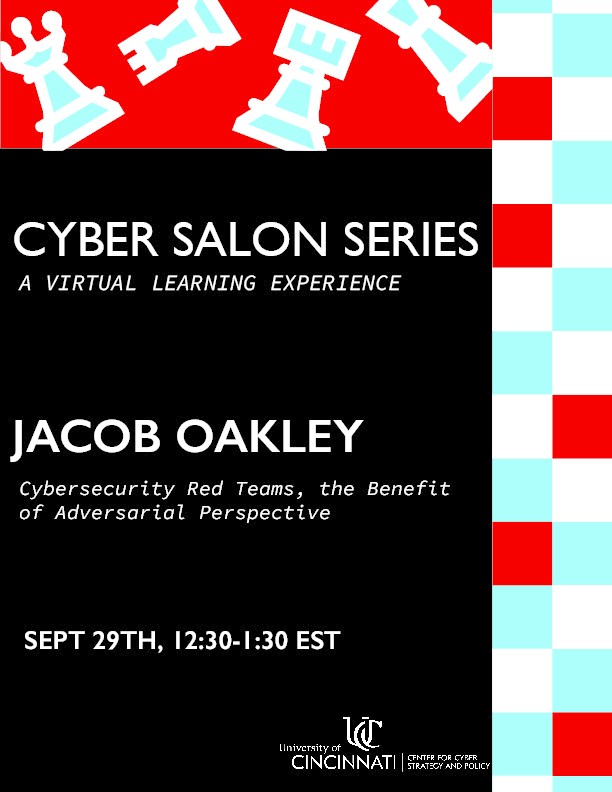 September 29, 2023
Dr. Jacob Oakley
Cybersecurity professional and author
Presentation: Cybersecurity Red Teams, the Benefit of Adversarial Perspective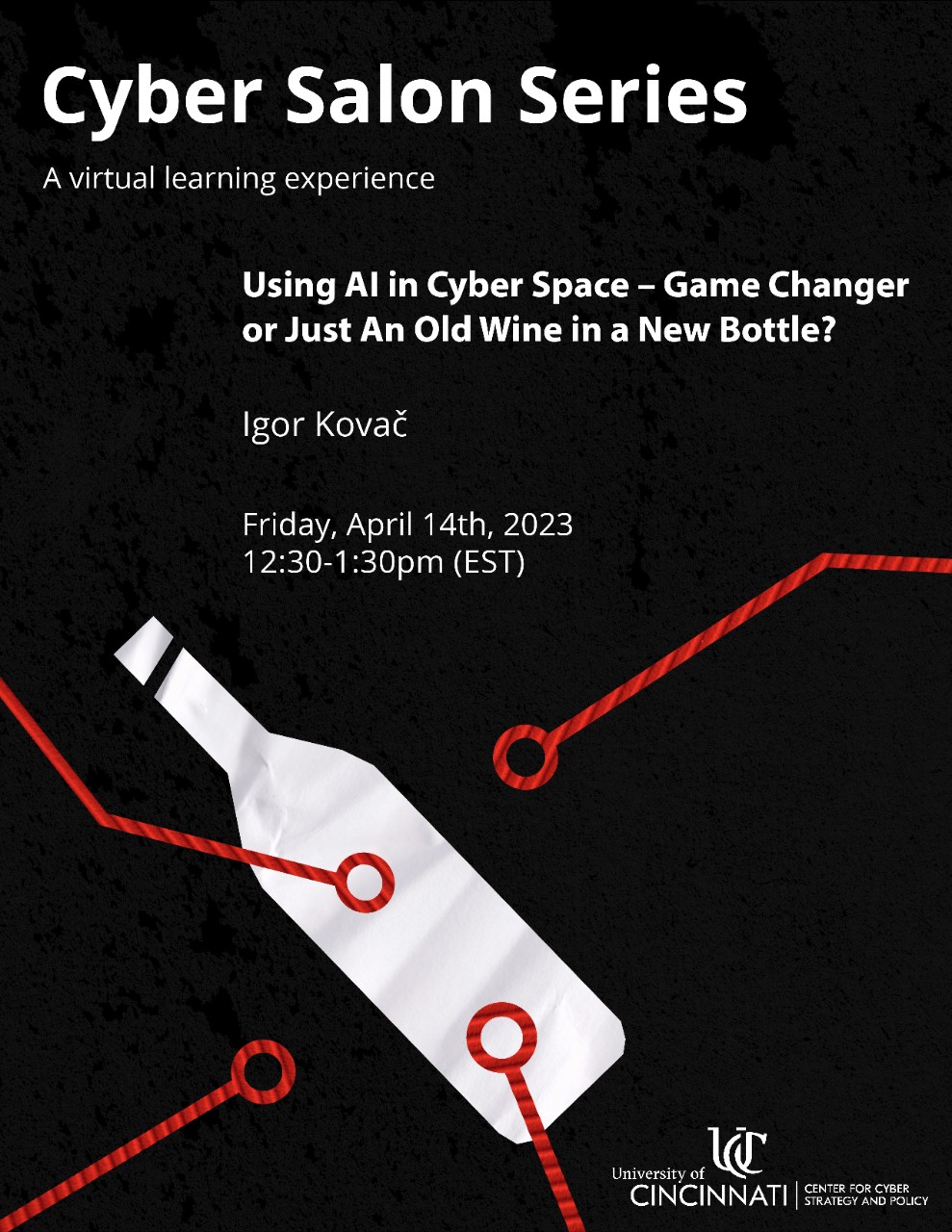 April 17, 2023
Igor Kovač
CCSP Research Affiliate
Presentation: Using AI in cyber space – game changer or just an old wine in a new bottle?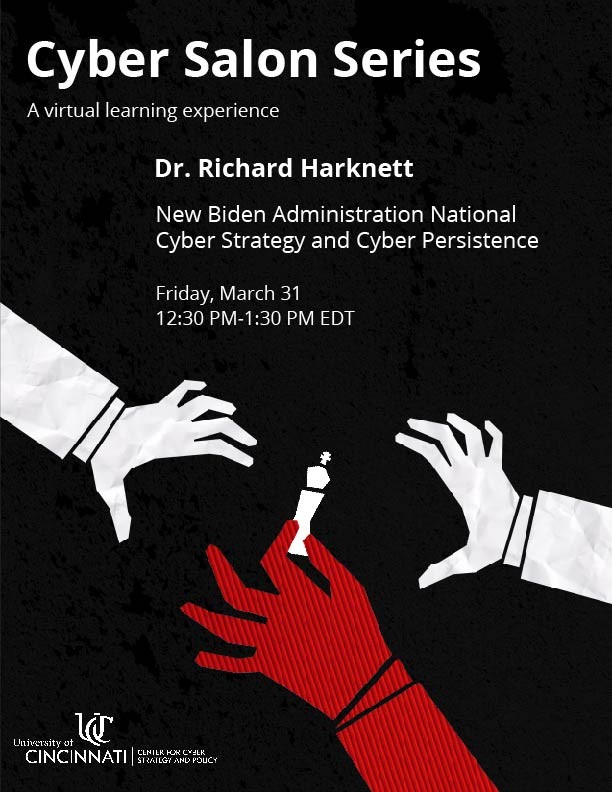 March 31, 2023
Dr. Richard J. Harknett, Professor and Director of the School of Public and International Affairs (SPIA), Co-Director of the Ohio Cyber Range Institute (OCRI) and Chair of the Center for Cyber Strategy and Policy (CCSP), University of Cincinnati. 
Presentation: Biden Administration National Cyber Strategy and Cyber Persistence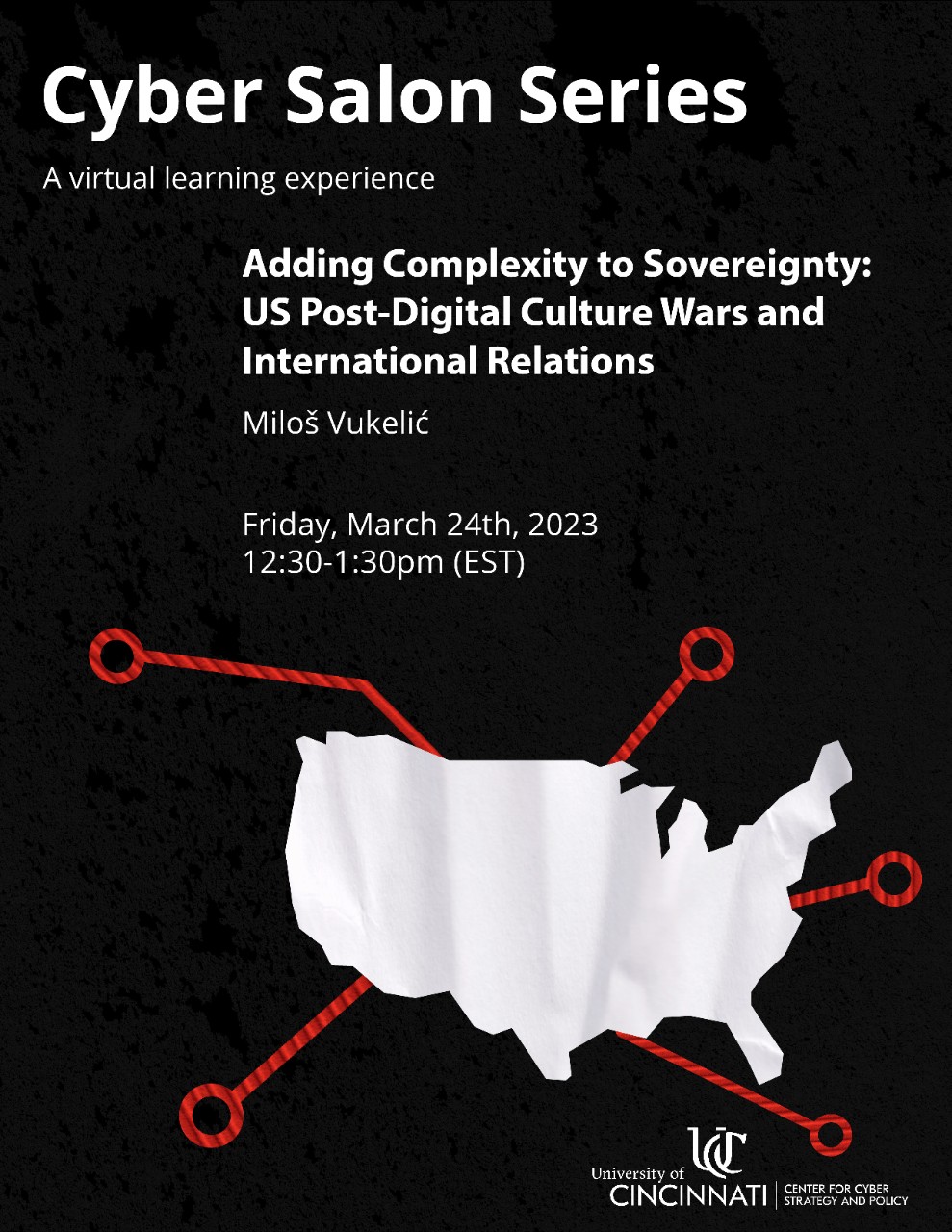 March 24, 2023
Miloš Vukelić
Research Assistant at the University of Belgrade (UB) - Faculty of Political Science (FPS), and a Fulbright Visiting Researcher at the University of Cincinnati (UC) - School of Public and International Affairs (SPIA). 
Presentation: Adding Complexity to Sovereignty: US Post-Digital Culture Wars and International Relations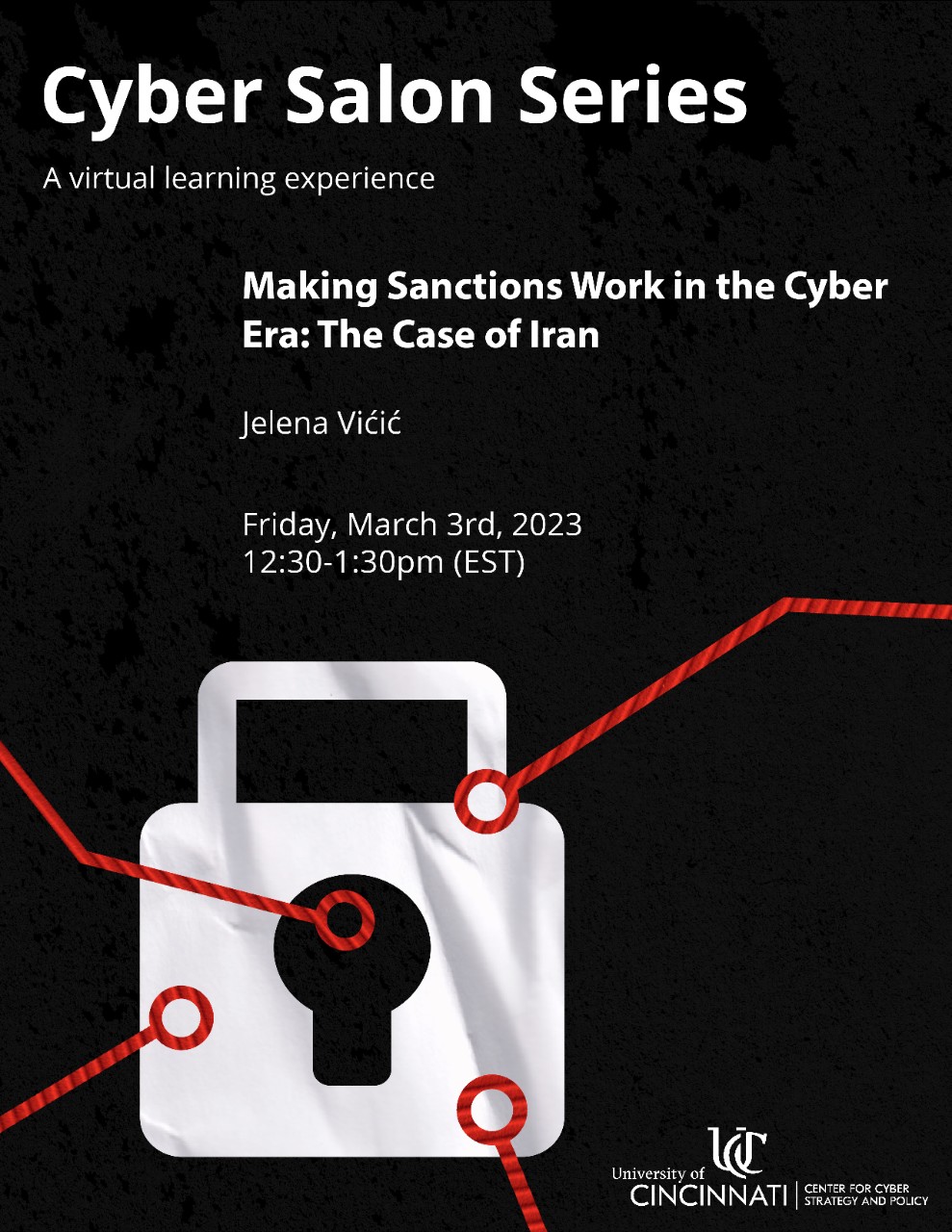 March 3, 2023
Jelena Vićić
Postdoctoral scholar at the University of California, San Diego at the Center for Peace and Security Studies (cPASS) and research affiliate with the Center for Cyber Strategy and Policy.
Presentation: Making Sanctions Work in the Cyber Era: The Case of Iran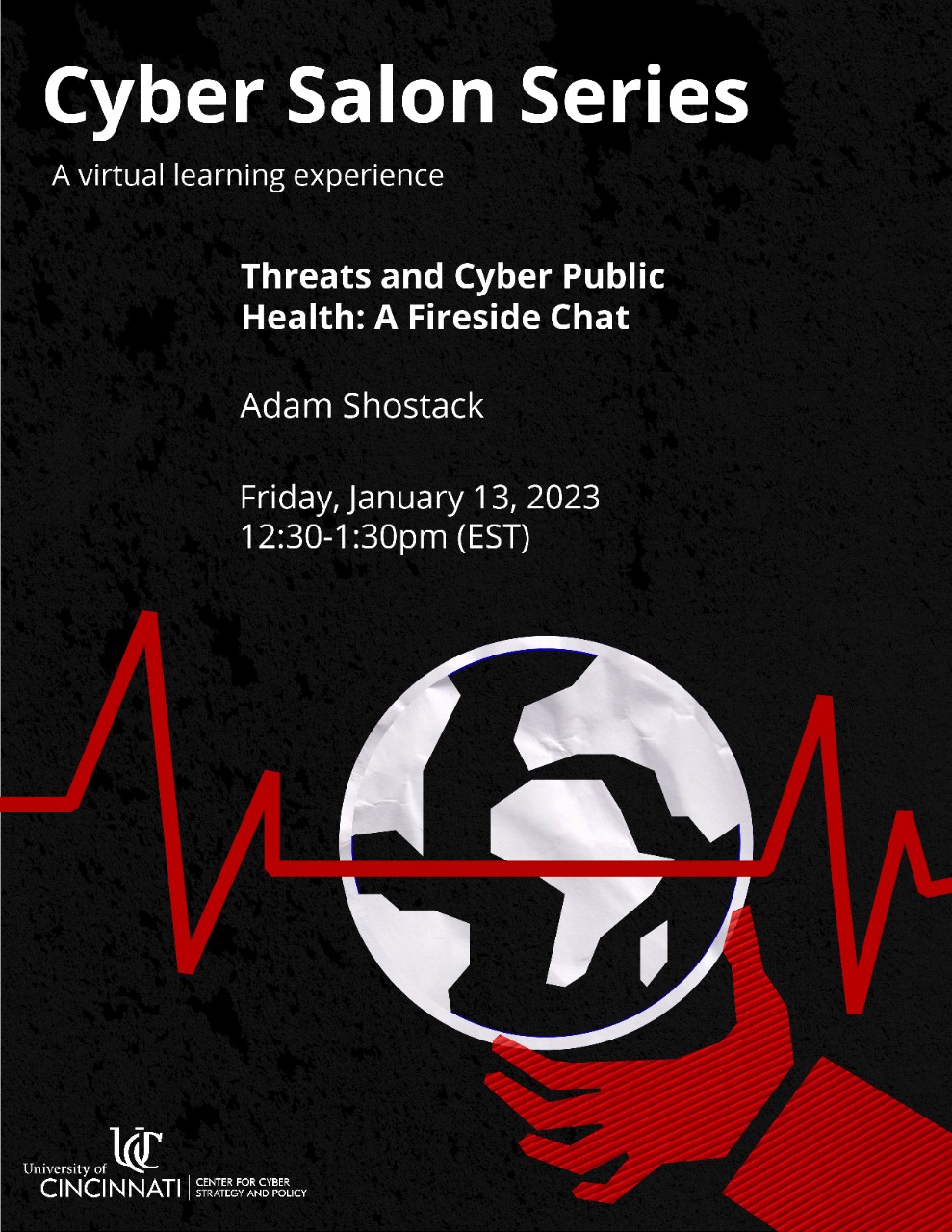 January 13, 2022

Adam Shostack
Shostack+Associates
Presentation:  Threats and Cyber Public Health: A Fireside chat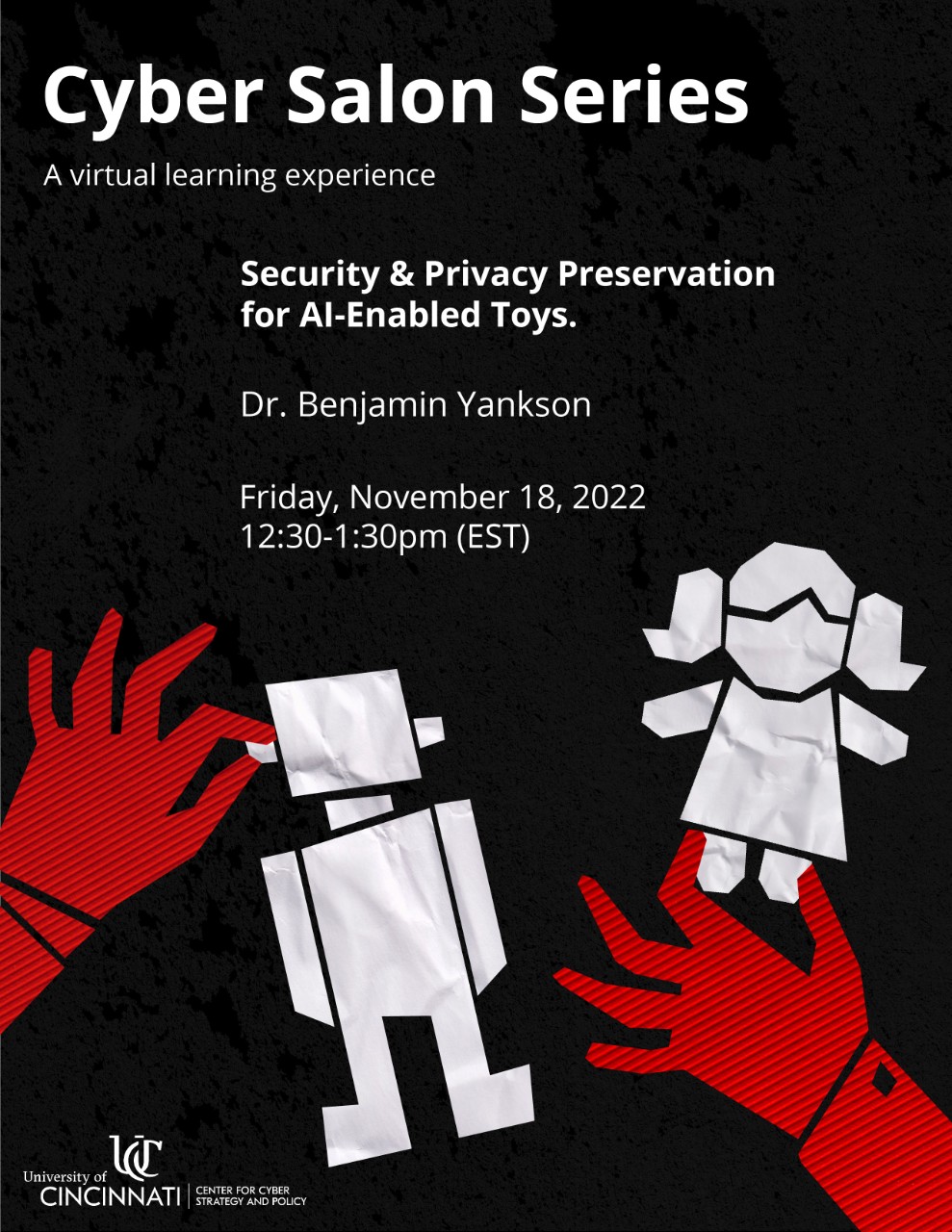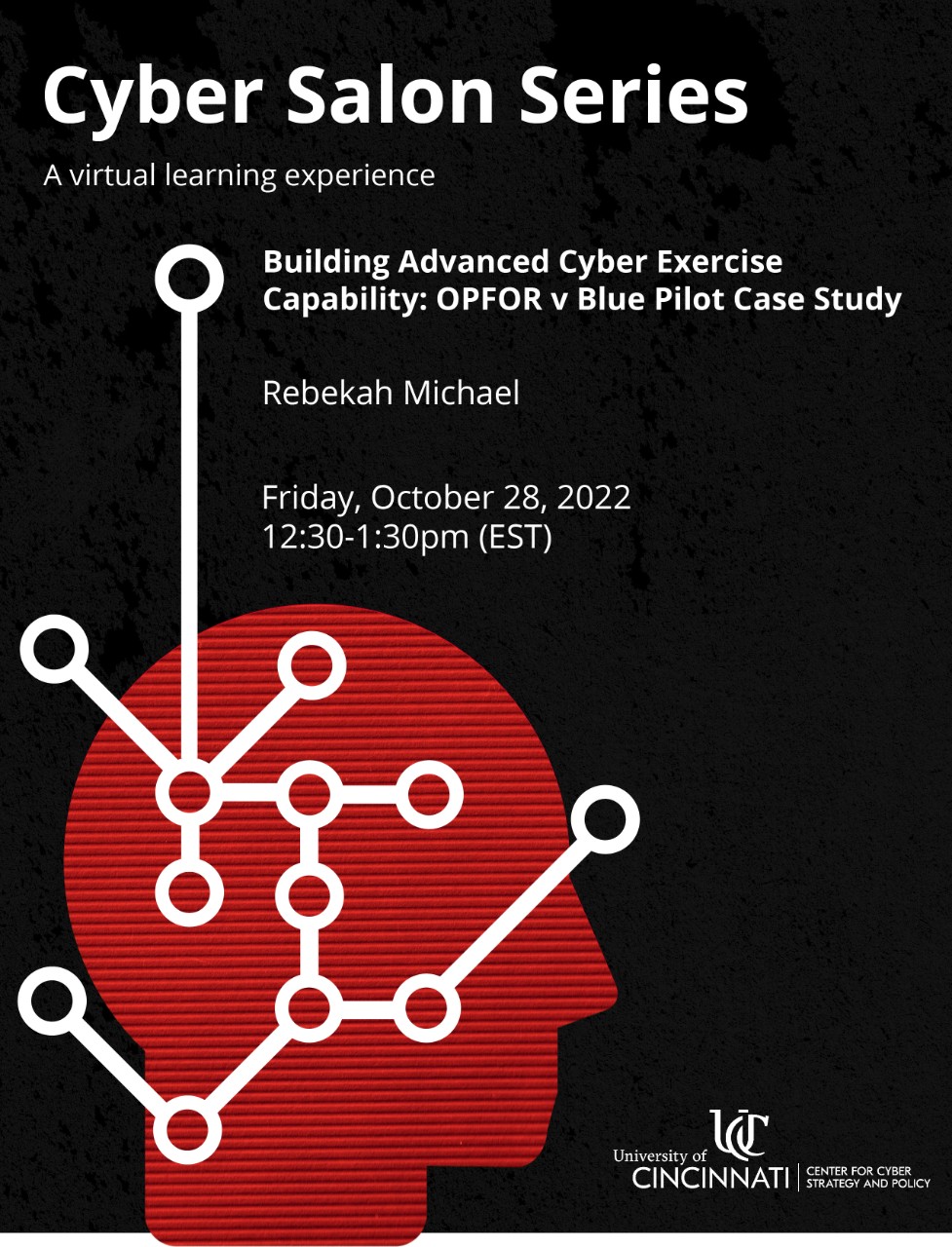 October 28, 2022
Kevin Mamula (on behalf of Rebekah Michael)
A Cyber Security, Cyber training & exercise expert and retired military officer.  Specializes in liaison and direct support operations with nation-state, federal/state/local governments, public and private organizations for cyber security services in the forms of incident response, compliance and vulnerability assessments, and cyber hygiene education. 
Presentation: Building Advanced Cyber Exercise Capability: OPFOR v Blue Pilot Case Study
View Recording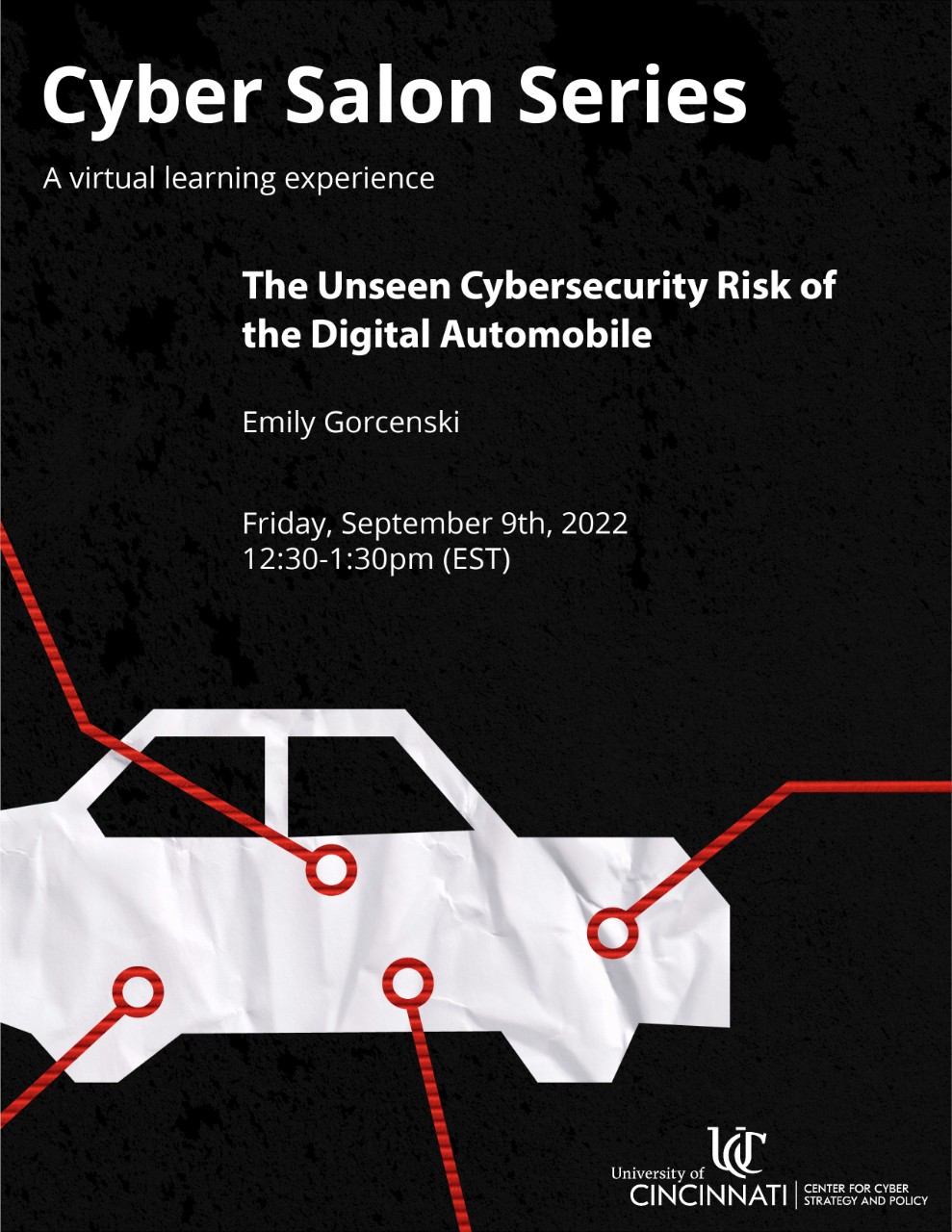 September 9, 2022
Emily Gorcenski
Head of Data and AI at Thoughtworks Germany
Presentation: The Unseen Cybersecurity Risk of the Digital Automobile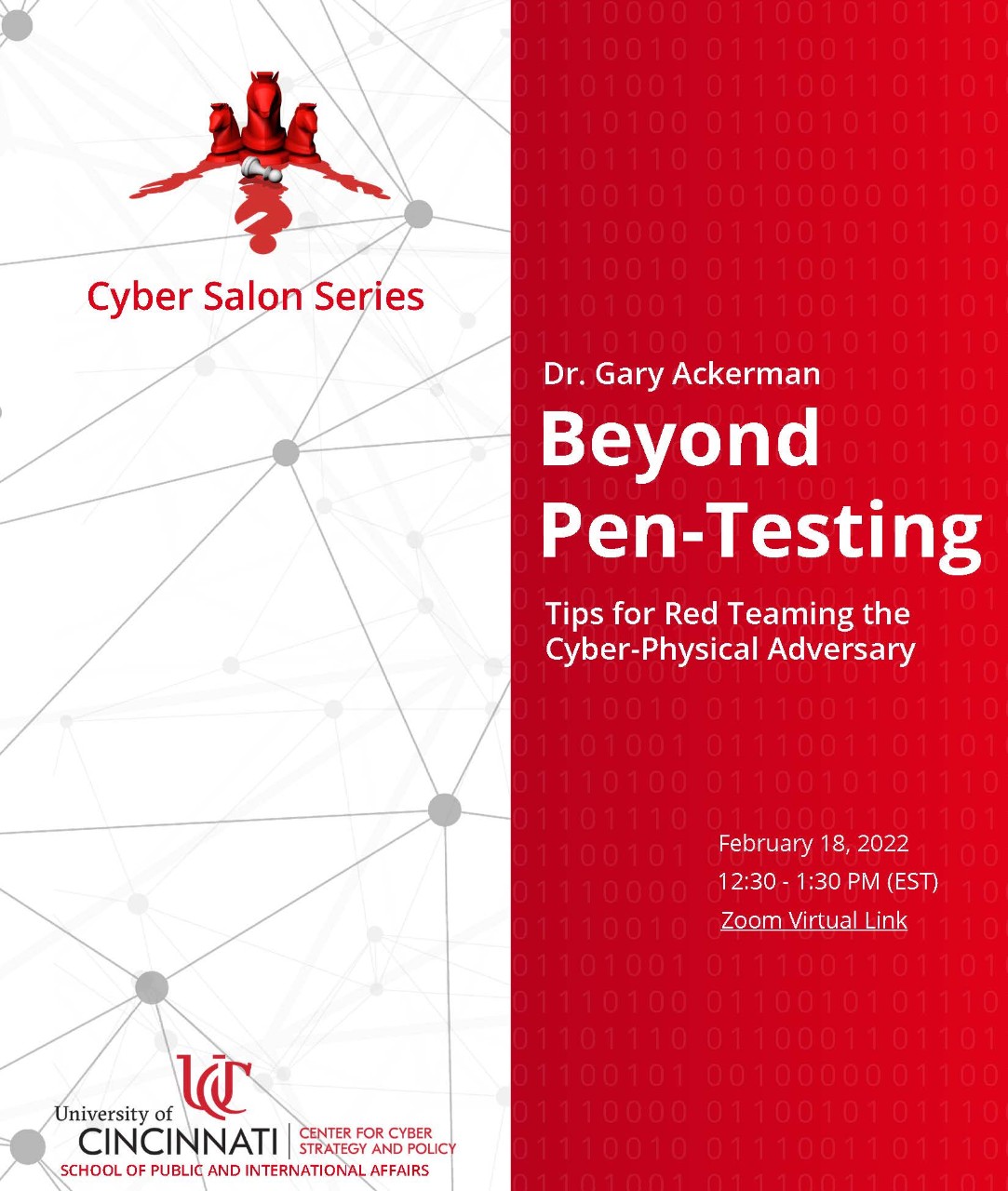 February 18, 2022

Dr. Gary Ackerman
Director, Center for Advanced Red Teaming (CART)
Associate Professor and Associate Dean, College of Emergency Preparedness, Homeland Security, Cybersecurity (CEHC)
Presentation: Beyond Pen-Testing: Tips for Red Teaming the Cyber-Physical Adversary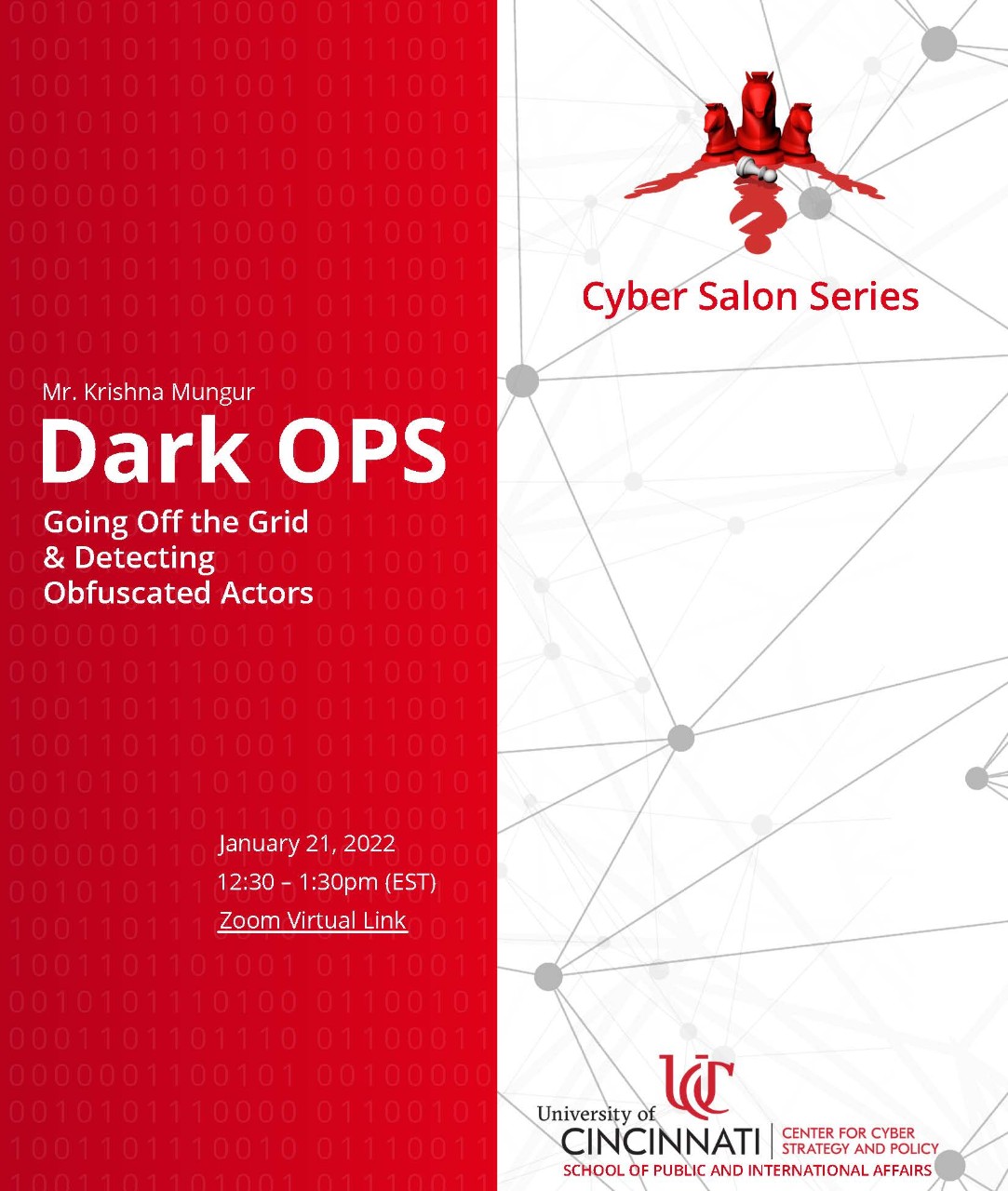 January 21, 2022
Mr. Krishna Mungur

Presentation: Dark Ops: Going Off the Grid & Detecting Obfuscated Actors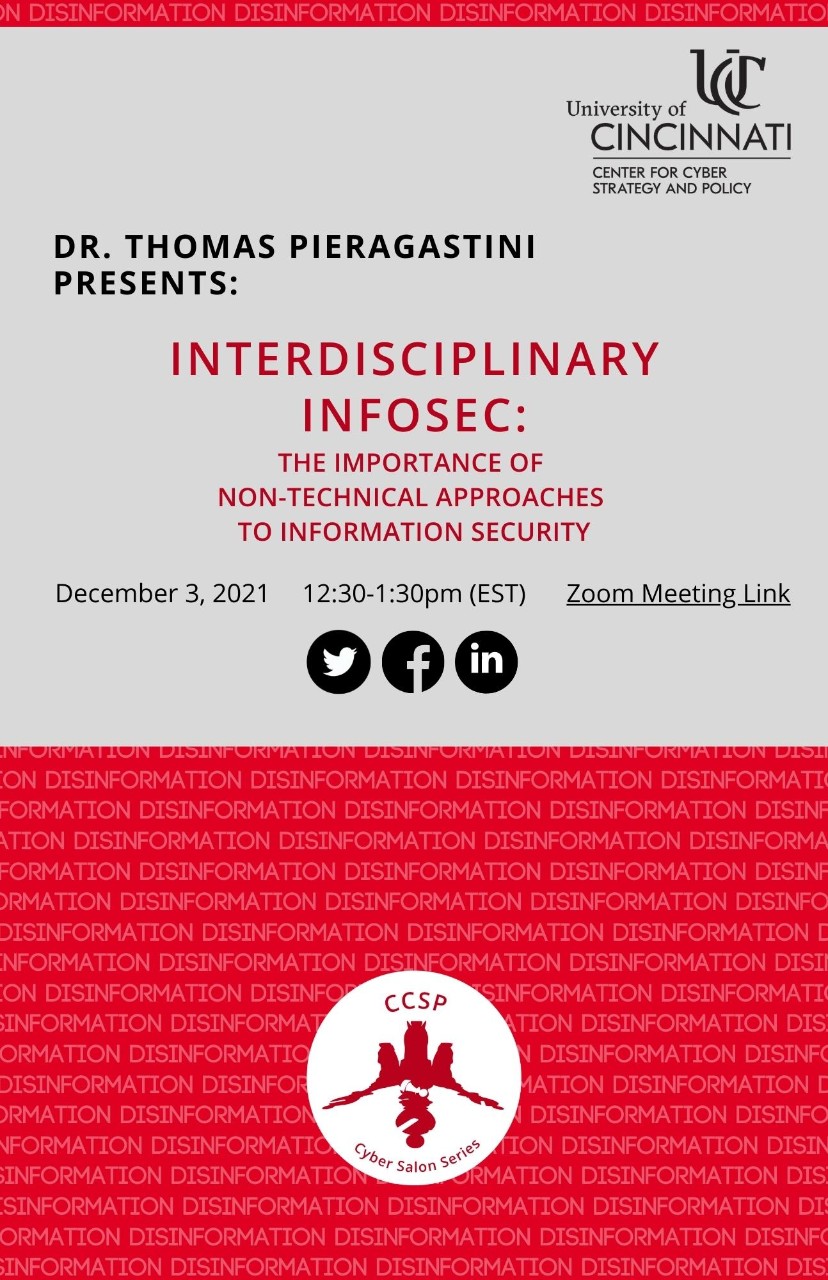 December 3, 2021

Thomas Pieragastini, PhD

Presentation: Interdisciplinary Infosec: The Importance of Non-Technical Approaches to Information Security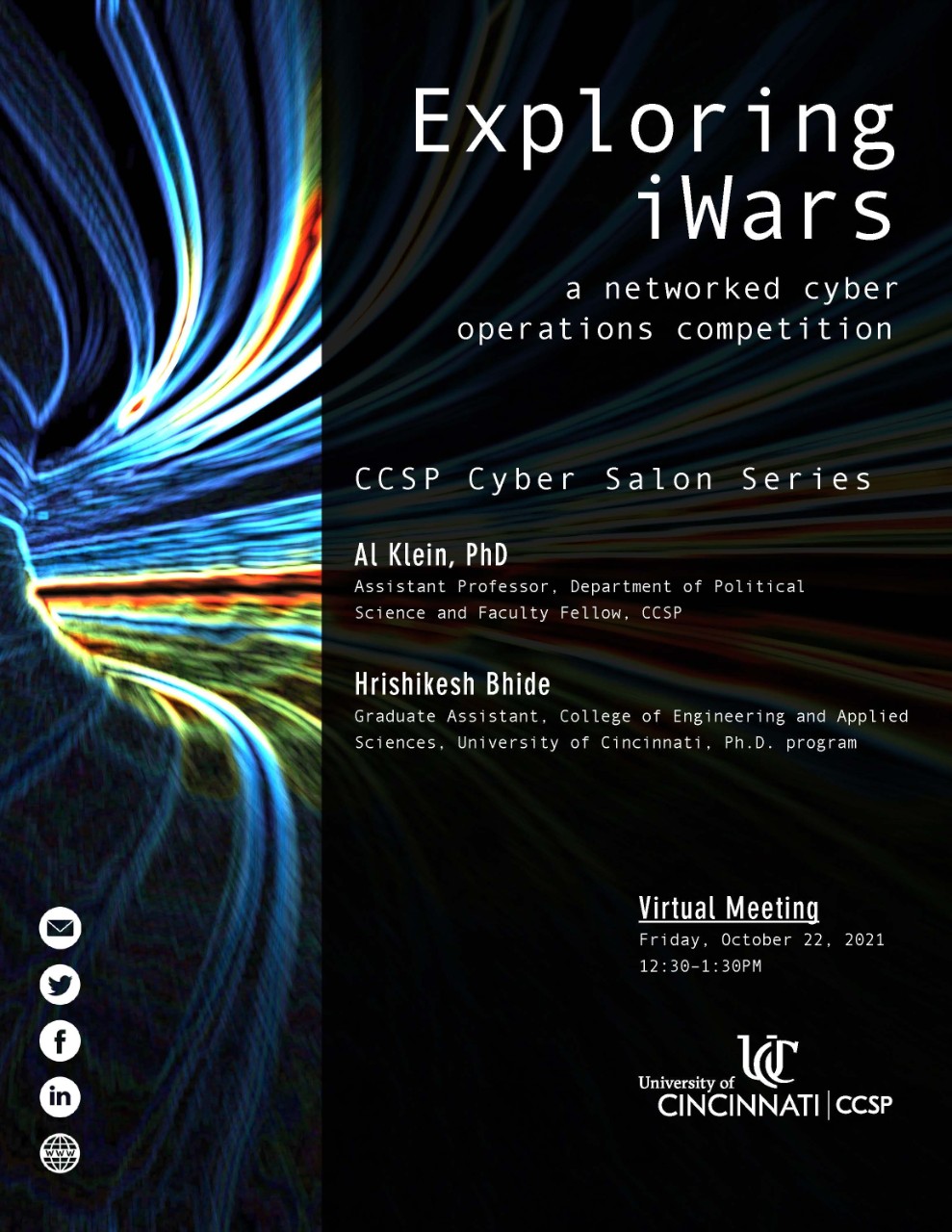 October 22, 2021
Colonel Al Klein, PhD
Assistant Professor, School of Public and International Affairs and Faculty Fellow, CCSP, University of Cincinnati
Hrishikesh Bhide
Graduate Assistant, College of Engineering and Applied Sciences, University of Cincinnati, PhD program.
Presentation / Demonstration: Exploring iWars a Networked Cyber Operations Competition
View the Recording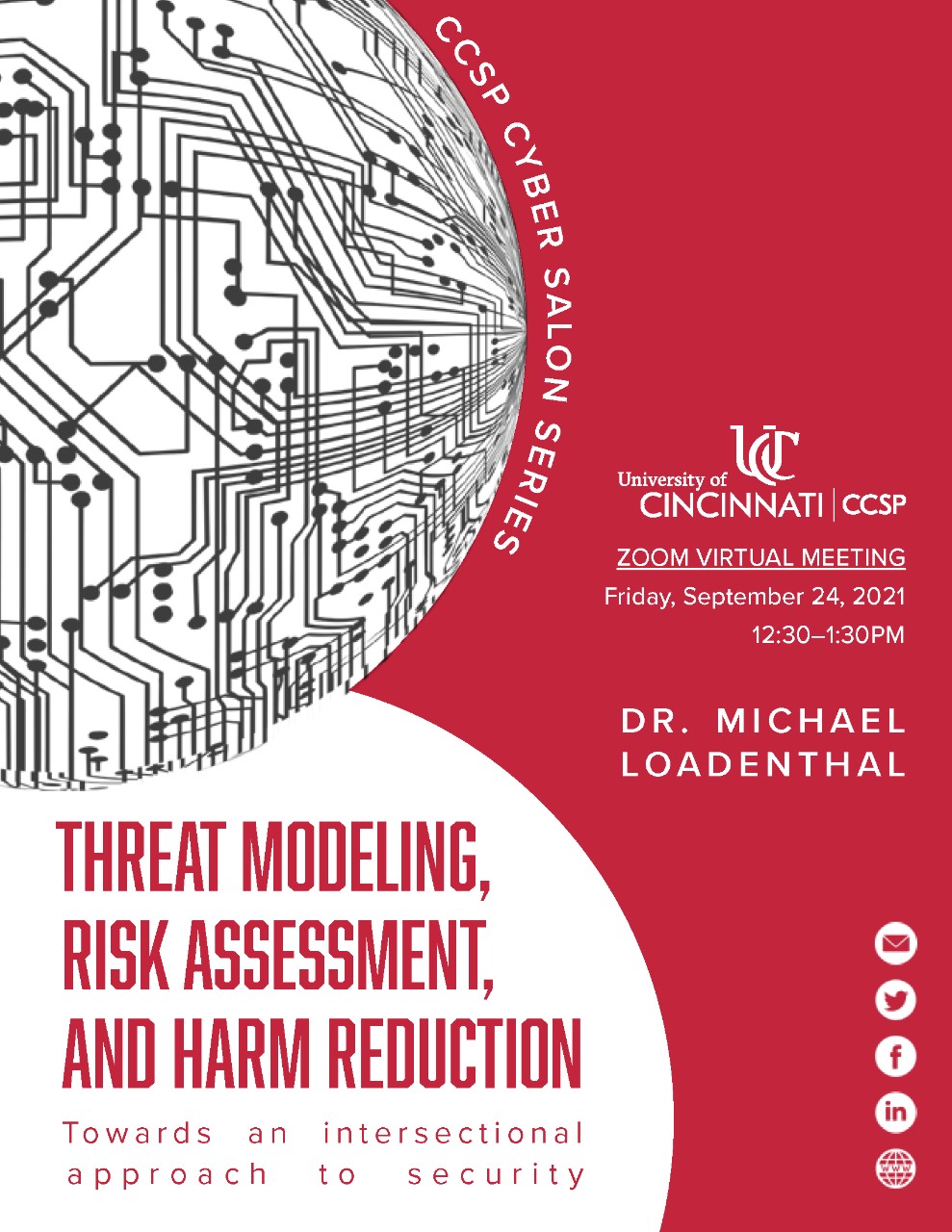 September 24, 2021

Dr. Michael Loadenthal, Postdoctoral Research Fellow, Center for Cyber Strategy and Policy, University of Cincinnati.
Presentation:  Threat Modeling, Risk Assessment, and Harm Reduction: Towards an intersectional approach to security