Graduate Studies in History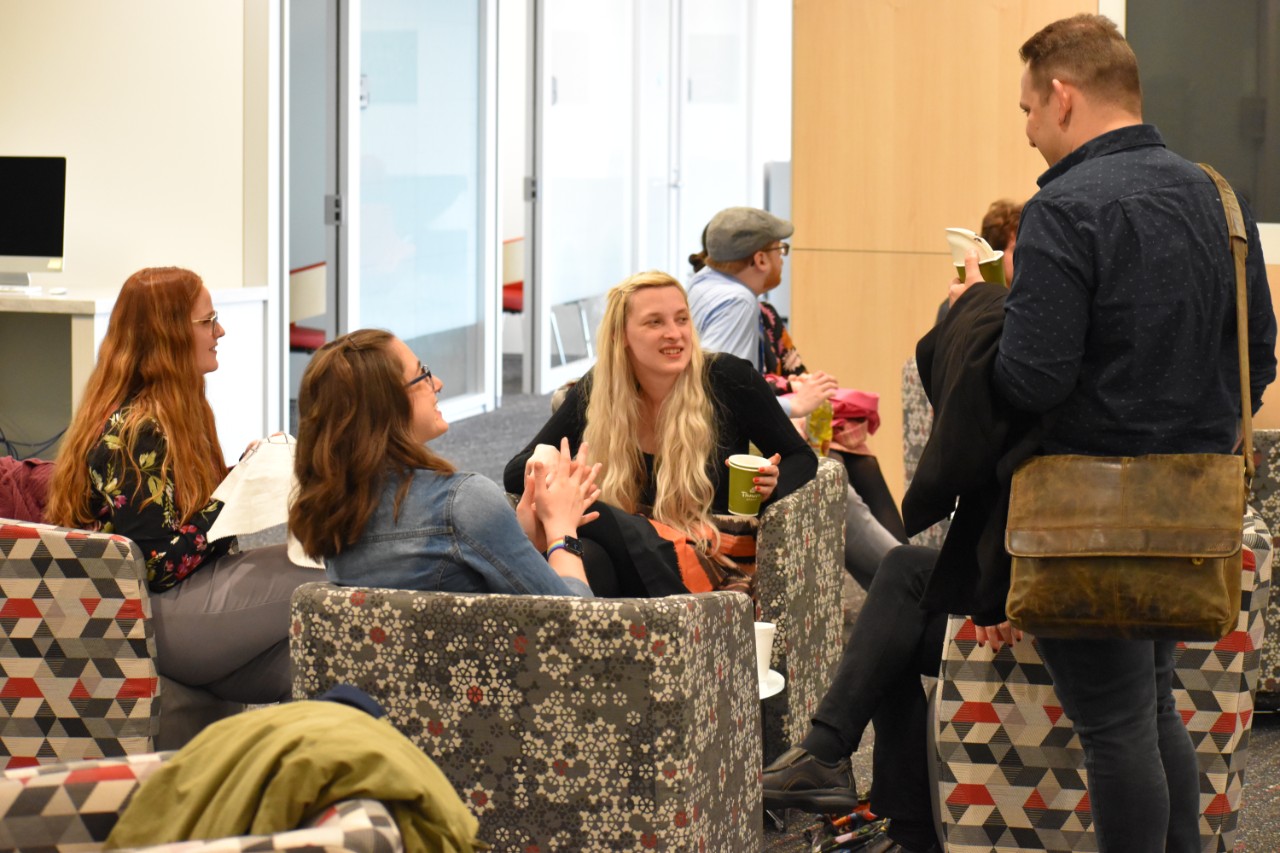 Students enjoy the benefits of our mid-sized graduate program: a varied curriculum combined with personal attention from faculty. Together our MA and PhD programs enroll approximately 40 students with diverse backgrounds and a variety of goals. Some are honing skills that will advance their careers in secondary teaching, while others will seek - and land - academic posts. Our students have also found careers in public history, including museums and archives, while others have gone on to careers in law and business.
To see some of our alumni success stories, check out our newsletter, where we regularly post updates from our alumni. Regardless of their goals, however, all of our students are trained to work as historians. Our program emphasizes original research based in primary sources, and it features courses in historical methodology, public history, and pedagogy. A vibrant community of scholars - both students and faculty - creates a lively learning environment.
Students select a concentration in United States, European, World, or Public History, but everyone receives broad training, taking courses in minor fields, languages, or in other graduate programs. Students also take at least one comparative seminar, usually team taught, in which a theme is explored across national boundaries, such as gender, race, or urban history.
Jeff Zalar
Director of Graduate Studies, Department of History
360 Arts & Sciences Hall
The master's program in history at UC offers students a diverse and challenging postgraduate training in history. MA students typically complete their degrees in two years, with most of the coursework taking place in small graduate seminars and reading colloquia. Over the course of their MA training, all of our students have the opportunity to present papers and conduct primary archival research in the US and abroad, often with funds provided by the department or through other university-based sources. Many of our MA graduates use their degree to propel themselves into successful careers in museum work, historical societies, government service and secondary education. Other students choose to continue their graduate study by enrolling in doctoral programs in history, both in our own department and in other top history programs around the country.
For teachers and other working professionals that are seeking a graduate degree in History, there is a non-research track MA degree.  Students wishing to enroll in the non-research track must declare such when they apply for the program.  Students who choose this track must complete 32 hours of coursework, choose an area of concentration, and fulfill all program requirements other than the research seminars, HIST 9040 and HIST 9041 (8 credit hours).  (Non-research option students may convert to the research option upon consultation with the Director of Graduate Studies.) 
Part-time students who take 8 credits per semester will still be able to complete the degree in four semesters or two academic years.  All required courses are offerred annually.  Many of our graduate seminars are scheduled in the evenings, starting at 5:00 or 6:00pm to permit schedule flexibility.  


The UC History Department is home to a selective and successful PhD program. While the program is designed to train future university teachers and researchers, a number of our PhDs have gone on to distinguished careers in government service and a range of other professions, including business and law. Our doctoral program is small by design as we usually admit between 2-5 students a year. This is one of our greatest strengths as it gives our doctoral students ample opportunity to work closely with faculty. Our doctoral students also benefit from generous funding for research and writing through departmental, university, and Taft Center funding. 
The History Department offers a joint Ph.D. initiative in Modern Jewish History and Culture, offered in partnership with the Pines School of Graduate Studies at Hebrew Union College - Jewish Institute of Religion, Cincinnati, Ohio.
For more information, please visit https://modernjewishhistory.net
 
History graduate students and faculty are involved with a range of important and exciting interdisciplinary programs at UC, including Asian Studies, European Studies, Historic Preservation (with DAAP), and Women's, Gender, and Sexuality Studies. In these programs, historians engage with sociology, anthropology, economics, planning, geography, and languages and literatures to deepen their knowledge of particular areas of study.
Asian Studies is an interdisciplinary program devoted to the study of the languages, cultures, economics, history, geography, and politics of Asian countries. The Asian Studies graduate certificate is an interdisciplinary program that draws on courses offered through anthropology, art history, history, geography, economics, political science, planning, and other fields.
The European Studies program provides opportunities for studying the multifaceted nature of a changing Europe—its history, languages, cultural, political, economic, and social fabric, as well as its relations with the United States and the world. European Studies offers an annual fall workshop in which grad students and faculty from a number of departments meet together to discuss a common theme related to European history, society, and culture. The workshop is followed by a two-quarter graduate research seminar that allows students to develop a research topic related to the general field of European Studies. MA or PhD students in history with an interest in Europe can find out more about graduate coursework by consulting the European Studies web page.
This program is designed to provide students with an appreciation for the issues and techniques involved in preserving the artifacts of the past.  College of Arts and Sciences and the College of Design, Art, Architecture, and Planning (DAAP) offer a joint graduate certificate in this area. Coursework for the certificate may also contribute to the coursework requirements for the MA and PhD in Historic Preservation.
Women's, Gender, and Sexuality Studies
The Department of Women's, Gender, and Sexuality Studies (WGSS) at the University of Cincinnati offers one of the oldest and most respected programs in women's studies in the country. The WGSS department consists of both a core group of faculty as well as a diverse body of affiliated professors from a wide range of disciplines. WGSS offers a certificate of concentration for graduate students in history that consists of three core courses and two electives.
The application deadline for Fall 2024 admission both the PhD and MA program is January 1, 2024. The following materials should be uploaded through the Graduate School's central application system:
Three letters of recommendation
Statement of Purpose
A writing sample
The department makes every effort to provide funding to qualified graduate students pursuing advanced degrees in history. In fact, the vast majority of our incoming masters and doctoral students receive some form of scholarship to assist with meeting the cost of UC tuition. In addition, the department provides funding to support graduate-student research, conference travel or language study. We also offer awards every year to our most deserving graduate students in a range of fields. For additional information on any of the scholarships, grants and awards listed below, please contact the department's Director of Graduate Studies.
Graduate Incentive Award / Graduate Assistant Scholarship
The Graduate Incentive Award (GIA) and the Graduate Assistant Scholarship (GAS) cover all or part of a student's tuition and fees. The history department offers GAS or GIA to most of its incoming MA and PhD students. These awards are offered at two levels. The highest level is a 100% GAS or GIA, which covers the full cost of tuition for both in and out of state students. The second level is an 80% GIA, which pays 80% of tuition for both in and out of state students. GAS and GIA do not cover health insurance premiums, books or fees. These awards can be combined with additional funding, however. Students who receive a GAS are also eligible for a graduate assistantship.
Graduate Assistantships (GA)
The department awards graduate assistantships (GAs) to incoming students based on the comprehensive strength of their application. At least half of all incoming students receive a GA. Most students who receive GA are assigned to assist a professor in the instruction and grading of an undergraduate history course. Graduate assistants are also expected to hold office hours each week to meet with students on a one-on-one basis. Some doctoral students with a GA may also be eligible to teach their own class.
 
Departmental Grants and Awards
The Charles Phelps Taft Research Center
The Department of History is one of twelve departments in A&S that receives money from the Taft Research Center (TRC), a private endowment affiliated with UC that provides generous support to student and faculty research in the humanities, social sciences and mathematics. While Taft funding is generally awarded on a competitive basis, history students have traditionally been highly successful in Taft competitions and it is not unusual for our MA and PhD students to receive several TRC grants and fellowships over the course of their studies in the department. The TRC supports a number of grant programs, including Dissertation Fellowships, Graduate Enhancement Fellowships, Graduate Enrichment Awards and Travel Grants.
The University Research Council
The University Research Council (URC) provides research support for outstanding graduate students in a variety of disciplines, including history, and our students have frequently done quite well in URC competitions. The URC currently offers Summer Graduate Research Fellowships that provide up to $3,000 for two-months of summer research activity.
Additional University Awards and Fellowships
In addition to the URC, graduate students are eligible to receive a number of other forms of funding through UC. Incoming history graduate students can be nominated for University Distinguished Graduate Fellowships, which provide three years of support at the MA and/or PhD level. The university also offers Distinguished Dissertation Awards, the Neff Fellowship for the outstanding woman graduate student in the Arts & Sciences, and Albert C. Yates Fellowships for minority students. The deadlines and funding level for these various awards vary slightly from year to year, and interested students in the department should make sure to contact the Director of Graduate Studies in January to find out about funding opportunities and deadlines for the coming year.
Graduate Student Governance Association (GSGA) Travel and Research Grants
The GSGA offers small grants to graduate students to defray the cost of research, travel to conferences, and conference expenses. Students apply at the beginning of the quarter to the GSGA office. Each student is eligible for a one-time grant of up to $400 for research and an unlimited number of smaller grants, usually $100-200, for conferences. Since the GSGA serves all graduate students at the university, not all applicants receive grants each time they apply. Those who have not been awarded grants previously normally take priority.
Werner E. Von Rosenstiel Fund
Werner E. Von Rosenstiel, a devoted friend of the department who studied at UC as an undergraduate, has generously endowed a fund that provides grant money for conference and research travel as well as language study to students specializing in modern European history. Students in other fields who have a research interest in modern Europe are also eligible to apply. Awards range up to $2,000 per year. Money from the Von Rosenstiel Fund are also used to provide enhancements for select scholarships.
The Zane L. Miller Fellowship in American City History
Every year the Department of History grants a Miller Fellowship to support a doctoral student pursuing work in American urban history: the history of cities, their regions, neighborhoods and suburbs, past and present. Currently the fellowship provides $1,000 as a supplement for other fellowships, grants or scholarships.
The award is named for the University of Cincinnati's famed urban historian, Zane L. Miller, currently emeritus in the Department of History. Miller served on UC's faculty from 1966, the year he earned his PhD at the University of Chicago under the supervision of Richard C. Wade, until his "retirement" in 1999. While at UC, Miller authored numerous books and articles, mentored dozens of doctoral students, and for many years edited an urban book series at The Ohio State University Press. Miller is still an active scholar and mentor. He edits a new book series at Temple University Press, titled "Urban Life, Landscape and Policy." He lives in Pace, Florida.
Roger Daniels Summer Fellowship
Every spring the Department of History offers a Roger Daniels Fellowship to support doctoral research. Preference is given to doctoral students who have completed at least one year at the University of Cincinnati. This fellowship award is typically $1,500.
This award is named in honor of Roger Daniels, Charles Phelps Taft Professor Emeritus of History. He is the author of numerous books, most concerning immigration and the incarceration of Japanese-Americans. Daniels joined the Department of History as chair in 1976. He became emeritus in 2002. During his years at UC, Daniels was a strong supporter of the department's doctoral program, and he directed the dissertations of many students. Among his recent publications are Guarding the Golden Door: American Immigration Policy and Immigrants (2004); and expanded editions of Coming to America: A History of Immigration and Ethnicity in American Life (2002, original edition published in 1990); and Prisoners Without Trial: Japanese Americans in World War II (2004, original edition published in 1997).
The Barbara Ramusack Graduate Fellowship Fund
This fund honors Professor Barbara Ramusack, a leading scholar of South Asian history and a wonderful mentor to generations of graduate students in the department.  This fellowship is awarded annually to a deserving graduate student working in the field of non-Western history.
The Hilda L. Smith Fund for the History of Women
Professor Hilda Smith is a distinguished professor of women's intellectual history who was one of the founders of the women's history field in the modern academy.  This fund supports an annual prize given by the department to the best undergraduate student paper related to the history of women, all regions, periods, and approaches included.

The funding sources listed above do not cover health insurance and all graduate students are required to have it. Students may provide their own insurance or purchase it from the university, rates listed on the Student Health Insurance website. The Graduate School offers a Graduate Student Health Insurance (GSHI) award to graduate assistants, which will provide an award to be applied towards the cost of health insurance for each semester for eligible GAs who apply. More information and the application are available here.