Meet History Major Seth Cebula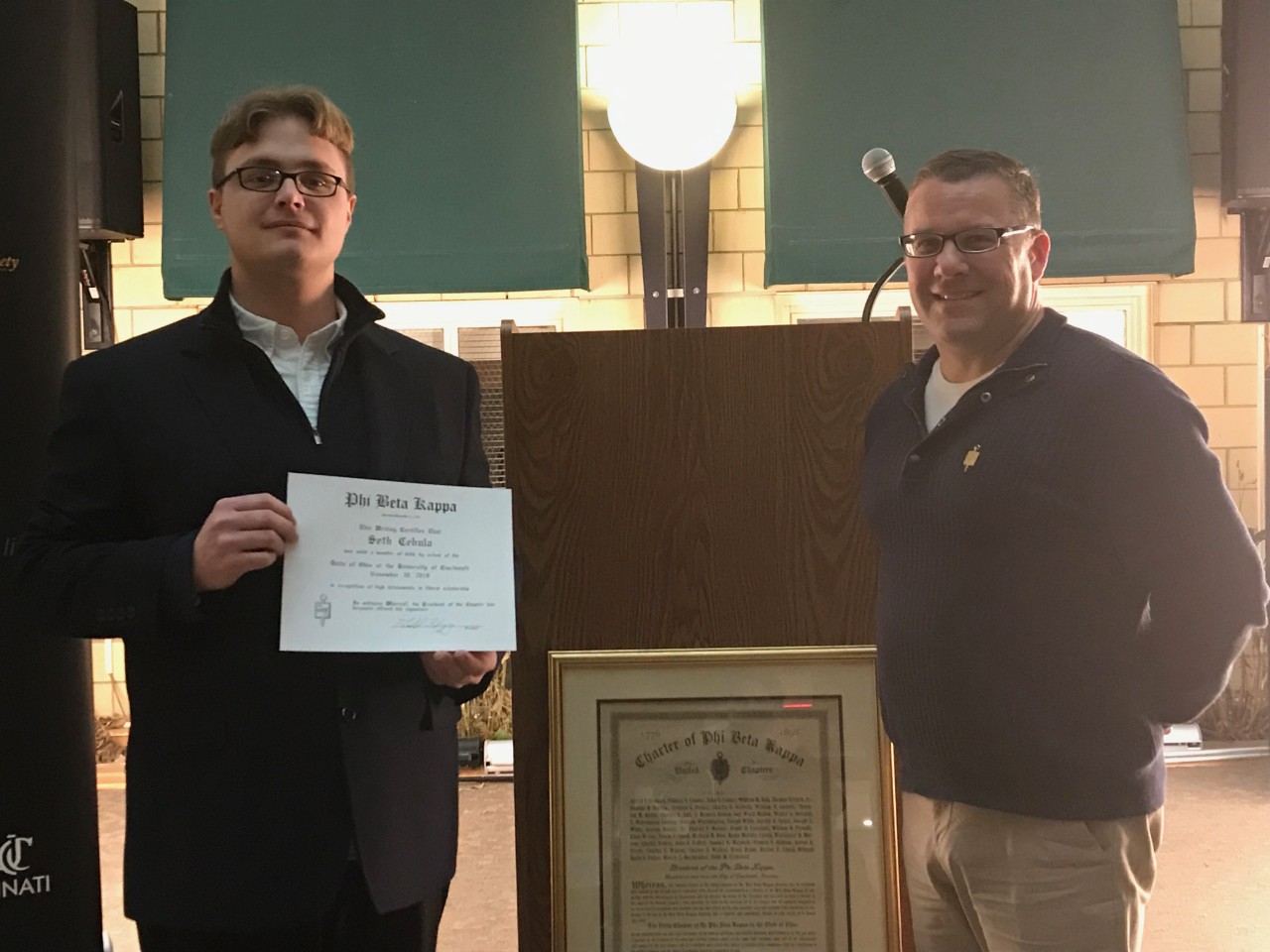 The UC History Department offers History majors the chance to study globally and find new perspectives in the current and past world. How? Meet Seth Cebula.
Seth a senior History Major, graduating this Fall Semester 2018, has explored new worlds through his studies at UC. Seth first went abroad in the Summer Semester 2015 to the UK as part of a Beatles & Darwin class, where he explored Liverpool. The following year, he spent the Fall Semester abroad in Chengu, through the University Study Abroad Consortium (USAC), where he studied Chinese Language & History. While in China, he also climbed Mt. Qingcheng, a famous center of Taoism, and visited the terracotta warriors in Xi'an. This past summer, he visited the UK again with Professor Susan Karr's Rulers, Rebels, and Rights: Early Modern Britain course, visiting many famous sites, including Stirling Castle, Hampton Court, the Tower of London, the Cliffs of Dover, the Scottish Highlands, and Loch Ness.
Aside from his international exploits, Seth is also very dedicated to his studies. He is graduating Phi Beta Kappa with a Bachelor's in History, focusing on early Modern Western Europe and Russian History, and a minor in Asia Studies. His capstone discusses 16th century French political treatises in the wake of the St. Bartholomew massacre. When asked about his broad range of focuses, he explains the advantages, "Unrelated phenomena are connected underneath the big questions 'Who are we? What do we do? How do we survive? How do we thrive?' It is edifying to see the commonality in human experience and humbling in an educational way to see how vastly the answers can differ." He also advises to students who study history, "Don't be afraid to challenge yourself in history, which is about critical thinking. Turn the mirror onto yourself and ask yourself who you could be. History shows how different human beings can be in time and place. Critical thinking is so essential that we can't forget we're a part of that; we should examine ourselves while examining history." His advice to UC students specifically? There are scholarships out there that will enable you to the make the most of your time at UC; find them and use them. 
Seth is leaving UC with a filled passport and a great sense of accomplishment. He considers his time in the UC History Department as more than a degree, but a period of personal development. Seth plans to pursue graduate studies in History or Theology after a period of personal study outside of academic structure." 
Past Undergraduate Student Spotlights