History Department Award 2022
The History Department is proud to announce awardees of this year's departmental awards. Many congratulations to them, and to all History students who have persevered throughout this academic year. 
Best paper in History Freshmen Seminars: 
Amelia Schofalvi, "Critical Response Paper: The Haitian Revolution"
Hilda Smith Prize: Best Essay/Paper Women's History
Winners:
Abigail Crabtree, "Catherine the Greatest: Looking Back at Catherine the Great"
Ava Gyurcsik, "'Tis Women who Rule Us Still: The Roles of Royal Women During the Early English Reformation"
Elizabeth Oh, "The World of Lesbian Magazines: From Vice Versa, The Ladder, and Focus: A Journal for Lesbians to Cincinnati's Own Dinah'"
Megan Westmeyer, "Who controls the story of History?: Suffragettes in Edwardian England and the fight to control the narrative of the suffragette movement" 
Nominees:
Valerie Baxter, "Play -The Three wishes – Women helping Women -an Early Modern European Fairy Tale"
Jordan Crawley, "Dialogue: The Salon"
Riley Haag, "The Art Project Dilemma"
Emily Ivanov, "A Critical Study of the Portrayal of Genderfluidity in Marvel's Loki"
Griffen Peters, "Three Different Women and their Journey During War"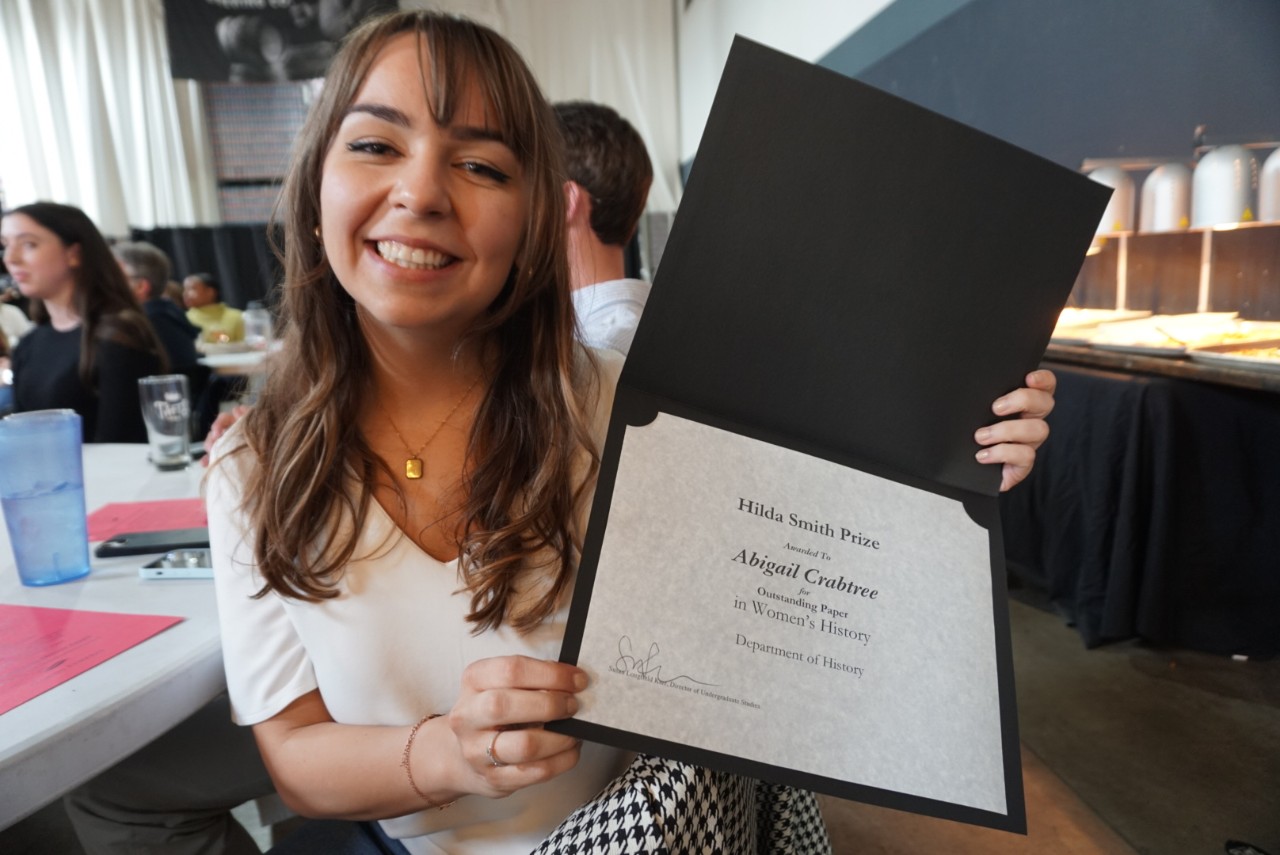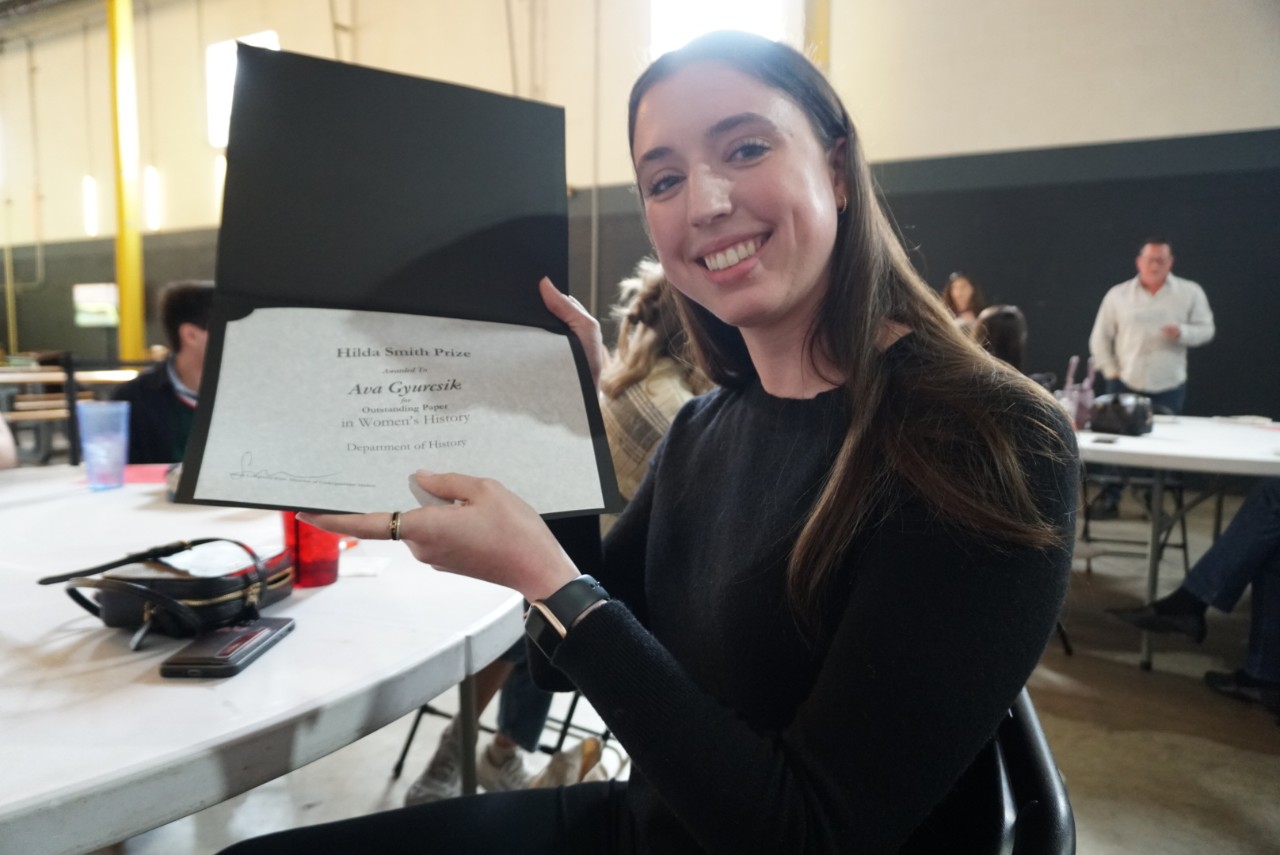 George Newberger Prize: Best History Capstone Essay, U.S. History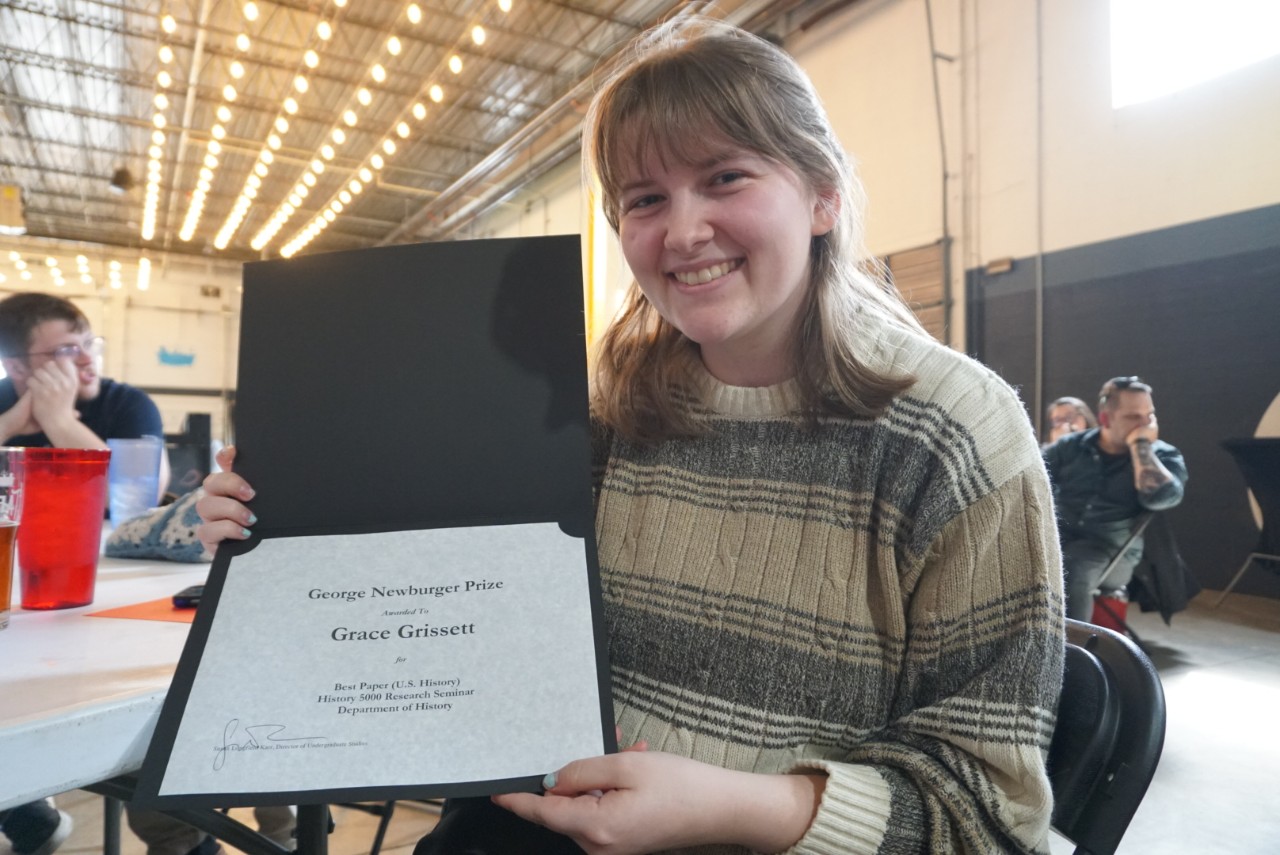 Winners:
Grace Grissett, "A Never-Ending Loop:  Poverty, Policy, and the True Cost of Appalachian Coal"
Henry T. Ricke, "The Birth of the Charter"
Nominees:
Jude Hart, "The Avondale Uprisings, University of Cincinnati unrest, and the FBI in the '60s"
Theodore Jansen, "Caught in the Crosshairs: Father Thomas McGrady and the Conflict Between Catholics and Socialists at the Turn of the Twentieth Century"
George B. Engberg Prize: Best History Capstone Essay, Non-U.S. History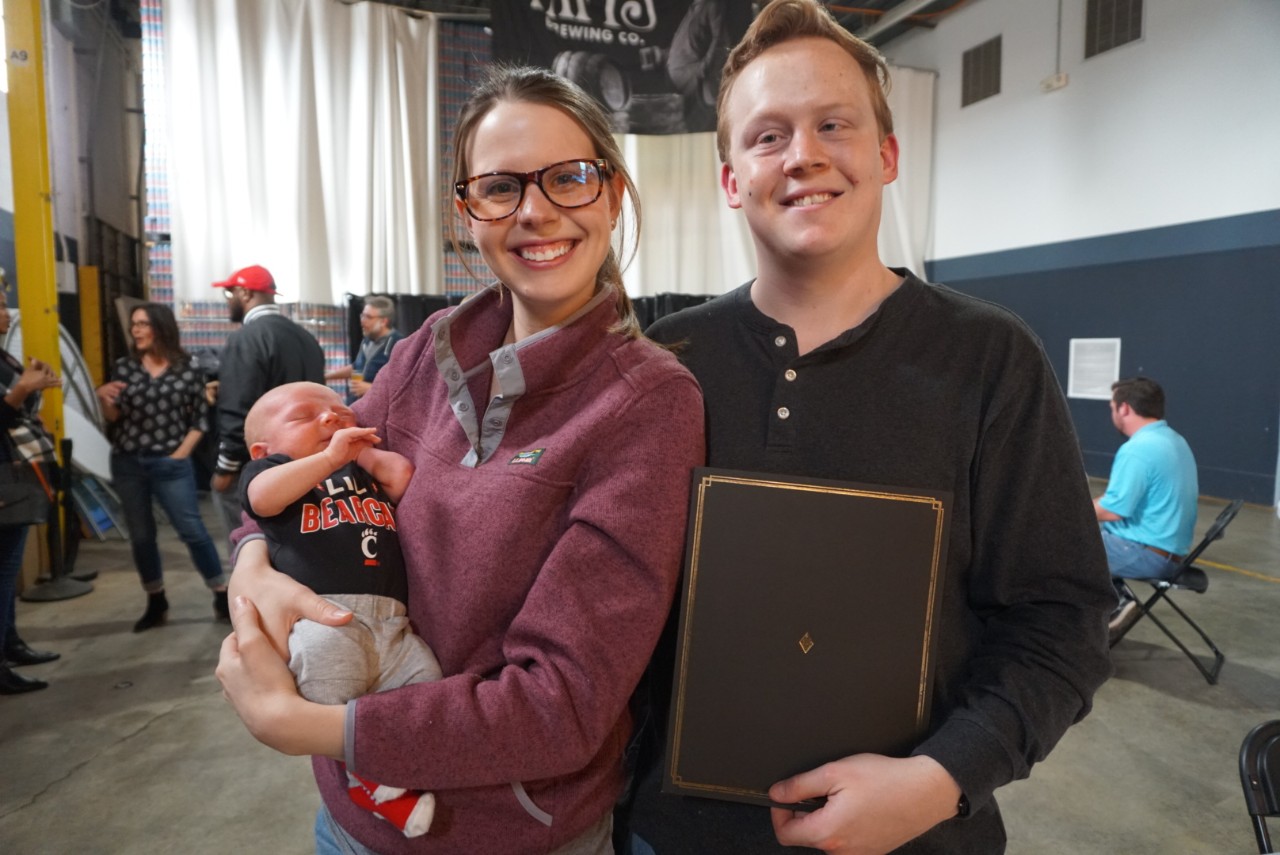 Winners:
George Kunkel, "Property and Personhood: Parliament and the Levellers on the Franchise in the English Civil Wars"
Adam Wissman, "Middle-Class Radicals: The Tudeh Party of Iran and the 1953 Coup"
Nominees:
Ava Gyurcsik, "'Tis Women who Rule Us Still: The Roles of Royal Women During the Early English Reformation"
Michael Kilmore, "Conflict Between Allies: The United States' and Colombia's relationship during the Korean War"
Will Tuttle, "Union by All Costs"
History Club Leadership Award
Lenore F. McGrane Prize: Most Promising Student U.S. History
Michael Kilmore and Divya Kumar
Emma Louise Parry Prize: Top History Student in Any Area
Abigail Crabtree and Grace Grissett

Scholarship Recipients for coming 2022 - 2023 academic year
Dr Henry Winkler Scholarship in History
Divya Kumar
Lenore F McGrane Scholarship
Anji Patel
Werner & Anne Von Rosenstiel Scholarship
Grace Suhadolnik
Zane Miller Prize for Best Graduate Student Research Paper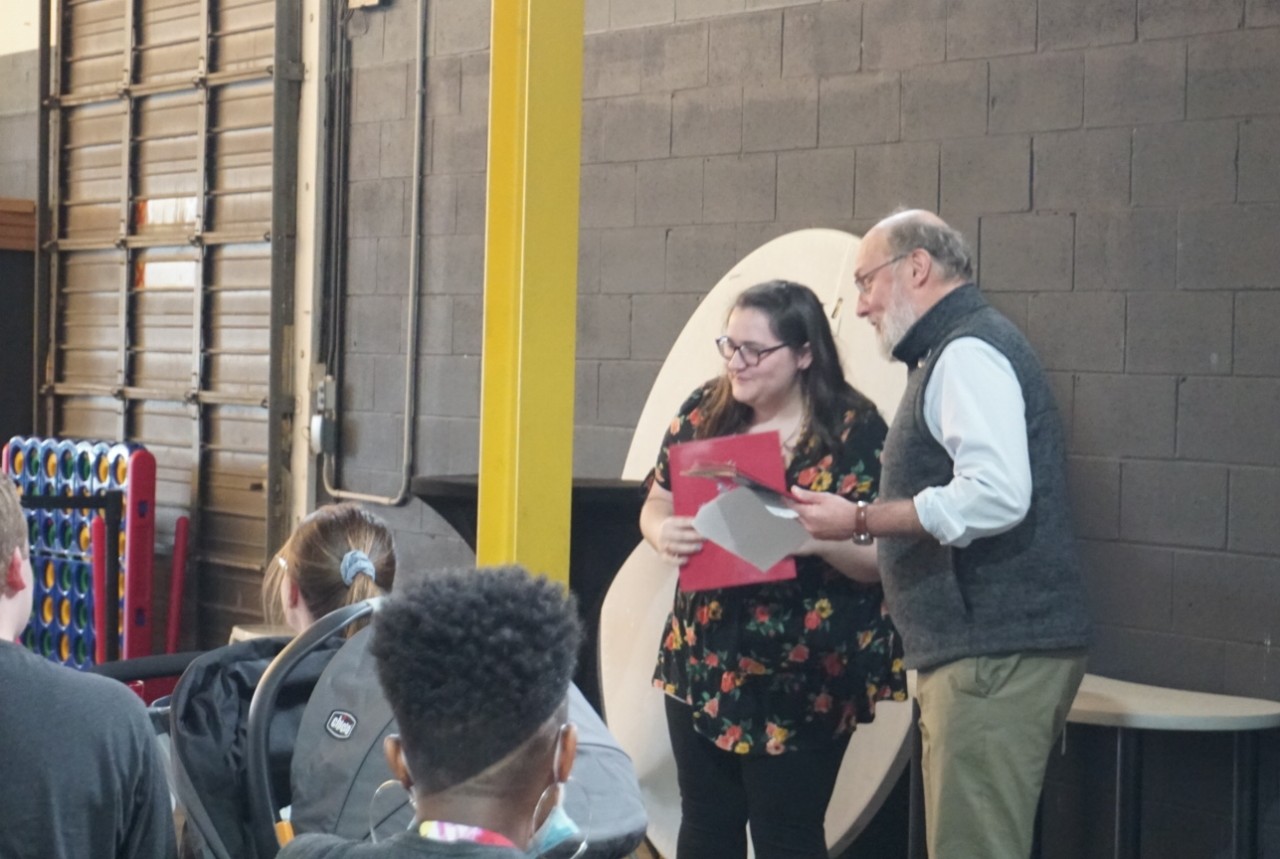 First-place: 
Felicity Moran, "Chaste and Famous: Female Behavior and the Development of Professional Musicians in Renaissance Italy"
Second-place:
Reese Whitely, "The Foundations of Nuremberg: Wartime Culpability and the Struggle to Define the Crime of Aggression"
Shepherd Ellis, "Religious Conversion in the Spanish Empire: Identity Formation in Hapsburg Spain & Baroque Mexico"
Trevor Johnson , "The "Terrible Turks" Come to America: Masculinity, Orientalism, Nationalism, and Professional Wrestling in Late 19 th and Early 20 th Century America"
John K. Alexander Prize for Best Graduate Student Teacher or Teaching Assistant
Prize-winners: 
Reese Whitely and Wil Morriss
Honorable Mentions:
Felicity Moran, Anna Sensel, Brittney Smith, Sophie Ospital, Nicholas Short
Roger Daniels Graduate Summer Research Fellowship
Herbert Shapiro Scholarship in African American History
Niehoff Research Fellowships
Wil Morriss (left) and Christian O'Cull (right)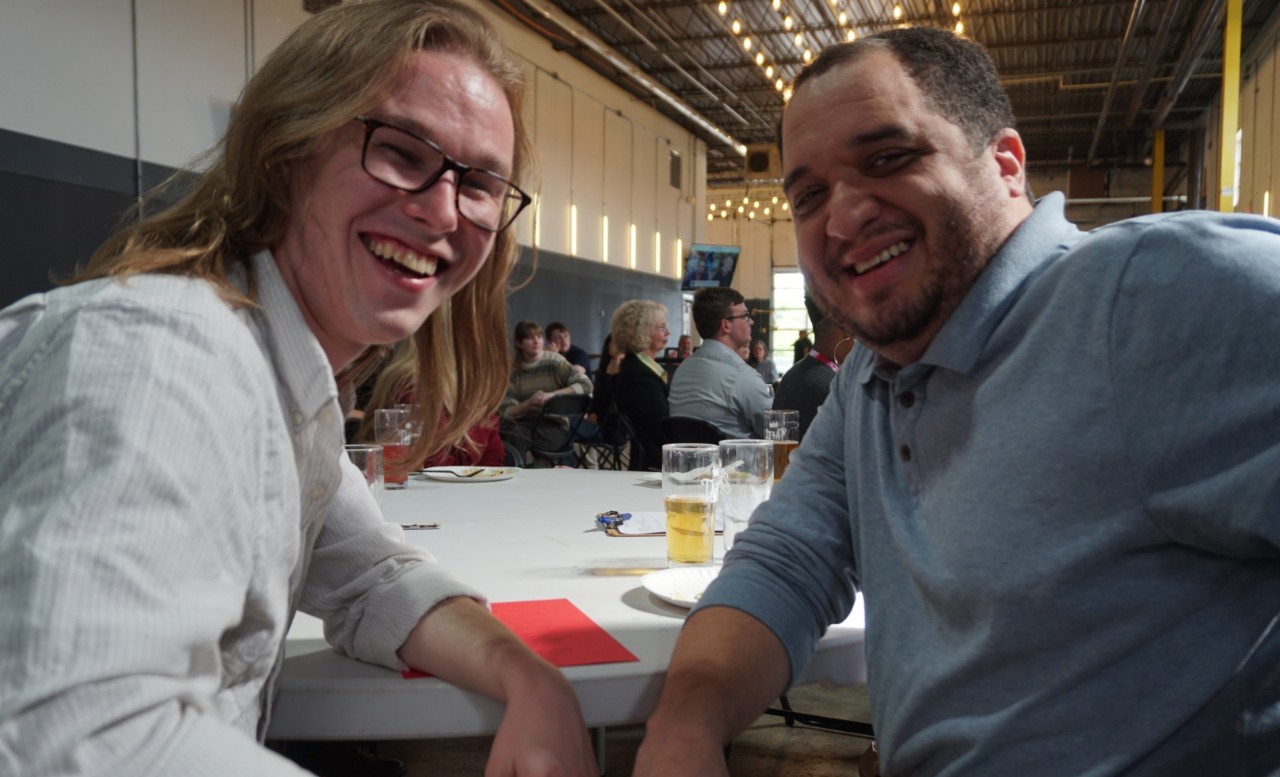 Departmental Research Support Awards
Sophie Ospital, Wil Morriss, Christian O'Cull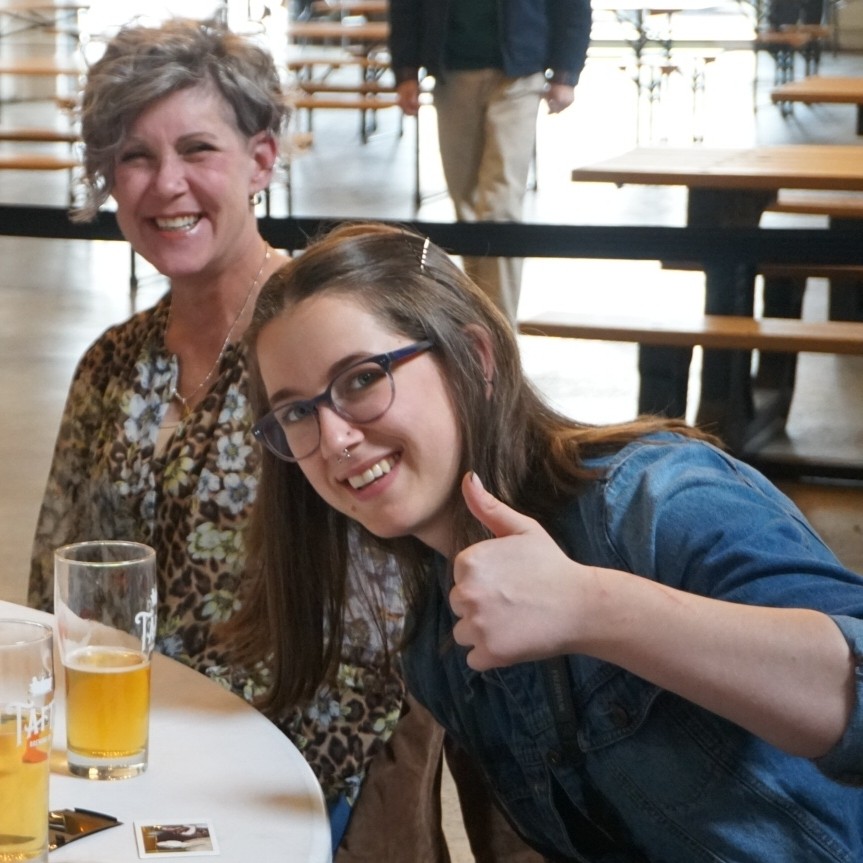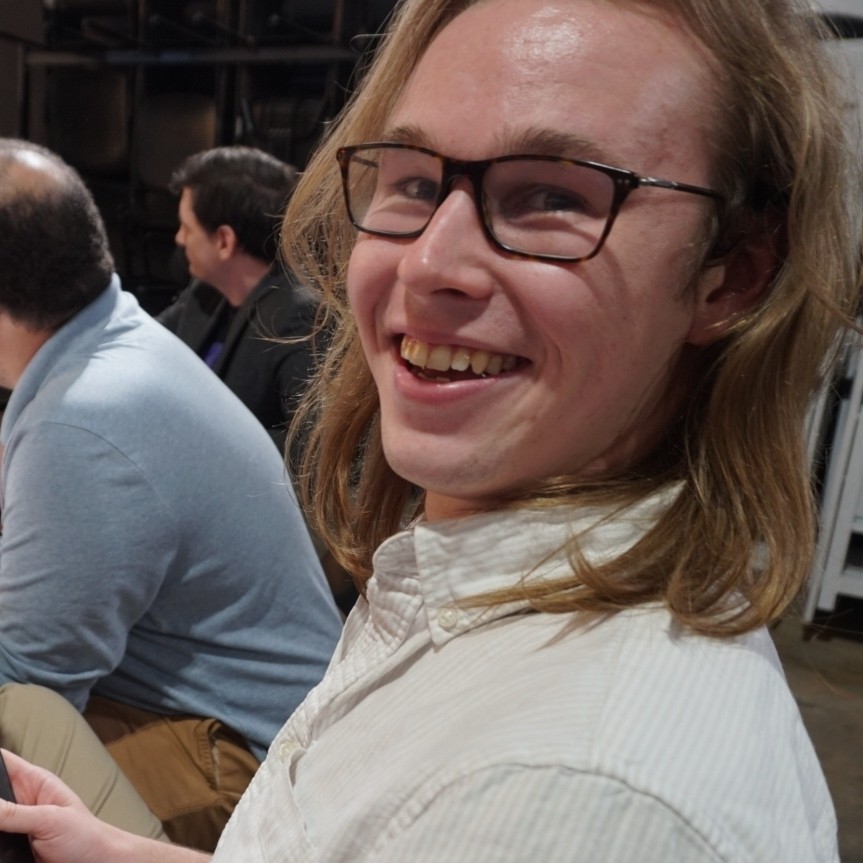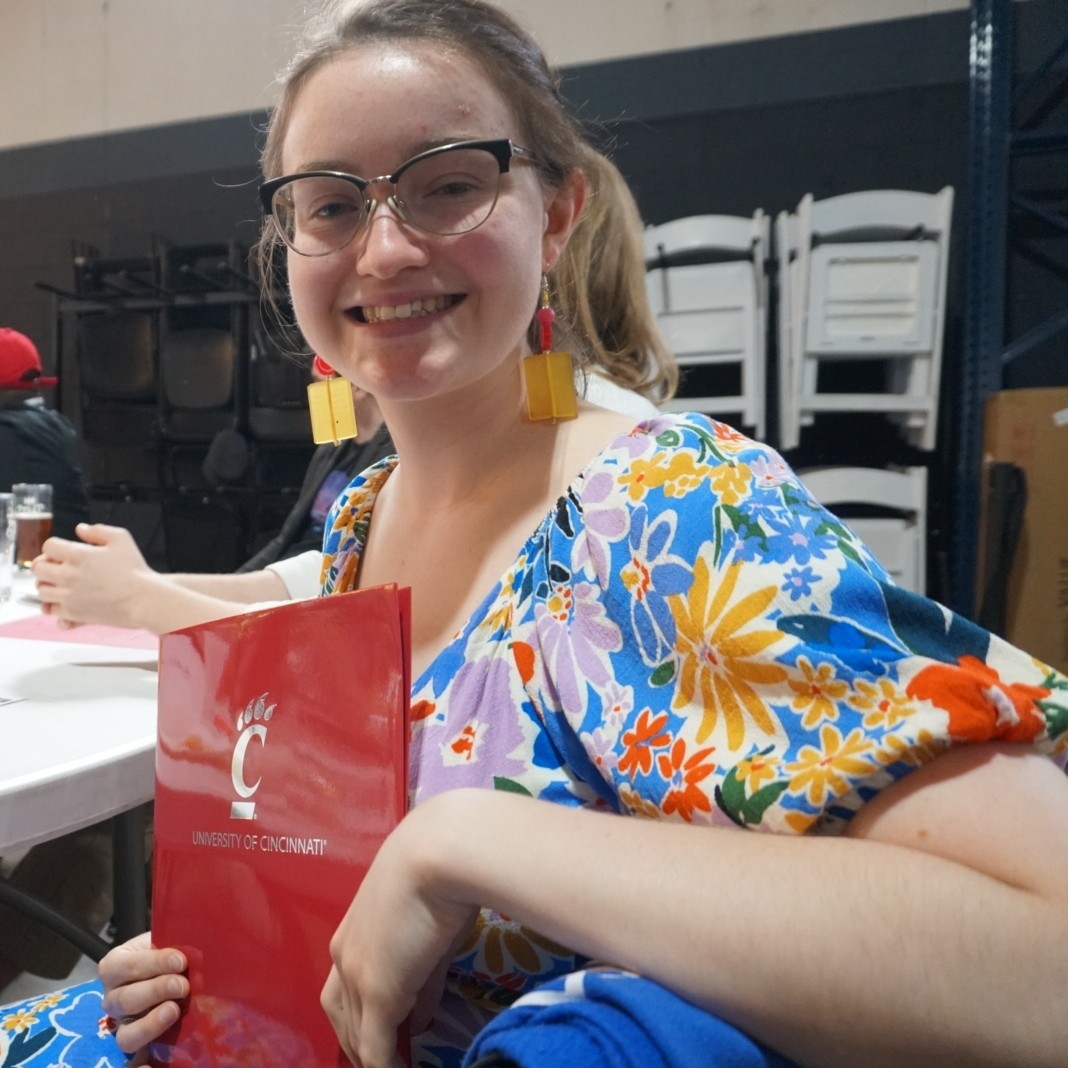 Ph.D. Graduates: 
Casey Huegel and Evan Johnson
MA Graduates: 
Shepherd Ellis, Trevor Johnson, Felicity Moran, and Reese Whitely
Von Rosenstiel Awardees, 2021 - 22
Sophie Ospital, Reese Whitely, Shepherd Ellis, Brittney Smith, Nicholas Short, Harper Lee
Dissertation Fellowship 2021 - 22:
Nicholas Brown, Daniel Farrell, Kevin McPartland
Graduate Enrichment Awards:
Sophie Ospital, Harper Lee, Wil Morriss, Christian O'Cull, Anna Sensel
Grad Summer Fellowship for Summer 2022:
Alysha Federkeil
Taft Dissertation Fellowship Recipients for the coming 2022-23 academic year:
Diamond Crowder and Alysha Federkeil