A&S Bearcats: Great Places to Study on Campus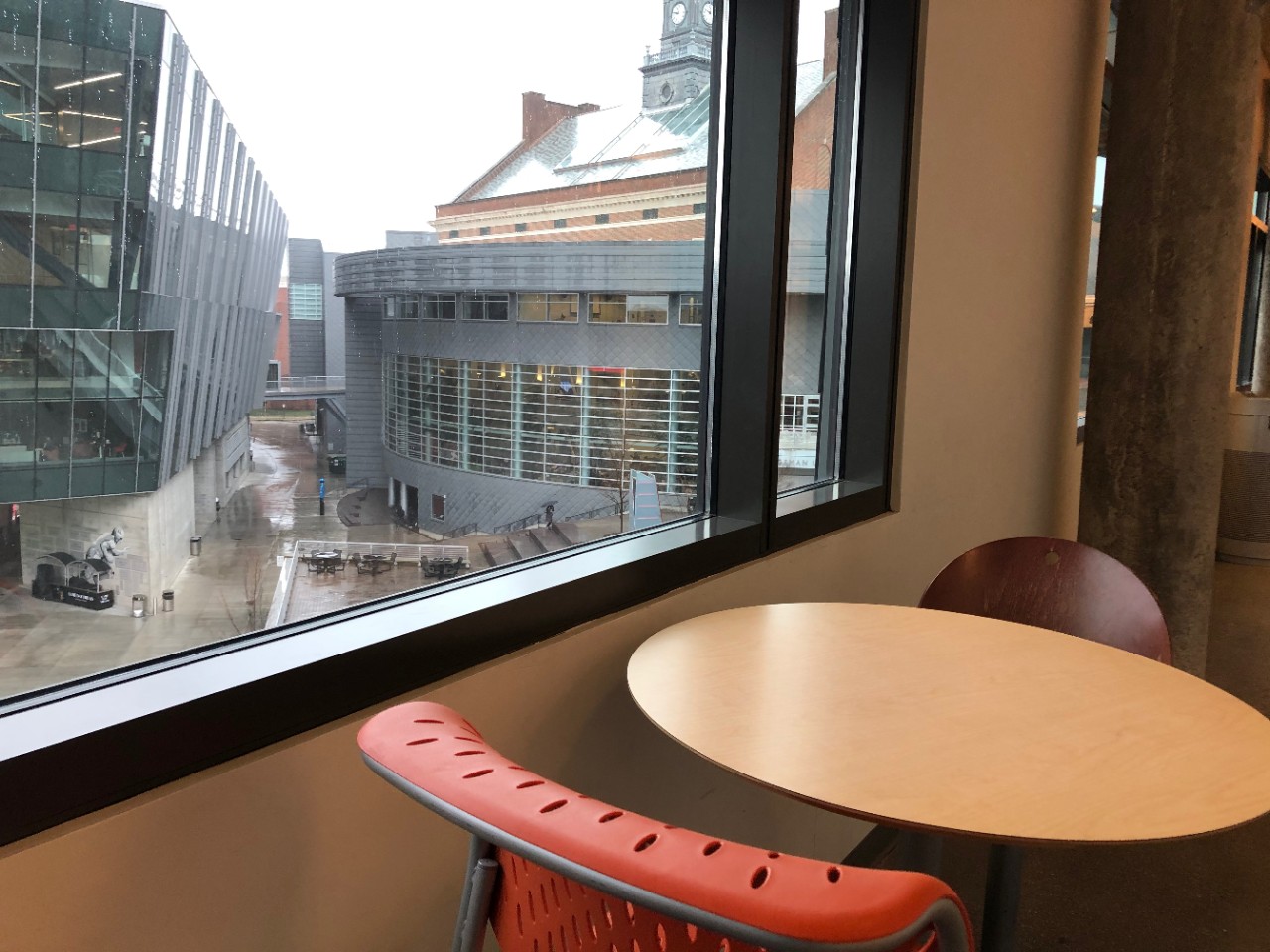 By Tawney Beans
Studying. It's a necessary evil in every college student's career, but that doesn't mean it has to take place somewhere drab and tiresome. After all, with great degrees comes great studying.
Whether you're looking for a solo study session or need room for a small group, UC and its College of Arts & Sciences (A&S) have plenty of options for socially distanced studying. With numerous study spaces around campus, some are bound to be better at meeting certain needs than others. Below you'll find my ratings for one of campus's greatest gifts to its students – room to work. 

Geology Physics Building:  Full of hallways lined with desks, chairs and fossils, the Geology Physics Building is one of secret tranquility. Since it's located between Braunstein and DAAP, many overlook it, making it an oasis for those who prefer a quite atmosphere while studying. Plus, there are thousands of prehistoric discoveries showcased throughout the building to examine if you need a break from the books. 

Sigma Sigma Commons: Nestled between the Lindner College of Business and UC's row of glass dorms is Sigma Sigma Commons – an expanse of lush grass dotted with small groves of trees. When a sunny day rolls around, these trees are usually entangled in masses of colorful, heavy-duty hammocks. Since the greenspace is large and oftentimes quiet, it's used by students looking to study privately or in a small group. The common is also next to On The Green, UC's newest dining hall, for those who like to study during mealtimes. When there's a nice summer breeze, you'll be hard pressed to find a better place to work. 
Steger Student Life Center: People watchers, rejoice! The 600 and 700 levels of Steger Student Life Center are encompassed by floor to ceiling windows where you can study and enjoy views of its neighbors, Schneider Quad, Mainstreet or Sigma Sigma Commons. Since these are all heavily trafficked areas, those who take comfort in seeing others bustle about may also find this to be a safe haven. Each portion of Steger has chairs, couches, and benches, so that seat preferences won't hold you back from getting that A. 

The College of Design Architecture Art and Planning (DAAP): Now I know what you're thinking, "how can I study in the labyrinth that is DAAP?" While you may need a trail of breadcrumbs to get you in and out at first, once you're there regularly, you'll be a bona fide Daedalus. Besides, the view on DAAP's 700 level is well worth the effort of reaching it. The sight of Arts & Sciences Hall, Clifton Court and Braunstein Hall spread before them would inspire any Bearcat to pull through their coursework.

Langsam Library: Also known as good old reliable, Langsam library is a major spot for those looking to get in some heavy-duty studying. The main entrance near Zimmer hall is littered with computers and desks, with a Starbucks thrown in to ensure studiers maximum caffeination. If none of that catches your eye, then let me point out that Langsam also features (no, I am not making this up) a sculpture of a 30-foot green triceracopter that's ready for battle. Another interesting aspect of the library is its fourth floor, which is open 24/7 (except during UC's official closures and breaks). It has study rooms that are available for reservation online and its writing center is open during weekdays to tutor students.

Starbucks: With classes to attend and deadlines to meet, many students look to Starbucks in order to get through their days on campus. UC knows this, which explains why there are three on campus – one in Langsam Library, the College-Conservatory of Music and the Lindner College of Business. The smell of fresh coffee is a constant companion in these coffeeshops, but they also offer free Wi-Fi and quick meals if you're running late to class. 

Residence halls: This one is for all the homebodies out there who don't want to leave the comfort of their dormitory. Each of the university's residence halls has a 24/7 quite floor designated for those looking to crank out projects, papers or homework. But be sure to bring your non-crunchy snacks and some headphones so the crammers down the hall can ace that 8 a.m. exam tomorrow.