The Department of English at the University of Cincinnati fosters the liberal arts by focusing on English-language texts across four mutually-interrelated disciplines: Literary and Cultural Studies; Creative Writing; Professional Writing; and Rhetoric & Composition.  Our faculty and graduate students produce exciting, award-winning, and interdisciplinary scholarly and creative work; and our students at the graduate and undergraduate levels profit from richly varied yet integrated curricular offerings tailored to specific academic interests. We can boast of a number of truly outstanding resources, including the George Elliston Poetry Room, one of the finest collections of American poetry anywhere in the nation, and the Helen Weinberger Center, involving a collaborative partnership with UC's College Conservatory of Music and the Cincinnati theatre community. The department publishes a number of journals, hosts reading series, festivals, and conferences, and welcomes prominent scholars for lectures and classroom visits.  Student groups, like the English Graduate Organization and the Undergraduate English Society, organize events throughout the year, helping to create our strong sense of community – despite the fact that we are the largest department in the College of Arts and Sciences.

English has something for everyone, from practical considerations concerning the best software to use in desktop publishing to theoretical reflections on issues of identity in literary and cultural texts.  If, after exploring our site, you have any questions, please feel free to contact us.
Replace this text component with your accordion's content.
"Trans(re)lating the Dead: Documentary Fiction and Archives of Loss"
Cosponsored by the Taft Research Center
September 23, 2021; 7:00 pm EST
Zoom registration: https://ucincinnati.zoom.us/meeting/register/tJcocOysqD8oGdaLxlSqpQIetBfpTeCbOUab
Poupeh Missaghi will read from and discuss her novel trans(re)lating house one (Coffee House Press, 2020), deemed a "Most Anticipated" title by The Millions and a "Best Debut Novel" by Library Journal. Set in the aftermath of Iran's 2009 election, this critically acclaimed novel combines an impressive range of narrative and discursive modes, including detective fiction, documentary poetics/archival journalism, art criticism, philosophy, and political witness. As Daniel Borzutzky writes, the novel "documents disappearance. It documents state murders. It documents the disappearance of art, culture, and documentation itself." 

Poupeh Missaghi has a PhD in English and Literary Arts from the University of Denver; an MA in Creative Writing from Johns Hopkins University, Baltimore, MD; and an MA in Translation Studies and a BA in English from Azad University, Tehran. Her novel trans(re)lating house one was published by Coffee House Press in 2020 and her translation of Iranian author Nasim Marashi's I'll Be Strong for You came out with Astra Publishing House in 2021. Her short pieces have appeared in numerous journals, most recently with the DIA Art Foundation, NY, and Denver Quarterly. She is based in Brooklyn, NY, and teaches at Pratt Institute, Brooklyn; City University of New York; and Pacific Northwest College of Art, Portland.
Making Shakespeare Black AF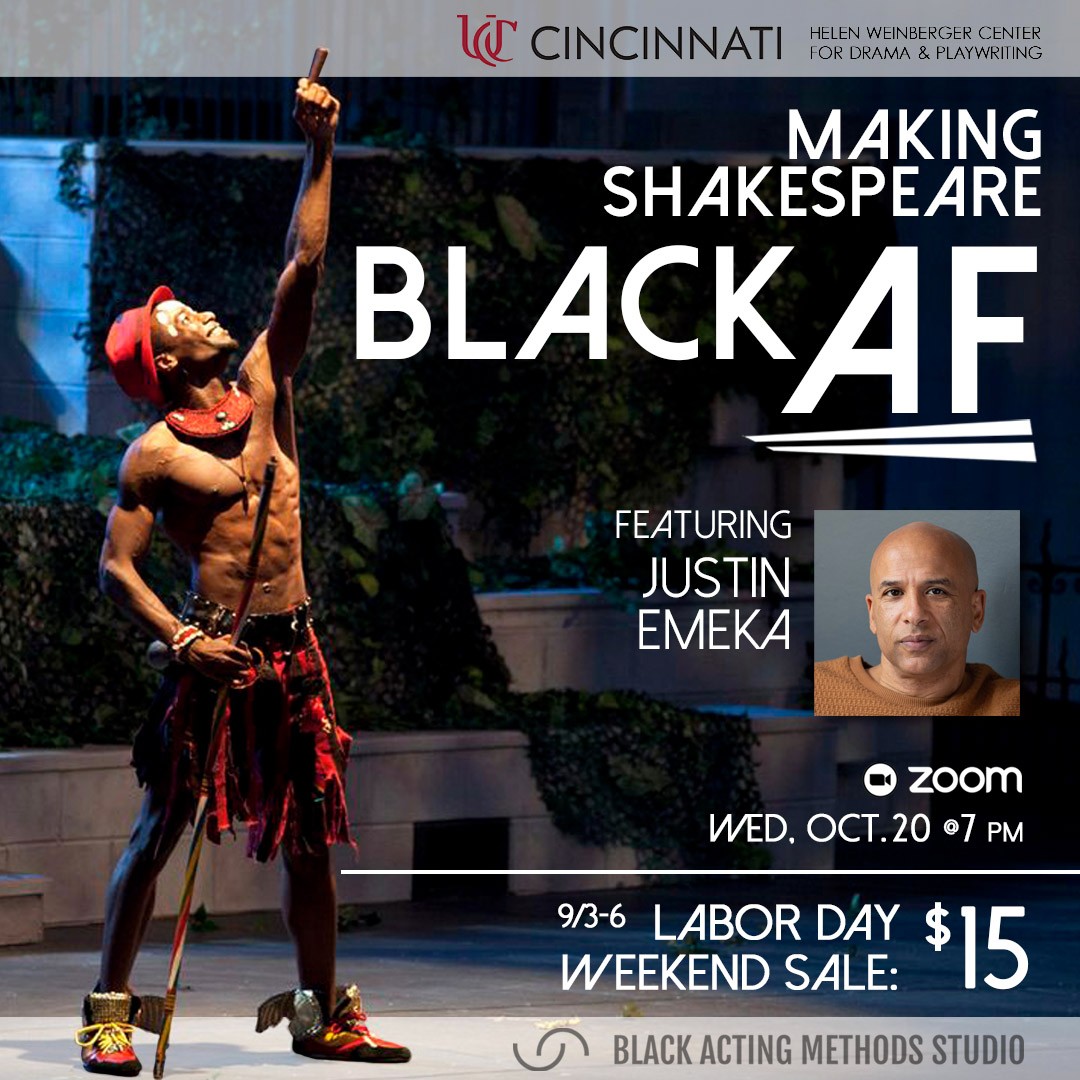 featuring Justin Emeka  
Wednesday, Oct. 20, 7pm - Zoom
Free to all UC students, faculty and staff.
Labor Day Weekend Sale:
Tickets discounted to $15 September 3rd-6th.
Presented by the Helen Weinberger Center for Drama & Playwriting and Black Acting Methods Studio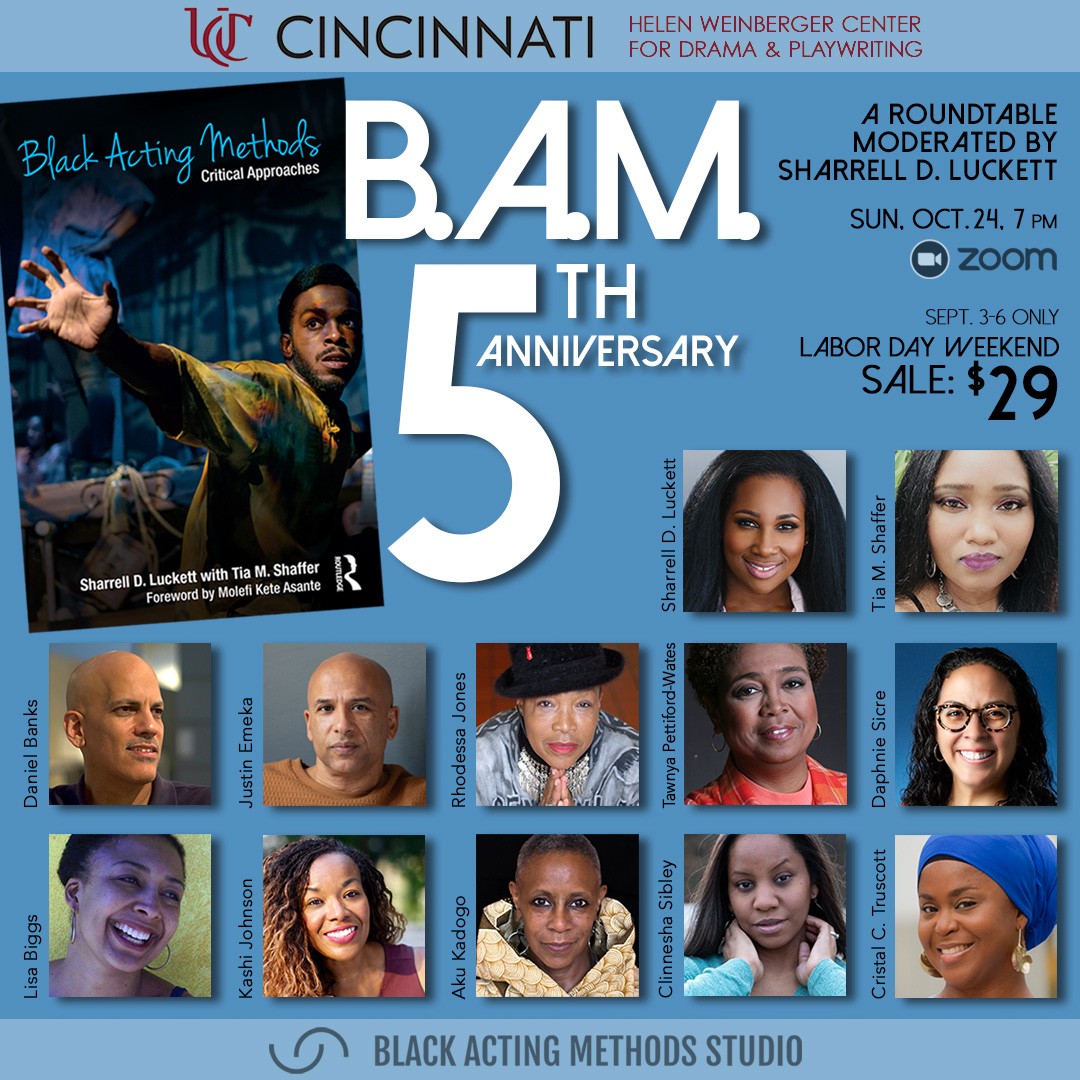 A roundtable moderated by Sharrell D. Luckett 
Sunday, Oct 24, 7pm - Zoom
Free to all UC students, faculty and staff.
Labor Day Weekend Sale:
Tickets discounted to $29 September 3rd-6th.
Presented by the Helen Weinberger Center for Drama & Playwriting and Black Acting Methods Studio
Raquel Salas Rivera (Mayagüez, 1985) is a Puerto Rican poet, translator, and editor. His honors include being named the 2018-19 Poet Laureate of Philadelphia and receiving the New Voices Award from Puerto Rico's Festival de la Palabra. He is the author of five full-length poetry books. antes que isla es volcán/before island is volcano, his sixth book, is an imaginative leap into Puerto Rico's decolonial future and is forthcoming from Beacon Press in 2022. Thanks to a 2021 NEA Translation Fellowship, he will be translating the poetry of his grandfather, Sotero Rivera Avilés. He holds a Ph.D. in Comparative Literature and Literary Theory at the University of Pennsylvania and writes and teaches in Puerto Rico, where, with a three-year grant from the Mellon Foundation, he is currently creating an online archive of Puerto Rican literature. Alongside Claire Jiménez, Ricardo Maldonado, Enrique Olivares, and the University of Houston's USLDH team, he serves as investigator and head of the translation team for El proyecto de la literatura puertorriqueña/ The Puerto Rican Literature Project, a free, bilingual, user-friendly and open access digital portal that users within and outside academia can use to learn about and teach Puerto Rican poetry.
"POWER ON: Poetry and Machine Futures"
Cosponsored by the Taft Research Center
November 10, 2021; 7:00 pm EST
Zoom registration: https://ucincinnati.zoom.us/meeting/register/tJcode6qrDMoGNRWPtTtOGuZE2Er285Df6xX
Ginger Ko's third book, POWER ON (The Operating System, 2021), will come accompanied by the POWER ON app that allows "readers/users to collaborate with the manuscript by uploading their own individualized perspectives into the manuscript, creating a collaboration between machine and reader." Ko will read from and discuss the making of this extraordinary work written from the perspective of our automated futures and which examines race, capiltalist homogenization, and the ethical implications of technoscience programming.

Ginger Ko is an Assistant Professor at Sam Houston State University's MFA program in Creative Writing, Editing, and Publishing. She is the author of Motherlover (Bloof Books) and Inherit (Sidebrow), as well as several chapbooks. Her next project, a book as interactive app, is forthcoming from The Operating System. Her poetry and essays can be found in The Atlantic, American Poetry Review, The Offing, VIDA Review, and elsewhere. You can find her online at www.gingerko.com.