The Americas Latinx and Indigenous People's Research Center
On Friday, September 6th twenty-five student and faculty affiliates of the provisionally named Latin American, Caribbean, Latinx, and Native American Research Center came together to discuss the implementation of the Center's mission. Some of the topics covered were how to increase it's visibility on campus, its official name, and its possibilities for external funding.
After general presentations of the affiliates— made up of students and faculty from diverse disciplines such as anthropology, history, and romance languages—Dr. Sanmiguel Valderrama discussed the Research Center's proposal that was approved by the College of Arts and Sciences. While highlighting its important aspects, she reiterated that the Center will serve as a safe place where students and faculty of diverse identities and research foci can congregate and collaborate.
Following this presentation, the group brainstormed ways to make the Center's presence known on campus and in the community. They agreed that it should host research symposiums monthly, advocate for Carribean, Indigenous, Latinx, and Native American student equity, and offer discussion groups and film screenings. Furthermore, affiliates suggested the idea of offering credit for students who attend and lead events.
In relation to the increased visibility of the Center, various affiliates highlighted that partnerships with campus organizations such as with Latinos en Acción be developed. There was also an appeal that an internet presence be established via a website or social media to promote the Center, its mission, and its upcoming events and opportunities.
The next order of business was the Center's name. The most well-liked was The Center for the Americas. Some affiliates thought that this name gave room for the inclusion of Carribean identities and suggested transnational experiences. However, there was some debate in this regard. Some constituents believed that removing identity markers in the name could run the risk of the mission becoming too broad—a misstep that could forfeit opportunities for future funding. Though debates continued, the group agreed that the name should be easy to pronounce and "catchy."  It was decided the name would be voted on at a later date. 
After the open discussion of the name, the group considered the long-term vision and obstacles for major and minor building in Latin American studies. Because of the lack of scholarly instruction about Latin America at the University of Cincinnati, the group's solution was for each affiliate to promote Latin American studies in their departments and professional circles.
This led to a general talk about funding. Dr. Amy Lind, Dr. Patricia Valladares, Dr. Ken Tankersley, Dr. Sarah Jackson, and Dr. Olga Sanmiguel-Valderrama gave presentations about potential funding opportunities for the Center. Possible sources of funding mentioned were those that promoted Latin American and North American scholarly exchanges and investigate how individuals are affected by free society. Possible collaborations with the Office of Faculty Research and external collaborative research grants for multiple scholars were also mentioned. It was unanimously decided that to increase the center's opportunities for funding, the group's next goal will be to further elucidate the main problems that it wants to solve and define the strengths of the affiliates as a unit.
By the end of the retreat, the affiliates decided to immediately begin to host cultural discussions, research symposiums, reading groups, and film discussions. Each affiliate chose a sepcific task for the semesters' programming and events in accordance to their interests, areas of research, and professional title at the university. 
Overall, it was was a successful and thought provoking retreat that initiated scholarly dialogue and collaborations between students and faculty of differing disciplines who are united by their interest in Carribean, Indigenous, Latinx, and Native American cultures, identities, histories, languages, and societies.

OCTOBER 2 , 2019. AIRC'S READING GROUP DISCUSSES LATINX IDENITIES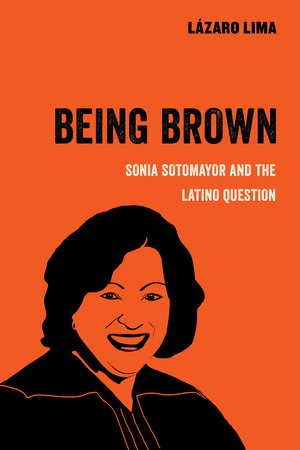 AIRC hosted a reading group about Dr. Lázaro Lima's book, Being Brown: Sonia Sotomayor and the Latinx Question. Hosted by graduate student and screenwriter Tomás Arce, the reading group discussed two chapters of Being Brown at the Taft Research Center. The lively conversation that ensued sparked debate about how gender, economic disparities, language, and racism play a role of Latinx identities and experience in the United States.
OCTOBER 3, 2019 AIRC SCREENS RUBÍ: A DACA DREAMER IN TRUMPS AMERICA
Hosted by PhD candidates Andrea Beaudoin and Rodrigo Marino, AIRC presented the documentary, Rubí: A DACA dreamer in Trump's America(Carolyn Brown 2018) at the Taft Research Center. This film follows a 22-year old Mexican American DACA DREAMer and college student named Rub. In revealing interviews, Rubi and her parents recount their family's immigration story and detail why they came to the United States with their then-7-year-old daughter. Facilated by Dr. Amy Lind, Q&A after the film revealed that the audience was moved the family's solidarity throughout their migratory struggle.
OCTOBER 3, 2019. AIRC AFFILIATES ATTEND DR.LÁZARO LIMAS' LECTURE AT THE TAFT RESEARCH CENTER
AIRC affiliates were present at Dr. Lázaro Lima's lecture, Being Brown: Sonia Sotomayor and the Latinx Question. Collaboratively hosted by the Program of Latin American, Carribean, and Latinx Studies; the Departments of Women's, Gender, and Sexuality Studies; the LGBTQ+Faculty & Staff Association; the Latino Faculty Association; and the Taft Research Center of UC, the lecture attracted many students, faculty, staff, and members of the local community. Dr. Lima's lecture encouraged thoughtful questions and interdisciplinary debate.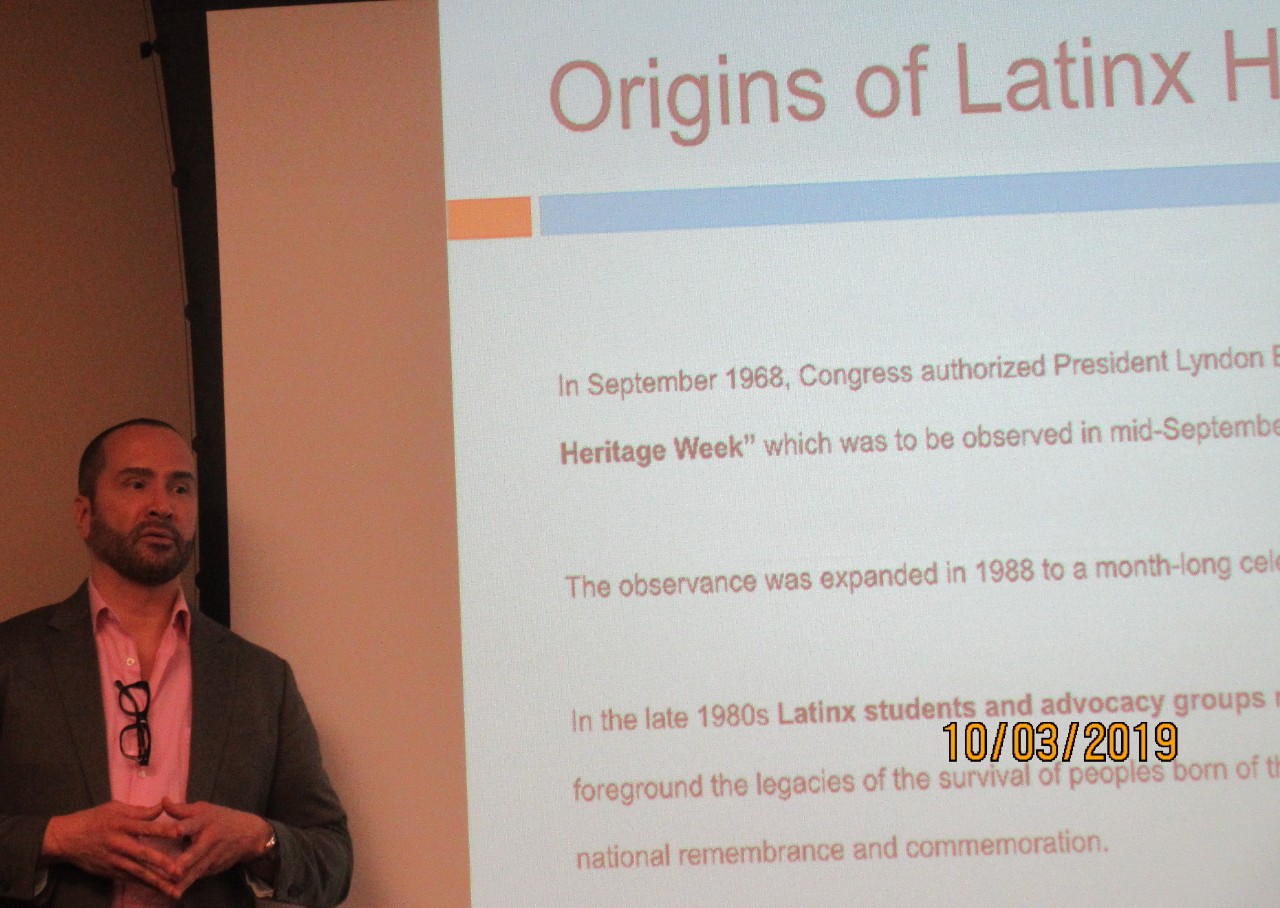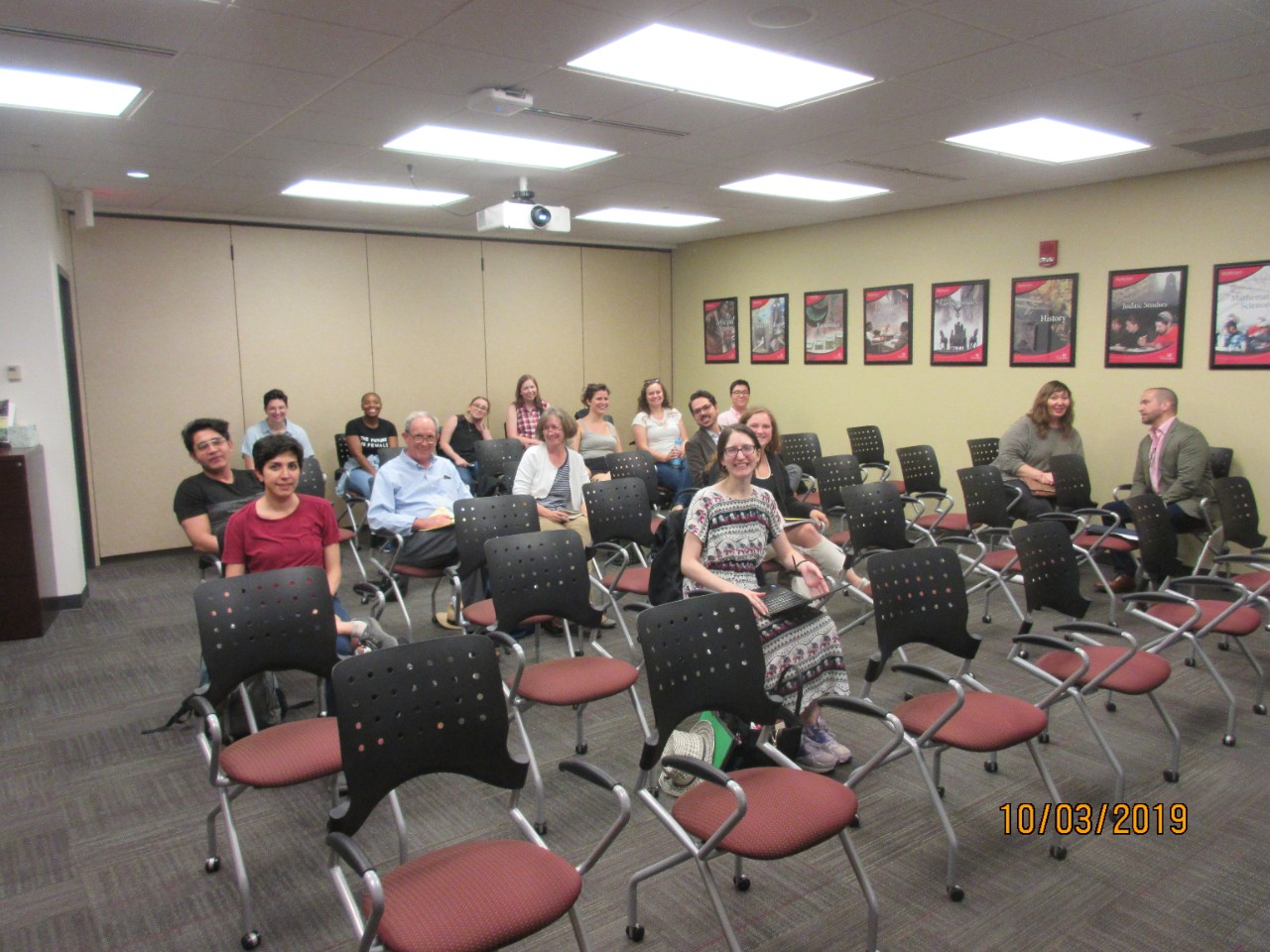 OCTOBER 4, 2019. AIRC'S VISIONARY, DR. OLGA SANMIGUEL-VALDERRAMA PRESENTS AT THE OHIO LATINO STUDENT SUMMIT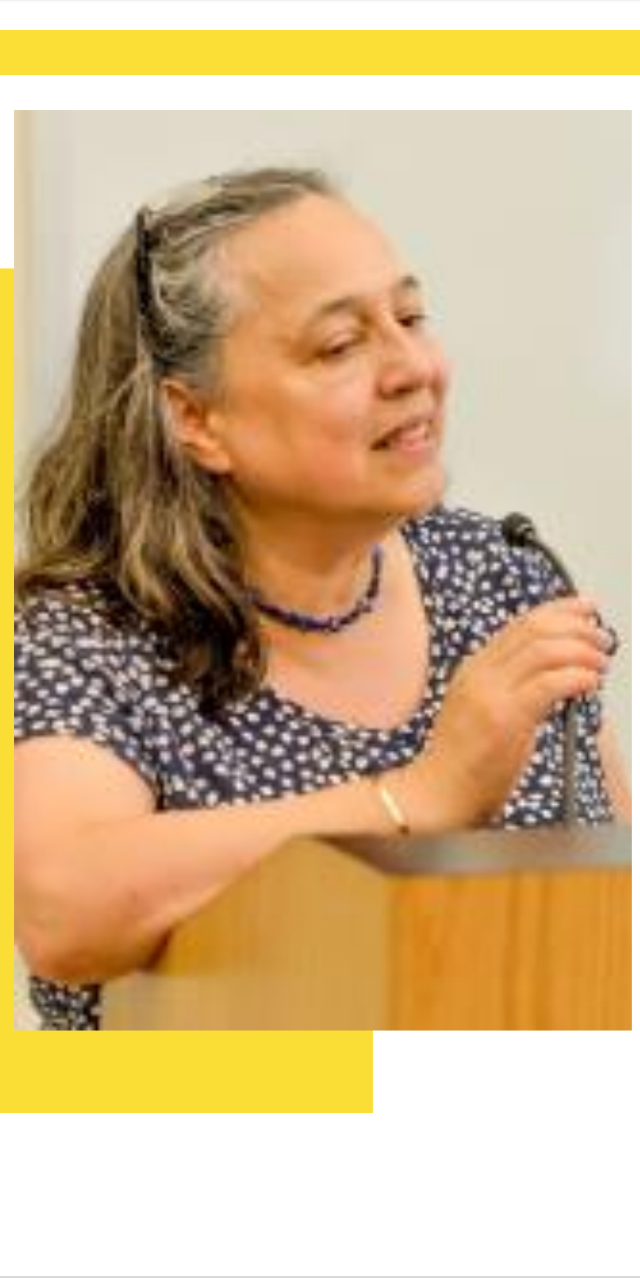 The office of Ethnic Programs and Services as the University of Cincinnati hosted the Ohio Latino Student Summit. Over 220 guests were in attendance. At this summit, AIRC's visionary, Dr. Sanmiguel-Valderrama presented on the panel, IMPACT alongside Giovanna Alvarez, director of Su Casa Hispanic Center and Hortencia Banuelos, Fifth Third Senior Vice President.
OCTOBER 18, 2019. AIRC'S AFFILIATES PROVIDES FEEDBACK TO ACADEMIC WRITERS
AIRC hosted it first writing group at the Taft Research Center (UC). Andrea Beaudoin discussed her recent book review and several elements of her creative dissertation. Tiffanie Clark read a fragment of a chapter from her dissertation. This meeting was attended by several AIRC affiliates. This writing group resulted in a fruitful exchange of scholarly dialogue and feedback.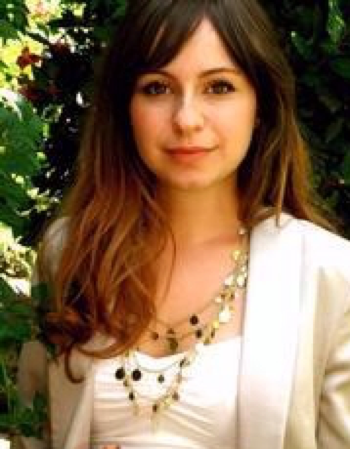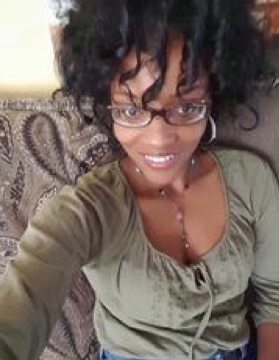 NOVEMBER 21, 2019. AIRC'S AFFILIATES DISCUSS URBAN NATIVE AMERICAN HEALTH CENTERS
AIRC's hosted its end of the semester reading group in the Kade Center of the Old Chemistry building at U.C. The article discussed was "Crystalizing the Role of Traditional Healing in an Urban Native American Health Center." The focus of the groups dialogue was the historical events that play a role in the mental and physical health issues most prevalent in indigenous and native peoples.