UC Elliston Fellow Wins 2017 Frost Farm Poetry Prize
Caitlin Doyle's piece "Wish" recognized with prestigious annual award for metrical poetry.
Date: 11/17/2017 8:00:00 AM

By: Jonathan Goolsby
Contact: Julie Campbell-Holmes
Phone: (513) 509 - 1114
Photos: Mike Robinson
CINCINNATI, Oh. — Caitlin Doyle, who is currently an Elliston Fellow in Poetry at the University of Cincinnati, received the Frost Farm Prize for "Wish." This prize is awarded for excellence in metrical poetry by the trustees of the historic Robert Frost Farm in Derry, NH, and by the Hyla Brook Poets.
"I'm interested in poetry as something that's built to be remembered, something that's built to stick in readers' minds and be carried with them," Doyle explained. "I think of a quote by William Butler Yeats. He said, 'All that is personal soon rots; it must be packed in ice or salt.'
George Elliston (1883 - 1946) was a reporter for the former Cincinnati Times-Star for over 40 years. At a time when most newspaperwomen were forced into writing for the society or cooking sections, George Elliston was a hard-news reporter covering crime, murder, and local tragedies. She was known for going to great lengths (and dangers) to get a story.
While her professional life was spent reporting, much of her personal time was devoted to writing poetry that appeared in newspapers and magazines in the U.S. and reproduced in anthologies in France, Germany, Great Britain, and China. Upon her death, she left money to the University of Cincinnati to "encourage and promote the study and composition of poetry." The George Elliston Poetry Fund has supported young poets and honored the achievements of established poets since 1951.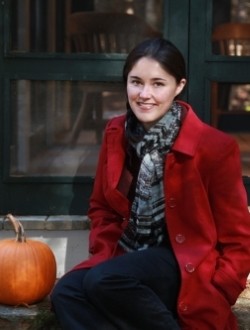 "The idea behind Yeats' assertion is that the way to make the raw material of our lives last, is to pack it in something that will preserve it," she clarified. "Using the tools that have been traditionally used to make that happen, rhyme and meter, is important. I wouldn't want to throw out those tools."
"They're so enormously powerful. They help universalize personal experience in a way that transforms language," Doyle said.
Deborah Warren, a past winner of the New Criterion and Robert Penn Warren poetry prizes, served as judge for the 7th annual Frost Farm competition. Doyle's took top honors from more than 750 submissions.
"I had a delightful but difficult job," Warren wrote. "Too much excellence is not a bad problem for a judge."
Doyle received $1,000, and "Wish" has been published in the prestigious journal The Yale Review. In addition, the poem has been featured on Poetry Daily. She was also given a scholarship to attend the Frost Farm Poetry Conference back in June, at which she gave the opening reading.
"Robert Frost is one of the first poets who entranced me in childhood, and he has remained a major figure in my reading life," Doyle explained. "Whenever I teach poetry, I start the first day of class with a focus on his poem 'Birches,' which I've always regarded as one of the most stirring and masterful poems in the English language."
"My hope is for students to feel in their bodies the way that the rhythm of the poem mirrors its narrative movements and emotional contours," she said.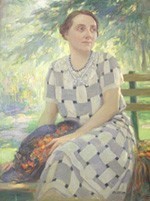 It could be argued that lyric poetry started Doyle on her literary journey. She said that one of her earliest memories is of sitting down with Robert Louis Stevenson's collection, A Child's Garden of Verses, and being mesmerized by turns of phrase in "The Wind."
"I became obsessed with that poem. I wanted to say it all the time. I memorized it," she remembered. "'All around I heard it pass / like ladies' skirts against the grass.'"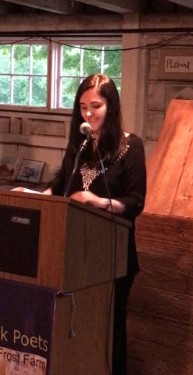 "That poem changed how I saw something as simple as the wind," Doyle asserted. "The idea that language can shape and change an ordinary experience was really profound to me, and I just knew that I wanted to be involved in making those kinds of things happen, with language, for other people."
"You write what you've read. You write what you've loved. And what I've always read and always loved are poems in which the sonic quality is really important. Poems that walk a line somewhere between story and song, with some mystery in there as well."
"A poem that can resonate with people on a surface degree of accessibility, but then have a number of hidden qualities once you enter it." That, Doyle stated, "has always been my goal."
She seems to have met it. "Wish," Warren wrote, is "that rare poem where the form is integral to the story."
In her commentary, Warren appreciated Doyle's careful attention to form which, in her view, both illuminated the narrator's feelings and propelled the poem's story.
"Each of the first four trimeter couplets expresses one of the speaker's wishes," she observed. "Each line begins with 'I told him I needed' and the final three couplets look back on the wishes with wrenching regret. Following each little couplet is a parenthesis: one tetrameter line explaining why the wish, although granted, ironically failed."
"The parentheses play on the idiom 'wishing for the moon.' They rhyme, and—taken by themselves—collectively make a poem in their own right," Warren said, noting that, "the seven trimeter couplets themselves make up an unrhymed sonnet—with a conventional volta between the octave and the sestet."
Learning the production side of literature.
As she continues work on her PhD, Doyle will serve this year as an Assistant Editor for UC's own influential literary journal, The Cincinnati Review.
"I've never worked up close, and in such a detailed way, on the putting-together of a literary magazine," she beamed.
"We learn every aspect of it, including copyediting, selecting pieces for publication, communicating with authors, and creating online content. That's one of the special things about being at UC. I'm really looking forward to it," Doyle said.
She's also working on her first book manuscript, which she hopes to have completed by her anticipated graduation next year.
She smiled.
"Being here has been a gift for me. It's a really supportive community, but also very rigorous."
About Our Creative Writing Program
The English Department is home to a thriving Creative Writing program. Our faculty have collectively published forty books of fiction, poetry, literary nonfiction, and criticism. They have won awards from the National Endowment for the Arts, the Ingram Merrill Foundation, and the Fulbright Program, as well as University-wide awards for outstanding teaching and mentoring. For undergraduates, we offer a track within the English major, as well as a certificate in Creative Writing.  For graduate students, we offer an MA and a PhD.
Students at all levels focus on either fiction, poetry, or literary nonfiction. We are home to an undergraduate journal, Short Vine, and the nationally prominent literary journal The Cincinnati Review. Our PhD program was recently ranked eighth in the country by Poets & Writers.
Interested in joining our program? Contact us today!