UC A&S Women Among 2017 YWCA Rising Star Award Winners
Dr. Littisha Bates and PhD candidate DeVonna Gatlin among 56 recipients of distinguished recognition for Cincinnati's young woman leaders.
Date: 11/10/2017 8:00:00 AM

By: Jonathan Goolsby
Contact: Julie Campbell-Holmes
Phone: (513) 509 - 1114
Photos:  University of Cincinnati

CINCINNATI, Oh. — Two members of the University of Cincinnati (UC) College of Arts & Sciences win the YWCA of Greater Cincinnati's Rising Star Award for 2017.
DeVonna Gatlin, a PhD candidate in the Department of Chemistry, and Dr. Littisha Bates, an associate professor in the Department of Sociology, were among 56 women honored by the YWCA this year, according to the chapter's Equity Leadership Manager, Kristi Rohrkasse.
As part of their recognition, both will receive access to special mentoring, education and networking opportunities afforded by the YWCA's Academy of Career Women of Achievement, which is itself comprised of highly accomplished Cincinnati professional women.
Bates and Gatlin attended their first Rising Stars event — a series of roundtable discussions on leadership women's issues, led by Academy members — on October 30th, Rohrkasse said.
The origin of Cincinnati's Rising Stars.
The Rising Star Award, "provides these younger leaders with the opportunity to enhance their pursuit of excellence in their careers," Rohrkasse explained.
It is unique to the Greater Cincinnati's YWCA chapter; Rising Stars are not given by any other chapter, or in any other locality. They were created by the Academy in 2002 to recognize women who have demonstrated potential to become community, professional and academic leaders, and to form the basis of a quasi-fraternal professional support network.
That network is large and growing rapidly. To date, over 700 Tristate women have received Rising Star Awards.
Recipients are invited to participate in bi-monthly meetings, during which which they learn from academy members. They can apply for the YWCA's exclusive Rising Star Leadership Program — a series of 6 seminars that sharpens' participants leadership skills and trains them how to serve effectively on non-profit boards.
Rising Stars also receive special opportunities to volunteer — so that they might practice what they learn and increase their visibility — in and around the Greater Cincinnati area.
To be considered for a Rising Star Award, women must first be nominated either by a YWCA of Greater Cincinnati board member, or by an Academy of Career Woman of Achievement member.
Bates was nominated by Dr. Karen Bankston, Associate Dean for Clinical Practice, Partnership and Community Engagement for the UC College of Nursing and former head of the Daniel Drake Center for Post-Acute Care, who was inducted into the Academy in 2001.
Gatlin was nominated by Dr. Kimya Moyo, a longtime teacher and former head of the Math Department for Cincinnati Public Schools, who is now a Resource Team Member for UC's College of Engineering & Applied Science.
Helping UC to build a more diverse faculty.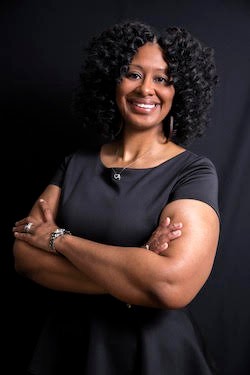 Bates, a past recipient of the College of Arts & Sciences' Dean's Award for Excellence, began her academic career at UC in 2009 — her first role after graduate school. She quickly established her reputation as top researcher and highly-sought expert on topics related to racial justice.
"Dr. Bates' teaching, service, and research all reflect her commitment to equity. In her work, she creates spaces in the college and university that affirm and value all students' experiences. Dr. Bates provides significant and essential contribution to UC with her commitment to the success of underrepresented minority faculty and students "
Prof. Jennifer Malat, A&S Associate Dean for Social Sciences
Indeed, in 2016, responding to calls from the student body for an increased focus on hiring faculty members of color, Bates co-founded UC's Black Faculty Association (BFA), which seeks to recruit more African-American faculty members and support them through orientation events, networking opportunities and shared resources.
"She has already established herself, not only as a great researcher but also as a profound speaker and leader," Bankston wrote, in Bates's nomination.
The YWCA's Rising Star Award selection committee agreed.
"We were impressed by the clear commitment, throughout her career, to research, teach, and lead on topics related to racial justice," Rohrkasse said.
A catalyst for progress in the Chemistry Department.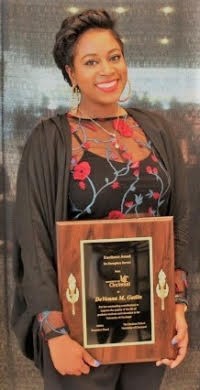 In childhood, DeVonna Gatlin suffered from undiagnosed learning disabilities — dyslexia and dysgraphia — which threatened to inhibit her progress. During her undergraduate career at the University of California, Riverside, she needed to take remedial English classes several times.
But her talent for chemistry has always been immediately clear, as has her ability to lead.
She served as president of Riverside's student-led chemistry club. She received a distinguished Minority Biomedical Research Support Program-Research for Scientific Enhancement (MBRS-RISE) fellowship while she was a graduate student at California State University-Los Angeles.
At UC, she is a Yates Scholar, and she founded the Graduate Consortium for Cultural Diversity in Chemistry (CCDC), which she currently serves as president. She's co-chaired several committees for the American Chemical Society and mentored several other students.
Gatlin has expressed a dream one day to form her own chemistry-driven cosmetics company, in the vein of makeup giant Estee Lauder.
"She has consistently demonstrated leadership throughout her career," Rohrkasse said. "We were specifically impressed by the fact that she founded and served as president of the CCDC."
Interested in joining our Rising Stars?
The UC College of Arts & Sciences is home to more than 65 academic programs, 7,500 undergraduates and 1,000 graduates, making it one of the largest liberal arts colleges in the nation.
We support our students with a variety of interdisciplinary and study-abroad opportunities that allow them to think creatively and develop deeper understandings of other perspectives, so that they might confidently work to solve local and global challenges.
Might you be the next Rising Star in the College of Arts & Sciences? Let's find out.
Click here to start your application today.