A Life of Service and Scholarship.
Inspired by UC Africana Studies mentor, Samuel W. Black became a noted researcher, author and curator of African-American history.
Date: 02/05/2018 8:00:00 AM

By: Camri Nelson and Jonathan Goolsby
Contact: Julie Campbell-Holmes
Phone: (513) 509 - 1114
CINCINNATI, Oh. — Samuel W. Black is the Director of the African American Program at Pittsburgh's Senator John Heinz History Center and serves as Immediate Past President of the Association of African American Museums.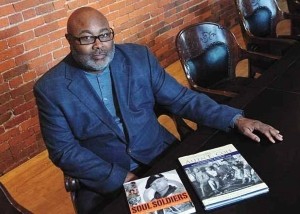 An award winning curator, writer, editor, lecturer, and researcher Black has numerous publications in peer review journals, encyclopedias, books, magazines, newspapers, and has published three books, Soul Soldiers: African Americans and the Vietnam Era (editor); Through the Lens of Allen E. Cole: A Photographic History of African Americans in Cleveland, Ohio (co-author); and The Civil War in Pennsylvania: The African American Experience (editor).

Back in 1979, he was a new graduate of Cincinnati's Woodward High School. He was about to attend Wilmington College, where he would study industrial supervision and art because the major he really wanted to pursue — architecture — wasn't available there.

And he had no idea, then, where the career winds would ultimately take him. But he can tell you exactly when those winds changed.

They changed when he transferred to the University of Cincinnati.
Black began his UC career as a fourth-year Architecture major in what is now the College of Engineering & Applied Science; today, CEAS continues to offer an Architectural Engineering major, whereas the design-based Architecture program is administered by the College of Design, Architecture, Art and Planning (DAAP).

He quickly found that he was interested in more than building and industrial design. He truly enjoyed the history and culture courses he took as part of the University's liberal arts curricula.

"Our [elementary] teachers taught us Black history, so I always had a profound respect for that," he remembered, but he found that collegiate courses were broadening his understanding of his culture of heritage.

Soon after matriculating to Cincinnati, he declared a second major, becoming a member of the College of Arts & Sciences' African-American Studies (now, Africana Studies) program. Black particularly credits the then-chair of the department for helping him to see the importance of studying history and for motivating him to learn more.

Dr. Angelene Jamison-Hall, he said, "nurtured me and really kept her door open."

"'You can get out of it, what you put in it,'" Black recalled her telling him. He took her advice to heart, becoming deeply involved in several student organizations, studying hard and asking many questions.

"As I showed interest in getting a Master's degree," he explained, "I started to see so many possibilities with African-American studies."

Indeed, after taking his BA from UC in 1988, Black would go on to receive a Master of Arts in Africana Studies from SUNY-Albany in 1991.

He then began his career as the Western Reserve Historical Society's Associate Curator for African American History — a position he held for nearly ten years before taking on his current role.
From building communities to curating them.
Since 2002, Black has managed the Heinz Center's African American Collection, which is comprised of cultural memorabilia, photographs, recordings, and a vast document archive which includes personal papers, business and organizational ledgers, newspapers and other important written records. He's the project director for "From Slavery to Freedom," a $2 million multimedia project that includes an exhibition, publications, a film series, craft programs, a visual journaling workshop, research, collections and lectures.
One of his favorite projects, however, was curating a special exhibit, Soul Soldiers: African Americans and the Vietnam Era, for which he wrote an accompanying book.
In it, Black examined the impact of the Vietnam War and the Civil Rights movement on African-American veterans, as well as American duality, through artifacts, poetry, fiction, oral histories and art.

"It gives people a great opportunity to kind of look at what happened 50 years ago and how it shaped the way that we look and think about war," he said.
Soul Soldiers has been well-regarded by his academic peers — so much so that Black was recently asked to host presentations about it at several college campuses.

And, like his former UC mentor, Dr. Jamison-Hall, did for him, Black works to inspire others and give back.

He is a former Vice President of the Dr. Edna McKenzie Branch of the Association for the Study of African American Life and History (ASALH).  He has worked extensively with the Afro-American Historical and Genealogical Society (AAHGS).

"It makes me feel like I'm contributing to the community and to national organizations," Black said. "[The motivation to be] involved in an organization was something that I picked up while I was at UC."