Uncovering Overlooked Women's Roles in Black History
UC Professor Holly McGee Inspires Her Students to Investigate Gender Erasure in Popular Narratives
Date: 02/05/2018 8:00:00 AM
By: Camri Nelson and Jonathan Goolsby
Contact: Julie Campbell-Holmes
Phone: (513) 509-1114
Photo: University of Cincinnati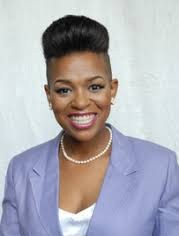 CINCINNATI, Oh. — University of Cincinnati Assistant Professor of History Dr. Holly McGee has organized many events for this year's Black History Month: A Historical Black Church Tour, Black History Month Lectures, a lecture about issues with women of color in academia, The Opera Express, and a trip to the National Museum of African American History and Culture during Spring Break. McGee also teaches undergraduate classes on black history and film, culture and counterculture, post-1929 American history, and modern South African history.
Holly McGee always enjoyed learning about African-American history. Her curiosity began when she was growing up in Arkansas, where Black history was often treated as a footnote or afterthought in her daily lessons. She is also passionate about providing opportunities for all her students, regardless of their financial situations, to take trips to learn more about African American history.
Enforced Desegregation of Little Rock's School System
But one story she did hear about — often — was the enforced desegregation (pursuant to the Supreme Court of the United States decision in Brown v. Board of Education) of Little Rock's school system in September 1957, because it pertained directly to Arkansas's state history.

She was taught about the morning the Little Rock Nine were escorted, by bayonet-wielding, elite paratroopers of the 101st Airborne Division, past a jeering mob and troops of the Arkansas National Guard, and into their first classes at the previously all-white Central High School.

But, she said, when her teachers got to that moment in their lectures, they were often vague about details and didn't give much credit to the work of African-Americans themselves in achieving that milestone. And she certainly didn't hear much about female Black activists, who were instrumental in bringing about societal change. So, in college, she took it upon herself to do her own research.

"I got tired of only hearing about Black people when it dealt with slavery or the Civil Rights Movement," McGee, recalled.

"I was very frustrated by the fact that there weren't more stories in Arkansas before or after that moment," she said. "Women were nowhere to be found — as if to say women did not participate, were not active and were not important."

When McGee began her collegiate research, she noticed that Black women were everywhere in photos of Civil Rights actions and events. She saw them organizing and mobilizing people. She saw them marching. She saw them being sprayed with high-pressure hoses, being dragged to the ground and beaten, being arrested and dragged away.

So, she began to wonder why charismatic male figures so often seemed to take the lion's share of the credit for the Civil Rights Movement's accomplishments, when the women prepared their wardrobes, cooked their meals, made sure they had a place to stay, organized, encouraged and oftentimes led.

"For me it was always wanting to uncover the position, the role, the status, and the participation of women in these historical moments that were so groundbreaking and shaking to my state and nation," McGee explained.
Jo Ann Gibson Robinson and the 1955 Montgomery Bus Boycott
One of the more interesting instances McGee investigated of possible gender erasure in the historical narrative pertains to Jo Ann Gibson Robinson's lesser-known role in organizing the 1955 Montgomery Bus Boycott— an action often attributed, in popular media and in many school texts, almost solely to the leadership of the Rev. Dr. Martin Luther King, Jr.

Robinson, a professor of English at Alabama State College and a member of the Dexter Avenue Baptist Church, was in 1955 serving as the president of an African-American organizing committee known as the Women's Political Council.

Following Rosa Parks' arrest for refusing to yield her bus seat to a white rider, Robinson distributed 50,000 flyers around Montgomery, urging Black citizens to boycott the public transportation system. That effort later solidified into the King-led boycott, and Robinson's actions were largely overshadowed or ignored in the popular history narrative.

"When the newspaper shows up, it's not Jo Ann Gibson Robinson and other women who have made this happen," said McGee. "History remembers [King] being the one."
Uncovering Historical Discrepancies
McGee believes that it's important for all students — and particularly for African-American women — to learn about such discrepancies in Black history, because they indicate the presence of ingrained narratives of male power, authority and privilege. Often, such narratives objectify, sexualize, or otherwise dismiss the women who were so pivotal in achieving social progress.

"You could be easily led to believe that America is not your country and not a country where you are expected to — or have opportunity to — live that good life and have that American dream," she said. "But what you can do is have an opportunity to speak back, to fight back, to learn and to change that narrative if not for yourself, then certainly for future generations."

Since McGee's arrival at UC in 2011, she's helped students not only rediscover women's perspectives in history, but also helped provide them with opportunities to travel and learn at other institutions and places. From her own experience, she knows that traveling is not something that every student can do.

"I didn't have the money," she lamented.  "If I'd asked my parents for $500, I may as well have asked for $5 million."
In 2016, McGee organized a learning trip to Washington, DC, for 100 UC students. The group spent two days there touring, exploring the city and visiting the Smithsonian's newly opened National Museum of African American History and Culture.
She also ensured that most students' meal costs on the trip were paid for — an added learning incentive for those who wanted to make the trip but were worried about funds.
"I had always wanted to be able to create opportunities for students: affordable opportunities," said McGee. "Just because you're not rich, doesn't mean you should not know what our nation's capital looks like outside of a picture."