Profile of Littisha Bates
Teacher, Researcher, Mentor and Activist
Date: 02/02/2018 5:00:00 PM
By: Stuart Lindle
Contact: Julie Campbell-Holmes
Phone: (513) 509-1114
Photos: University of Cincinnati, Sam Green/The Enquirer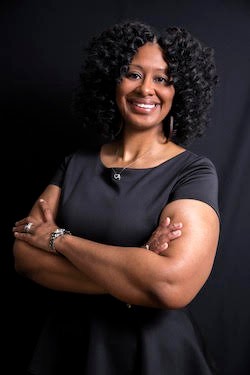 Cincinnati, OH -- Since Littisha Bates's start at the University of Cincinnati in 2009, the now-tenured associate professor of sociology's commitment to making UC a more inclusive space has been constant and unwavering. She has gained a reputation as a professor, leader and mentor who is passionate about social justice and paving the way for a more diverse future in academia.

In 2016 she was one of three faculty members from College of Arts and Sciences to receive the Dean's Award for Faculty Excellence. The award, presented by The Office of the Provost and the Office of Research, recognizes faculty who have made exceptional contributions to their respective colleges.

"The work that Littisha Bates is doing is building a more diverse and inclusive university, where everyone feels they belong," said Jennifer Malat, Associate Dean for Social Sciences, College of Arts and Sciences. "She is doing the work that will build the university people want to see."

In the classroom, students find her approach to teaching refreshing. She has an innate ability to apply her own experiences to lessons and open the floor to counter-opinions.

"Dr. Bates will tell you that she's 'not supposed to be here,' and I think that her experience has really shaped who she is as an advisor," said Ainsley Lambert, a sociology PhD candidate at UC. "She is a scholar, teacher, and mentor, rising through the ranks with elbows wide, making space for others who may also feel like they're not supposed to be here."

This academic year, as a Taft Research Center fellow, Bates has been able to focus on research that she believes has the ability to change the way people see systematic injustice -- and its often inconspicuous roots.

Her research examines changes in magnet school enrollment processes in the Cincinnati Public School District. By speaking with parents first-hand, and understanding how they navigate the enrollment process, Bates looked at how race potentially limits magnet schools' ability to offer higher-quality education opportunities.

"I think that how I discuss these problems, and how parents understand them, has the potential to make people self-reflective and change how they understand social justice," Bates said.
The Black Faculty Association
Bates's impact on the community and the university goes beyond her research and the lessons she teaches her students. It can be seen in her commitment to creating a support system for minority faculty across UC.

When Bates began her career with the College of Arts and Sciences, her first job out of graduate school, she felt isolated. She was the only black professor in the sociology department. There was no overarching support system to connect faculty members across colleges, and so she along with Karen Banskton (College of Nursing) sought to do something about it.

"I wanted to make sure that no other faculty member would feel the way I did," Bates said.

They co-founded the Black Faculty Association in 2015, a call-to-action further motivated by the student activist movement The Irate 8. "Seeing our students organize the way they did gave us the push and motivation we needed to get it done," Bates said. Since its inception the Black Faculty Association has helped unite over 90 faculty members from UC's 13 academic colleges.

Her activism may be rooted in academia, but it draws inspiration from "boots-on-the-ground" activism. "Not everyone has to cross Edmund Pettus Bridge," Bates said, speaking to the variety of activism opportunities out there.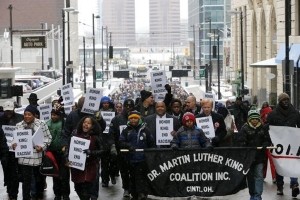 Bates gave a keynote speech at Music Hall during Cincinnati's 43rd annual Martin Luther King Jr. Day celebration. That day, standing in-front of all those people in Music Hall, "it felt surreal," Bates said.

Leading up to the keynote speech, marchers spanning three lanes of traffic made their way along Central Parkway and North on Elm Street holding signs that read, "Honor King: End Racism."

 The theme for the day's events was, "If not now, when?". It's a mantra that speaks to the state of civil rights in our country, and how important it is to persist.

Today, Professor Bates — most recently named by Greater Cincinnati's YWCA as one of their Rising Stars — continues to establish herself as a top researcher and activist on topics related to racial justice.
Dr. Bates is a faculty affiliate of the Department of Africana Studies.