Every academic year, A&S chooses to honor students who have gone above and beyond in their academic pursuits and community service. Enjoy the stories of these outstanding students to get inspired by their drive, commitment and accomplishments. Follow us on Facebook for more student spotlights.

Madelyn Leembruggen: "Growing as a scientist, mentor, educator and advocate"
A&S grad and volunteer receives a 2018 Eleanor Hicks Award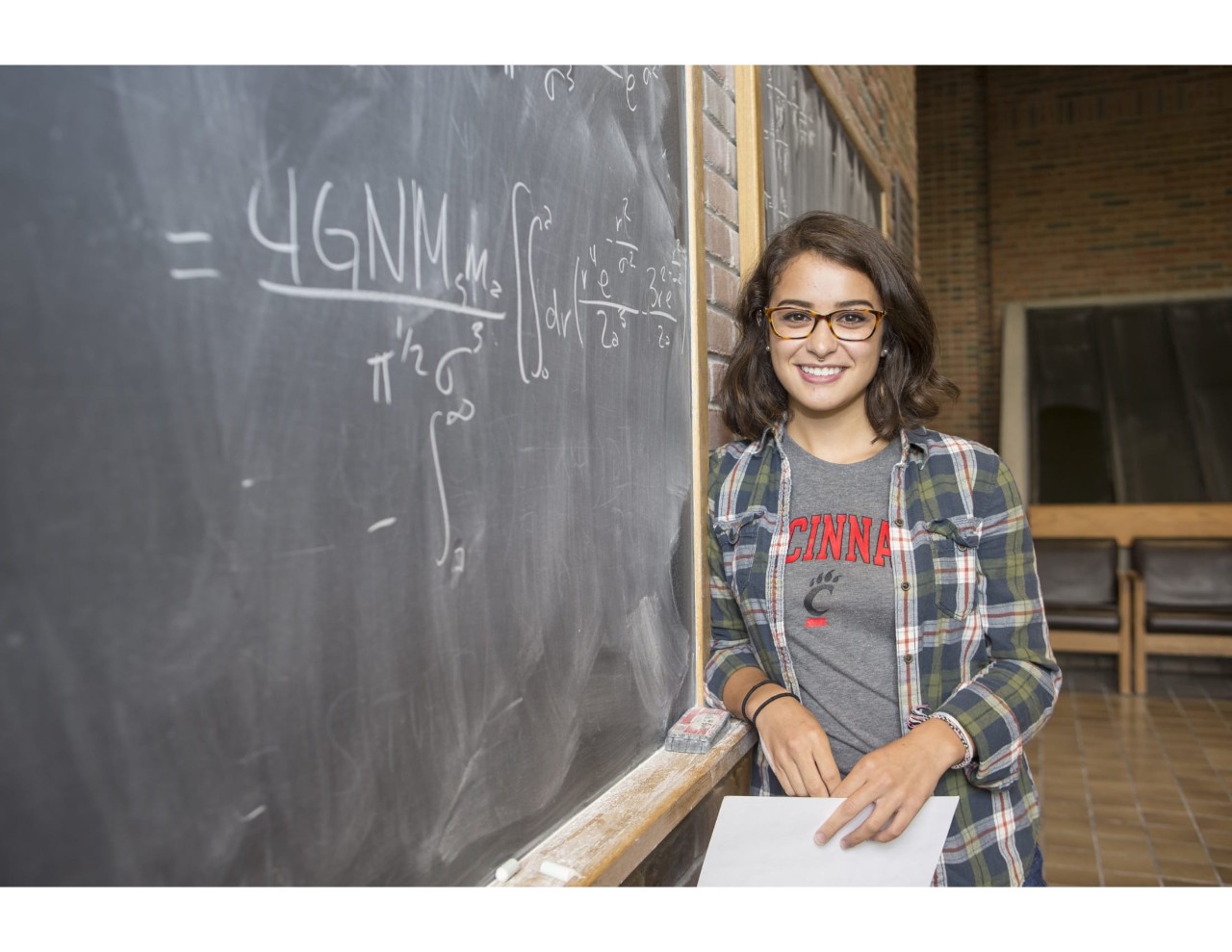 Date: May 29, 2019
By: Anne Bowling
Phone: (513) 556-4350
It was a busy week for Arts & Sciences graduating senior Madelyn Leembruggen. Last February, in the span of seven days, she was recognized with no fewer than three top distinctions from the University of Cincinnati, among them the Eleanor Hicks Award for Outstanding Undergraduate Female Senior from A&S.
"It has been overwhelming (in the best way) to receive such encouragement and support from several offices across UC," Leembruggen says. "In particular, I was floored to learn the largest college chose me as one of their best graduating students, and proud that I was able to positively contribute to A&S, the best college at UC."
Awarded each year since 1974, The Eleanor Hicks Award is given to graduating women with outstanding academic achievements and contributions to the university and community. Eleanor Hicks graduated Phi Beta Kappa from UC in 1965, and served in a variety of capacities as a student, including on the NAACP Youth Council and the Cincinnati Council on World Affairs.
Leembruggen is no stranger to the term 'busy.' A double-major in Physics and Mathematics, she has spent the last four years setting an academic pace that has led her to earn numerous scholarships, honors distinctions, scholarly publication, induction into Phi Beta Kappa and a 4.0 GPA. Her Physics advisor and Assistant Professor-Adjunct Richard Gass says, "Madelyn will make an exceptional theoretical physicist…she is simply one of the best students I have ever had."
A native of Troy, Ohio, Leembruggen was home-schooled for nine years by her parents—a communications specialist and an aerospace engineer. After graduating from Troy Christian High School, the time came to make a decision about university studies.
In addition to a scholarship package, A&S drew Leembruggen because, "I quickly realized A&S was a perfect home for me, [with its] myriad experiential learning opportunities," she says. "[And] because I made A&S my home, I have studied abroad multiple times, conducted research at an R1 research institution and found internship opportunities outside of UC."
Service, for the University and the community, also has been a cornerstone of Leembruggen's undergraduate experience. Active in teaching and mentoring, she has served as a Peer Tutor and Mentor at the UC Learning Assistance Center, and as an A&S Ambassador and Honors Scholar Ambassador for prospective students. As a participant in the National Science Foundation's Louis Stokes Alliances for Minority Participation, Leembruggen has been inspired to advocate for minorities and people of color in Science, Technology, Engineering, and Mathematics (STEM).
As for the next step on the path to her future as a physics professor and theoretician, Leembruggen is choosing between UC Berkeley, Harvard, or MIT to pursue her graduate degree. She plans to enter classes in the fall of 2018.
Madelyn Leembruggen is one of five 2018 graduates from the University of Cincinnati College of Arts & Sciences recognized for their outstanding contributions and achievements.