Sociology
Sociology
< Back to list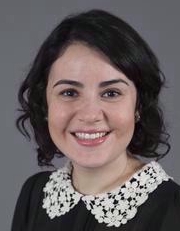 Sarah A Mayorga-Gallo
Title: Assistant Professor (PhD, Duke University)
Email: mayorgsh@ucmail.uc.edu
Racial and Ethnic Minorities; Community and Urban Sociology; Latino/a Sociology; Qualitative Methods; Ethnographic Interviewing; Racial and Ethnic Inequality; Neighborhoods; Popular Culture

Sarah Mayorga-Gallo CV
Education
Ph.D., Duke University, Durham, NC, 2012 (Sociology).
M.A., Duke University, Durham, NC, 2008 (Sociology).
B.A., Providence College, Providence, RI, 2006 (Sociology, Minor: Black Studies).
Research Information
Research Interests
Sarah Mayorga-Gallo is an Assistant Professor of Sociology. She completed her Ph.D. in Sociology at Duke University and joined the department in 2012. Her research interests include racial and ethnic stratification; urban sociology; Latino/a migration; and media representations. Her current research focuses on social interactions and relationships within multiethnic neighborhoods.