Find what you need to know about upcoming events, past accomplishments and other news from the Department of German Studies. Follow us on Facebook and Twitter for the latest!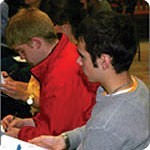 GERMAN DAY
Each spring semester, the department hosts up to 500 students from local area high schools for a day of competition and fun. Students show off their knowledge of German grammar, they recite poetry, perform skits, display their artwork, and enter their cakes and deserts for a baking competition. A "Culture Bowl" at the end of each German Day determines the best high school team! Watch out for our next German Day in Spring 2020!

For more information e-mail germanday@gmail.com.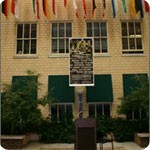 AWARDS CEREMONY
Join faculty and students in German Studies as the department recognizes the achievements of its graduate and undergraduate students with fellowships and awards. We will honor our graduating seniors, MAs, and PhDs. We will also invite our most distinguished alumni to UC's campus in order to recognize their outstanding post-UC achievements. The event will include musical entertainment featuring UC's best student musicians (who always happen to be students of German!), as well as a reception featuring food, drink, and conversation. The Spring 2020 Awards Ceremony will be held in the Max Kade German Cultural Center (736 Old Chemistry), date TBA. For more information contact the Department Head.


Reflections On/Of German Unification Conference
Dates: Sunday, October 4 - Tuesday, October 6, 2015
Times: See the Event Schedule for a full list of event(s)
and time(s)
Location:  Max Kade Center
                     Old Chemistry Room 736
                     University of Cincinnati, 45221
                     Click here for a Google map to location

The Department of German Studies would not have been in a position to hold this conference without the generous financial support of the Charles Phelps Taft Research Center, University of Cincinnati; of the Campus Weeks initiative of the German Information Center, Embassy of the Federal Republic of Germany, Washington; of the German Academic Exchange Service (DAAD), New York; of the Max Kade Foundation, New York.

For more information contact Professor Emeritus Richard E. Schade.

Screening of The Aryans and discussion with
Director Mo Asumang

UC welcomes Mo Asumang, an acclaimed Afro- German filmmaker, actor, and TV moderator, for the discussion of her new documentary The Aryans (2014).

In Fall 2014, the Focus on German Studies annual conference, "Creating, Questioning, and Playing with Reality: Living in Worlds of Pure Imagination?" took place on October 10-11.

To see the 2014 conference program click here.
In Fall 2013, the annual Focus on German Studies conference, entitled Working, Thinking, Seeing: Adapting to the 21st Century,  took place on Saturday, November 9.
For Film & Media Studies events, please see the Center for Film & Media Studies' events page.