History
History
< Back to list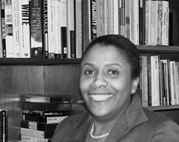 Nikki M. Taylor
Title: Associate Professor
Office: 3614 French Hall
Tel: 513-556-2561
Dr. Taylor received her BA from the University of Pennsylvania and her MA and PhD(2001) degrees from Duke University, where she also received a certificate in Women's Studies. She has held several fellowships including Fulbright, Woodrow Wilson, and Social Science Research Fellowships. Dr. Taylor joined the Department of History in 2005. Her current research projects include a biography of Peter H. Clark who was a 19th century activist and educator, and a history of the Jezebel stereotype as it has been applied to African American women. In her free time, Professor Taylor volunteers as a Court Appointed Special Advocate for kids in the foster care system in Hamilton County.
Presentations & Lectures
Lectures
(04-2008). African Americans, Reconstruction, and the Struggle for Citizenship in Ohio in the Late 19th Century. Invited Lecturer for Teaching American History.
(03-2008). Detangling the Myths of the Underground Railroad: Southern Ohio, A Case Study. Ohio History Works II .
(03-2007). The Strange Career of Jezebel: African American Women and Representation, A Historical Analysis. Engaged History Lecture Series, University of Toledo, Toledo, OH.
(02-2007). Culture, Class, Respectability: The Development of Class Consciousness in Cincinnati's African American Community. Seminar in the City Lecture Series at the Cincinnati Museum Center.
(02-2007). The Emergence of Political Self Respect in 19th Century Black Cincinnati. the Public Library of Cincinnati's Black History Month Lecture Series.
(02-2006). Striving for Self-Determination: Cincinnati's Black Community 1820-1850". Taft Museum , Cincinnati, OH.
(09-2005). Putting Down Roots: The Emergence of Black Cincinnati, 1829-1841. National Freedom Center, Cincinnati, OH.
(02-2005). Teaching the Underground Railroad. Ohio HistoryWorks, Columbus, OH.
(01-2005). Brown v. Board of Education: 50 Years Later—How Far Have We Come?. Sister Schools' "College For A Day" Program, Denver, CO.
(01-2005). Fugitive Slave Mothers and Their Children in Antebellum Ohio. American Historical Association, Seattle, WA.
Experience & Service
Courses Taught
African American History


African American Urban History


African Americans and the State (Honors)


African American Women's History


American History