Biological Sciences
Biological Sciences
< Back to list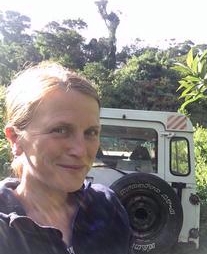 Lucinda P Lawson
Title: Asst Professor - Research
Office: 820F Rieveschl Hall
Tel: 513-556-9721
Email: lucinda.lawson@uc.edu
Landscape genetics/genomics, functional genomics, evolution, speciation, hybrid admixure and contact zones, African amphibians, Galapagos finches
Education
Ph.D., University of Chicago, Chicago, IL, 2010 (Committee on Evolutionary Biology).
M.A., University of Chicago, Chicago, IL, 2006 (Committee on Evolutionary Biology).
B.A., Macalester College, St. Paul, MN, 2002 (Biology: emphasis in developmental and molecular genetics).
Research Information
Research Interests
            I am broadly interested in how species evolution is impacted by the biotic and abiotic environment in which it takes place. In other words, how do habitat patchiness, meta-population dynamics, and interactions with other species influence evolution, diversification, and ultimately speciation. This research encompasses landscape genomics, hybrid zone dynamics, comparative phylogeography, and functional genomics.
            Much of my doctoral work concerned how species diversify within fragmented landscapes, particularly Hyperolius frogs in the highlands of East Africa. My postdoctoral work has focused on two distinct systems: fire ants (Solenopsis) and Darwin's finches. Both of these systems have aspects of rapid speciation and diversification in patchy landscapes, and lend themselves well to the use of functional genomics as much of their basic biology is already well established. Current projects include investigating the role of Wolbachia in Solenopsis hybridization, and using a combination of landscape genomics and functional genomics to identify gene regions involved in the diversification of craniofacial features of Darwin's finches.
Research Support
(PI), Lawson, Lucinda, Conservation of Mountain Apex Grasslands and associated ecotones: Biological surveys of overlooked but critical habiitats of Udzungwa and Uluguru Mountains, National Geographic Society. (9827-15), $19,820.00. 11/10/2016 to 11/09/2017. Status: Awarded.
Publications
Peer-reviewed Publications
Lawson LP, C Vernesi, S Ricci, F Rovero (2013). Evolutionary history of the grey-faced sengi, Rhynchocyon udzungwensis, from Tanzania: a molecular and species distribution modelling approach. PLoS ONE, 8 (8), e72506.
Lawson LP (2013). Diversification in a biodiversity hotspot: landscape correlates of phylogeographic patterns in the African spotted reed frog. Molecular Ecology, 22 (7), 1947.
Lawson LP, RK Vander Meer, DD Shoemaker (2012). Male reproductive fitness and queen polyandry are linked to variation in the supergene Gp-9 in the fire ant Solenopsis invicta. Proceedings of the Royal Society B: Biological Sciences, 279, 3217.
Zimkus BM, LP Lawson, SP Loader, J Hanken (2012). Terrestrialization, miniaturization and rates of diversification in sub-Saharan frogs (Anura: Phrynobatrachidae). PLoS ONE, 7 (4), 1.
Lawson LP and BM Zimkus (2011). Range extension of Phrynobatrachus sulfureogularis (Anura, Phrynobatrachidae) from Burudi to the Mahale Mountains of Western Tanzania with a redescription of the species. Fieldiana: Life and Earth Sciences, 4, 112.
Lawson LP and L Collett (2011). Results from Two Amphibian Surveys of Malundwe Mountain, Mikumi National Park. Fieldiana: Life and Earth Sciences, 4, 74.
Loader SP, J Poynton, LP Lawson, DC Blackburn, M Menegon (2011). Amphibian diversity in the Northwestern Eastern Arc Mountains, with the description of a new species of Arthroleptis (Anura: Arthroleptidae). Fieldiana: Life and Earth Sciences, 4, 90.
Lawson LP (2010). The discordance of diversification: Evolution in the tropical-montane frogs of the Eastern Arc Mountain of Tanzania.. Molecular Ecology, 19, 4046.
Lawson LP and D Moyer (2008). Within-site distribution of frog species on the Udzungwa Plateau, Tanzania. African Journal of Herpetology, 57, 93.
Alexandrino J, SJE Baird, LP Lawson, JR Macey, C Moritz, DB Wake (2005). Strong selection against hybrids at a hybrid zone in the Ensatina ring species complex and its evolutionary implications. Evolution, 59, 1334.
Lawson LP, SP Loader, M Menegon, J Bates. (2015). Divergence at the edges: Peripatric isolation in the montane Spiny-Throated Reed Frog complex. BMC Evolutionary Biology, 15, 128.
Loader SP, LP Lawson, D Portik, M Menegon (2015). Species descriptions of three Hyperolius species in the Eastern Arc Mountains of Tanzania. BMC Research Notes, 8, 167.
Farrington HL*, Lawson LP*, C Clark, K Petren (* co-first authors) (2014). The evolutionary history of Darwin's finches: speciation, gene flow, and introgression in a fragmented landscape. Evolution, 68 (10), 2932.
Presentations & Lectures
Invited Presentations
Lawson LP (2011). Diversification amongst the South American fire ants: how, when, and why species barriers break down Wright State University, Dayton, OH.
Lawson LP (2010). Patterns and processes of diversification in Hyperolius frogs throughout the Afromontane Biodiversity Hotspot Smithsonian Institution National Museum of Natural History, Washington DC.
Lawson LP (2010). Population diversification of montane amphibians University of Alaska, Fairbanks, AK.
Experience & Service
Post Graduate training and Education
2012, Postdoctoral Research Fellow, University of Cincinnati, Cincinnati, OH.
2010 to 2012, Bioinformatics Postdoctoral Research Associate, USDA-ARS, Gainesville, FL.