Faculty & Staff
< Back to list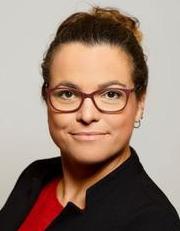 Tamara Lorenz
Title: Assistant Professor, Psychology-Mechanical Engineering-Electrical Engineering (jointly appointed)
Office: 4150-B EDWARDS 1 Edwards Center
Tel: 513-556-2625
Email: tamara.lorenz@uc.edu
Areas of Expertise:
Human Joint Action
Human-Robot Interaction, Human-Machine Interaction
Human Movement Coordination including Synchronization and Adaptation
Human Behavior Modeling
Cognition-Perception-Action Cycle
Embodied Cognition, Cognitive Psychology
Nonlinear Methods and Dynamical Systems including Dynamical Neuroscience
Human Factors and Ergonomics
Education
, University of Augsburg, 2001 (Physics).
, Universidad de las Americas, Puebla, Mexico, 2006.
MSc, Technische Universität München, Munich, Germany, 2008 (Mechanical Engineering).
Ph.D., Ludwig-Maximilians Universität, Munich, Germany, 2017 (Neurosciences).
Research Information
Research Support
(PI), Lorenz, Tamara, Development of a neurophysiologically integrated exoskeleton for sit-to-stand (STS) transition support based on multimodal action intent recognition, UC's Research Support. (URS Strategic Collaborative Grants AY2017-2018), $100,000.00. 08/01/2016 to 04/30/2018. Status: Closed.