Journalism
< Back to list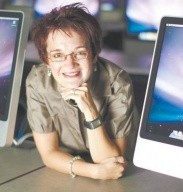 Elissa L Yancey
Title: Educator Associate Professor
Elissa Yancey, educator associate professor of journalism, is an award-winning writer and editor with 20 years of professional experience. In addition to her full-time teaching, she works as contributing environmental editor for WCPO Digital, a Scripps Howard network. The former managing editor of SoapboxMedia.com spent six years at Cincinnati Magazine where she oversaw custom publications. Her writing is regularly published nationally. Yancey has a BA in English with a Writing Certificate in Journalism from UC and a MSEd from Northwestern University. Photo courtesy of CityBeat.
Research Information
Research Interests
Elissa Yancey has spent years exploring issues of environmental justice throughout the city of Cincinnati, the state of Ohio and beyond. A member of the Society of Environmental Journalists and the Journalism and Women's Symposium, among other groups, she champions underrepresented story sources in her work and in her teaching.
Research Support
(Collaborator), Haynes, Erin; Yancey, Elissa, University of Cincinnati-Marietta-Parkersburg Metropolitan Area Reciprocal Research Relationship, National Institute of Environmental Health Sciences. (R03 ES017362), $124,800.00. 09/25/2008 to 08/31/2011. Status: Closed.
(Collaborator), Caruso, Joseph; Chen, Aimin; Deka, Ranjan; Greis, Kenneth; Haynes, Erin; Ho, Shuk Mei; Lemasters, Grace; Leung, Yuet Kin; Medvedovic, Mario; Meller, Jaroslaw; Meloncon, Lisa; Pinney, Susan; Porollo, Alexey; Puga, Alvaro; Thomas, Michael; Woo, Daniel; Yadav, Jagjit; Yancey, Elissa, Environmental Genetics, National Institute of Environmental Health Sciences. (P30ES006096), $1,743,768.00. 04/01/2013 to 03/31/2018. Status: Active.