Erynn Masi de Casanova
Assistant Professor
Romance Languages and Literatures - Affiliate Faculty
Women's, Gender, and Sexuality Studies - Affiliate Faculty
Sociology - Tenure-Track Faculty
1015 Crosley Tower
513-556-4707
erynn.casanova@uc.edu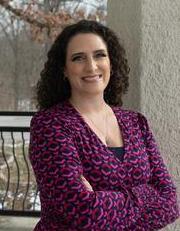 Professional Summary
Erynn Masi de Casanova received her Ph.D. in Sociology from The Graduate Center of the City University of New York (CUNY), and also holds a M.A. in Latin American Studies from the University of California-San Diego and B.A. degrees in Spanish and English from the University of Rhode Island. Research interests include: Gender; Race/Ethnicity; Work; Family; the Body; Popular Culture; Globalization/Development; Latin American societies; U.S. Latinos/as; Ethnography and qualitative research methods.
Research Support
Travel for Research 2012, Taft Research Center.
Summer Research Grant 2010, Taft Research Center.
Ford Foundation Dissertation Research Grant (through CUNY Graduate Center), Ford Foundation.
Peer Reviewed Publications
Forthcoming. "Organizing Identities: Immigrant New Yorkers Negotiating Latinidad." Sociological Forum.

(with T. Mose Brown). Forthcoming. "Making it Work: Success Strategies for Graduate Student Mothers." In Mothers' Lives in Academia, Mari Castañeda and Kirsten Isgro, Eds. New York: Columbia University Press.

"Multiplying Themselves: Women Cosmetics Sellers in Ecuador." Feminist Economics 17 (2), May 2011 : 1-29.
(With T. Mose Brown) "Mothers in the Field: How Motherhood Shapes Fieldwork and Researcher-Subject Relations." Women's Studies Quarterly Vol. 37, No. 7/8, Fall/Winter 2009.
"Spanish Language and Latino Ethnicity in Children's Television Programs." Latino Studies, Vol. 5, No. 4, Winter 2007: 455-477.
"No Ugly Women: Concepts of Race and Beauty among Adolescent Women in Ecuador." Gender & Society, Vol. 18, No. 3, June 2004: 287-308.
Books
Making Up the Difference: Women, Beauty, and Direct Selling in Ecuador. Austin: University of Texas Press (2011).
Encyclopedia Articles
Two entries in Encyclopedia of Social Problems, ed. V. N. Parrillo. Sage Publications, 2008.
Five entries in The Cultural Encyclopedia of the Body, ed. V. Pitts-Taylor. Greenwood Press, 2008.
Reviews
"Divided by Borders: Mexican Migrants and their Children by Joanna Dreby" [Book Review]. Latino Studies 9(4), 2011: 502-504.
"Style and Status: Selling Beauty to African American Women, 1920-1975 by Susannah Walker" [Book Review]. Gender & Society 22(1), 2008: 138-140.
Other Publications
"New Allies for Immigration Reform: A Cincinnati Story." Latino Studies, Vol. 8, No. 1, Spring 2010:121-125.
"The Invisible Other: The Prospects for Building a Black Social Movement in Ecuador." Latino(a) Research Review, Vol. 7, Nos. 1-2, 2008-2009.
"No Hay Mujer Fea: Conceptos de la Belleza entre las Adolescentes Guayaquileñas." In Estudios sobre Sexualidades en América Latina, Kathya Araujo and Mercedes Prieto, eds. Quito, Ecuador: FLACSO, 2008.
"Spanish Language and Latino Ethnicity in Children's Television Programs." In Biculturalism, Self Identity, and Societal Transformation, Rutledge M. Dennis, ed. London: Emerald Group Publishing.
Paper Presentations
Making Money and/or Making Nice: Men's Influence on Women's Direct Selling Work in Ecuador. Latin American Studies Association Congress, San Francisco, CA. 05-2012.
Stories from the Second (or Third) Shift: Work-Family Conflicts Among Ecuadorian Women in Informal Employment. Eastern Sociological Association, New York, NY. 02-2012.
Men Make a Difference: Gender Relations among Direct Sellers in Ecuador. Ohio Latin Americanists Conference, Bowling Green State University. 02-2012.
Analyzing the Avon Lady: Direct Sellers' Work Decisions in Urban Ecuador. American Sociological Association Annual Meeting, Las Vegas, NV. 08-2011.
Not Just "Watching Soaps": Ecuadorian Direct Sellers Redefining Motherhood. Motherhood Initiative for Research and Community Involvement (MIRCI) Conference, Lisbon, Portugal. 02-2011.
Events Organized
Symposium. "Work-Family Issues in Developing Countries" (Roundtable) (06/14/2012 to 06/14/2012), Work-Family Researchers Network Inaugural Conference- New York, NY.
Other. "Men Matter: Gender Relations and Women's Empowerment" (Panel) (05/26/2012 to 05/26/2012), Latin American Studies Association Congress-San Francisco, CA.
Honors & Awards
Early Career Work-Family Scholars Program, Work and Family Researchers Network , 2011 to 2012.
Article "Multiplying Themselves" named "Recommended Reading" by Feminist Economics journal, 2011.
Author-Meets-Critics Session for Making Up the Difference at National Women's Studies Association annual conference, 2011.
National Women's Studies Association Sara A. Whaley Book Prize, 2010.
Article "No Ugly Women" named the second most-downloaded article in Gender Studies by Sage Publications, 2004 to 2005.
Chancellor's Fellow, CUNY Graduate Center, 2004 to 2009.
Courses Taught
15-SOC-275 SOCIOLOGY FAMILY.
15-SOC-775 GENDER & GLOBAL .
15-SOC-141 INTRO TO SOCIOLOGY.
15-SOC-332 BODY AND SOCIETY .
15-SOC-321 MTHDS-SOCIAL RSRCH .
SOC OF BODIES (GRAD).
ETHNOGRAPHIC RESEARCH METHODS (GRAD).