Thomas V Lowell
Professor, Glacial Geology
Geology - Tenure-Track Faculty
604 Geology-Physics Building
513-556-4165
thomas.lowell@uc.edu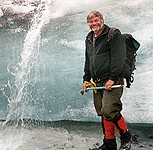 Education
Ph.D., State University of New York at Buffalo, 1987 (Geology).
M.S., University of Maine at Orono, 1980 (Geology).
B.S., Rensselaer Polytechnic Institute , 1976 (Geology).
Research Interests
My research goal is to understand the pattern of past climate changes and their causes. Of particular interest are the so-called Abrupt Climate Changes that are yet unexplained but indicate that the climate system has very sensitive tipping points. My contribution is to test various hypothesis that attempt to explain these by mapping the spatial and temporal distribution of climate changes recorded in the response of glacial systems.
Toward this end I conduct field work (listed south to north) Cordillera Darwin, Chile; South Patagonia Icefield, and Lake District of Chile; Nevado Sajama, Bolivia; Quelccaya Ice Cap, Peru; Ohio; Michigan; Minnesota; South Dakota; North Dakota; Montana; Alberta; Ontario; Quebec; Alaska; and Scoresby Sund Greenland. In all cases we reconstruct the glacial history using various techniques including: geomorphic mapping; stratigraphic analysis, radiocarbon dating, and lake coring.