Warren D. Huff
Professor, clay mineralogy, paleovolcanology, tephrochronology
Members - Full Members
Geology - Tenure-Track Faculty
614 Geology-Physics Building
513-556-3731
warren.huff@uc.edu
http://homepages.uc.edu/%7Ehuffwd/HuffPage/huff.html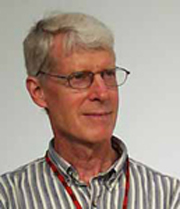 Education
PhD, University of Cincinnati, 1963.
B.A., Harvard, 1959.
Professional Summary
clay mineralogy, paleovolcanology, tephrochronology
Research Interests
Much of my research deals with the study of K-bentonites, which are the remains of explosively erupted volcanic ash layers. These layers are now altered largely to clay minerals although some original volcanic crystals remain. I study both types of minerals to learn about the nature of the source volcanoes, many of which are over 400 million years old, as well as the natural processes by which the volcanic ash layers have been buried in the earth and altered to their present form.